How to Transform to Integrated FP&A Model: Juniper Networks Case Study
FP&A teams all over the world are undergoing a major transformation via the Integrated FP&A model. Data is the fundamental building block for this transformation. Earlier, Centres of Excellence (COEs) were only providing base-level data, without any analytics and insights, but now we are seeing the shift toward an Integrated FP&A model. This article provides an overview of Juniper Networks' GBS FP&A transformation journey, from a typical shared service model to the Centre of Excellence.
Juniper (JNPR) is a $4.7B Networking Equipment company. The case study I describe here relates to the Centre of Excellence of our Global Business Services.  This COE transformation journey was completed over the last 5 years. The picture below demonstrates the working model for Integrated FP&A.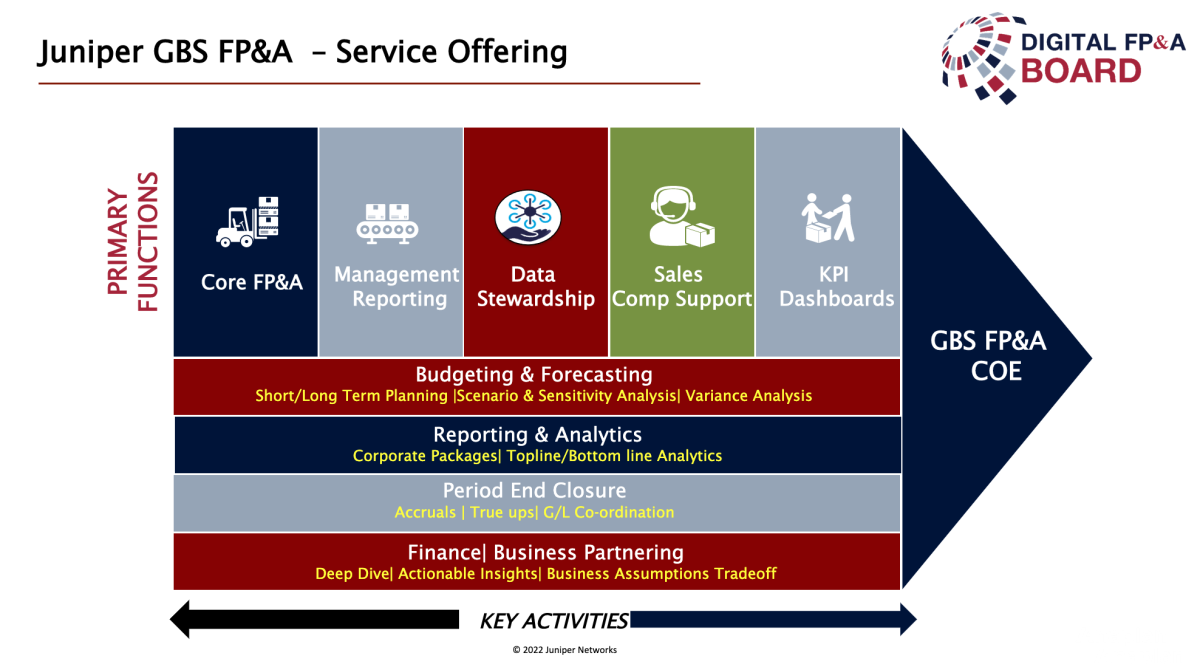 Figure 1: GBS FP&A COE Operating Model
In our experience, a well-defined COE model will have the following elements:
Based upon the above COE operating model, Juniper's GBS FP&A team quadrupled from 16 members in 2016 to 70 members in 2021. Any shared service model starts with cost arbitrage and is viewed as a transaction eliminator (A huge number of reports). Once there is stability in operations, it expands to multi geographies and new areas, such as forecasting, planning and, insight generation. At this point, the shift from the Shared service model to the Centre of Excellence happens.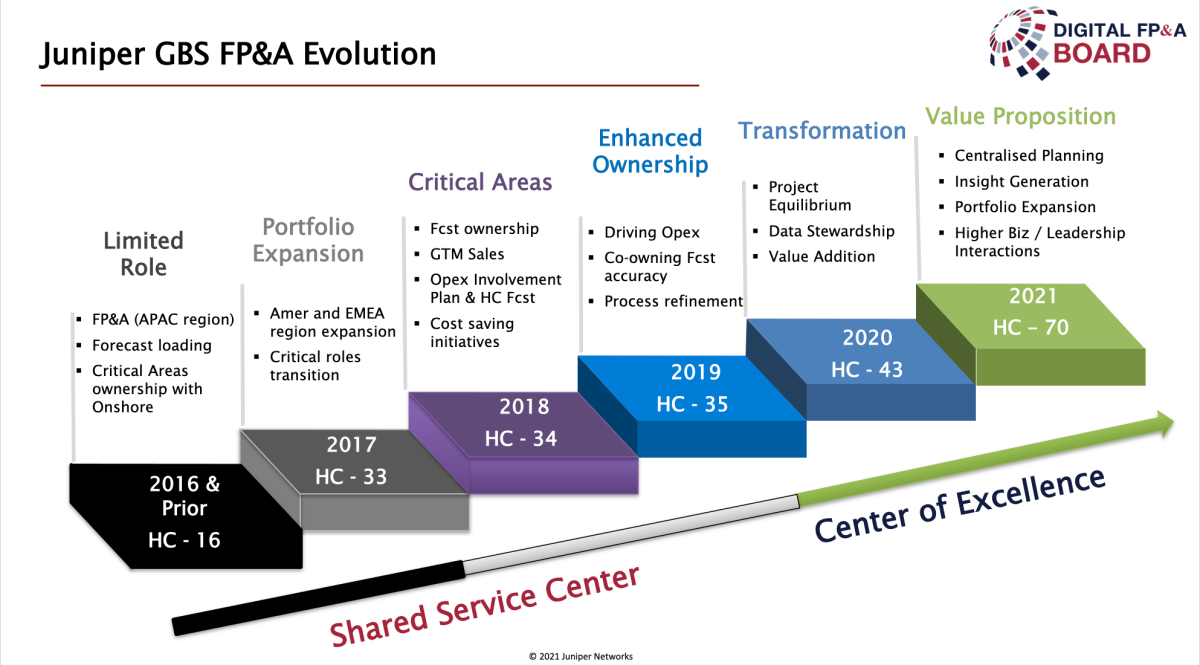 Figure 2 : FP&A COE Transformation Journey
Our FP&A Transformation journey had the following major milestones: 
2016 - Beginning: Juniper's GBS FP&A started supporting the APAC organisation with basic reporting and forecast loading activities, there was only Finance partnering and no business interaction. Ownership levels were minimal during this stage. We ensured rock-solid execution in the APAC region.
2017 - Portfolio Expansion: Based upon APAC region success, we expanded operations to the EMEA and Americas regions by doubling HC from 16 to 33 people. Some critical activities like centralised planning, FP&A, Opex and Topline reporting were transitioned during this stage.
2018 - Stabilisation: We focused on transition stabilisation, ensuring flawless execution. We invested time in understanding the business processes and operations, and in developing communication skills. We showcased to our onshore stakeholders how time zones could be leveraged for effective analyses.
2019 - Enhanced Ownership level: The ownership level between Onshore and Offshore started increasing from 2019, with the GBS FP&A team completely owning certain areas.  Opex, commissions, HC & Topline reporting. We ensured that all master data management, data structures & hierarchies were being centrally managed by the GBS FP&A team.
2020 - COE Transformation: In 2020, COE transformation began within GBS FP&A by interacting with business stakeholders, understanding their problems, and providing real-time solutions to them. The ownership level was completely shared between onshore and offshore teams.
2021 - Value Proposition: In 2021 we expanded to other areas such as business operations, spanning demand planning, Legal, Quality, Pricing and Analytics (25% of GBS FP&A org is Analytics!!!). We have now become a trusted advisor to businesses, and provide options to attain their financial and operational goals.

The ownership level moves from onshore to joint ownership as one becomes a trusted business advisor. During this journey, it is important to invest in the right kind of people: those with deep process knowledge, customer-centric behaviour, and willingness to change. Use time zone as an advantage and invest in understanding business processes, and downstream and upstream impact.
The critical success factors for this transformation were:
An enabling culture and top management support. These are extremely important to drive COE transformation, as it involves change management.
Building an ecosystem of RELATED processes and activities. The FP&A team influences various parts of the organisation, so one needs to build an ecosystem of related processes.
Moving up the value chain from VOLUME to VALUE DELIVERY.
Focusing on EASE OF USE, SPEED AND AGILITY.
Providing REAL-TIME support. Within the COE model, understanding customer needs to serve them better is critical. Always follow up with stakeholders/customers to find out whether the analyses drove any meaningful actions.
Making your CUSTOMER PRODUCTIVE and EFFICIENT.
Key Lessons Learnt
Seek leadership support at multiple levels, and willingness to invest in the COE model.
Invest in the right People, Processes & Technology. Juniper's GBS FP&A COE journey wouldn't have been possible without investment in the right kind of people. Hiring should be focused on technical skills, business acumen, a customer-centric attitude, and Business Partnering skills. FP&A team members should also have a good understanding of technologies, and of the upstream and downstream impact of changes within multiple processes. Make technology a key enabler rather than completely depending on the IT department.
Make processes agile and robust. 
Eliminate non-value-added, redundant activities, and invest that time in understanding business processes and technologies.
The full text is available for registered users. Please register to view the rest of the article.