FP&A Trends Maturity Model was created by the International FP&A Board. It was conceived by the London FP&A Board and further developed by hundreds of practitioners in all 30 chapters in 16 countries across four continents. The model reflects extensive research, current realities, and the latest developments in FP&A best practices.
FP&A Trends Maturity Model Assessment is a tool based on the FP&A Trends Maturity Model. This tool allows organisations of any size, industry, and geography to identify the stage of their FP&A maturity compared to the leading stage. It also allows them to create their own transformation journey to improve their FP&A.
The tool is an interactive assessment questionnaire that covers 6 Categories: Leadership, Functional Skills & Roles, Business Partnering and Collaboration, Process, FP&A Data & Analytics, and Technology.
Five maturity levels are identified within each category - from Level 1, the most basic, through to Level 5, where FP&A aspires to be. At this level, planning and analysis add real value to the organisation and allow it to cope with a future that is difficult to predict.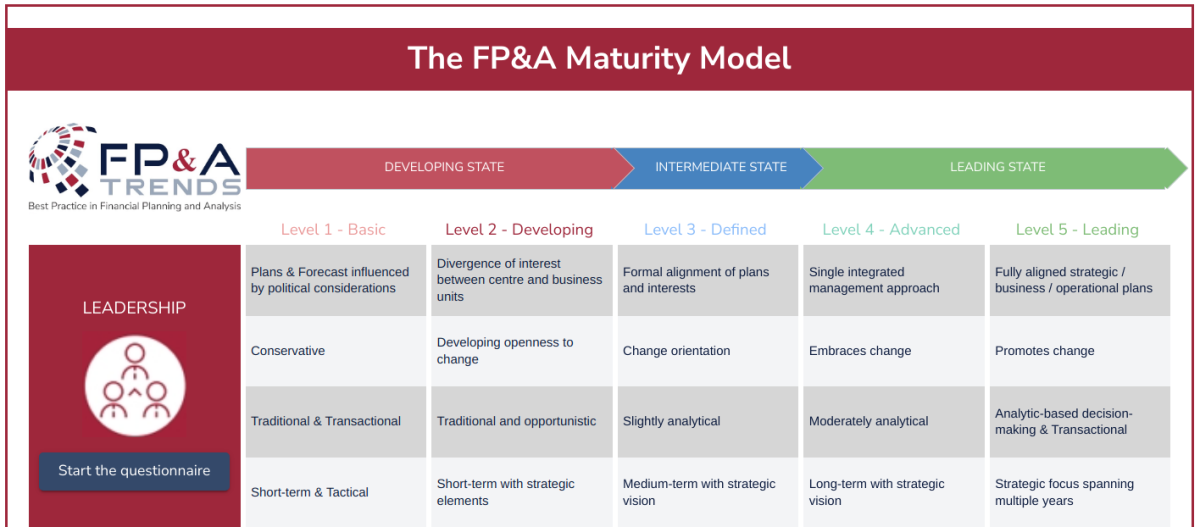 The access to this page is available for registered users. Please register or log in to view the model.