Be Bold to Start with Integrated FP&A
Many organisations these days have three separate plans: a strategic plan created by executives, a finance plan created by the FP&A team and a range of detailed operational plans created by individual departments. 
These plans have different owners, different terminology and, more importantly, different underlying assumptions. How to overcome this by working in silos and bringing these plans together?
The Digital Middle Eastern FP&A Board looked at the key variables of The Winning Formula of Integrated FP&A.
This article provides an overview of the topics and cases presented and discussed by the experts at the webinar, as well as the results of our polling questions. 
Cross-functional Integration
Lukas Herbert, FP&A Director ICMEA at Takeda, shared with us a practical case study of integration across the functions and the process.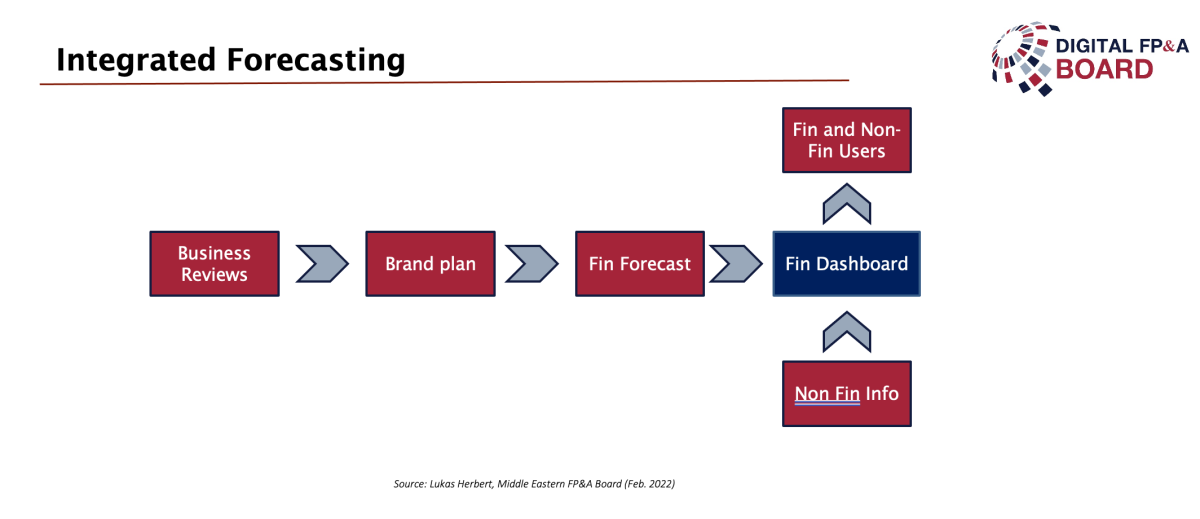 Figure 1
Currently building up the plan in Takeda follows a logical sequence:
STEP 1: Business Reviews, an external market analysis prepared by the Business Operations team
STEP 2: Brand Plans, top-level portfolio decisions based on the Business Reviews data
STEP 3: Knowledge of the previous two steps is translated into Financial Forecast, prepared by FP&A
All forecast information is then available in a dashboard, enriched with statistical information, such as full-time equivalents (FTEs), risks and opportunities (R&Os) and activities. That dashboard serves as a single source of truth for Financial and Non-Financial Stakeholders.
In addition, Lucas introduced the concept of Business Trackers (or Business Drivers) which bring together Operational and Financial plans. Trackers always contain the most up-to-date operational information of a predictive nature. To take an example from Human Resources, these trackers could include a detailed hiring plan with start times and seniority levels for new hires, allowing Takeda to have an accurate, up-to-date personnel cost plan.
Clear process and the use of Business Trackers lead not only to a more accurate plan but also to much more even planning workload distribution.
How Integrated are our FP&A Teams
During the webinar, hundreds of participants from the FP&A industry took part in the survey and described their level of FP&A Integration. 17% of organisations have fully integrated FP&A teams, well above expectations. 35% of organisations achieved integration between the Finance and Operations levels, and another 21% managed to integrate Finance and Strategy.

​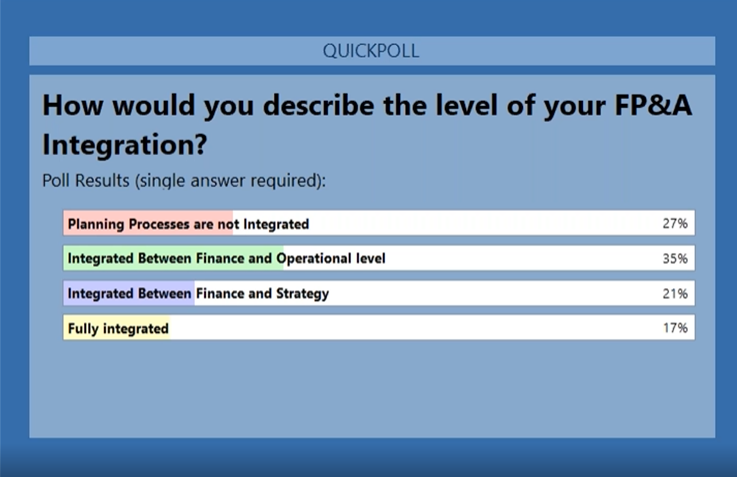 Figure 2
BRF's journey towards Integrated Finance
Bruno Massera, CFO - Middle East at BRF, explained to us that a live and complex chain, such as BRF, demands strong collaboration within an organisation.
He walked us through BRF's integrated finance journey from Traditional Excel-based Budgeting in 2018 to a Sales and Operations and Finance partnership supported by modern technology in 2022.
Bruno spoke about Integrated Finance Goals and the need to focus more on the future rather than on the past.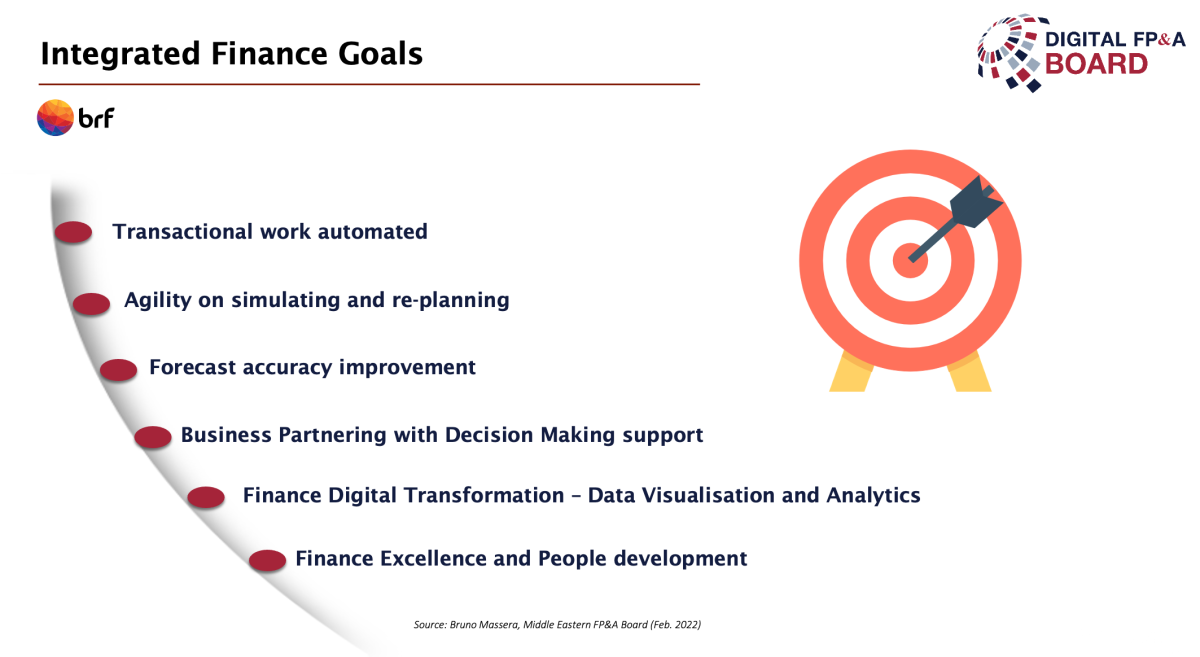 Figure 3
Integrated Finance Goals include:
Bruno concluded with his own winning formula: Integrated Finance is the way forward, because only by working together with other areas, with a business partner mindset, leveraged by the technology we are going to be able to create true value for organisations as a finance function.
Integrated FP&A for Future Centers of Excellence
Durga Srinivas Perisetti, Director FP&A and Operations Analytics at Juniper Networks, has brought a Center of Excellence (COE) perspective into the discussion. He has shared with us a long journey he went through while gradually transitioning from Shared Service Center to Center of Excellence.  
 
Besides that, he has shared with us his own recipe for success, learned through hard lessons. The highlights include:
Establish an enabling culture: be bold, build trust, deliver excellence
Build an ecosystem of related processes and activities.
Move up the value chain from volume to value delivery
Focus on ease of use, speed and agility. 
Provide real-time support.
Make your customer productive and efficient. 
Change Management: Clear communication and Training
Invest in People, Process & Technology
Involve all key stakeholders
 
How technology enables Integrated FP&A
52% of webinar attendees already have the EPM (enterprise performance management) system for Integrated Planning or plan to introduce it in 2022. While only 16% of respondents do not plan any change in this area.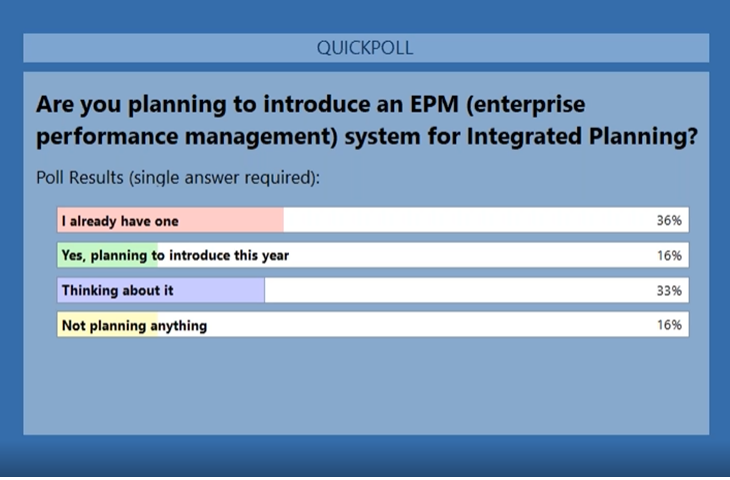 ​
Figure 4

 
Andreas Simon, Regional Director MEA at Jedox, spoke about the Technical Aspects of Integrated FP&A.
Many organisations during this time of uncertainty realise, that one budget cycle per year is no longer enough. But how to speed up our planning process if we are still relying on our Excel spreadsheets? Indeed 88% of businesses use customized spreadsheets to support the business.
Modern EPM Platforms Support the Entire Journey to Digitalisation:
Automate Planning, Forecasting & Reporting: Get your spreadsheet chaos under control & increase efficiency
Collaborate Across the Business: Eliminate siloes & enable agile performance management
Transform Planning to Create New Value: Respond faster & augment decision-making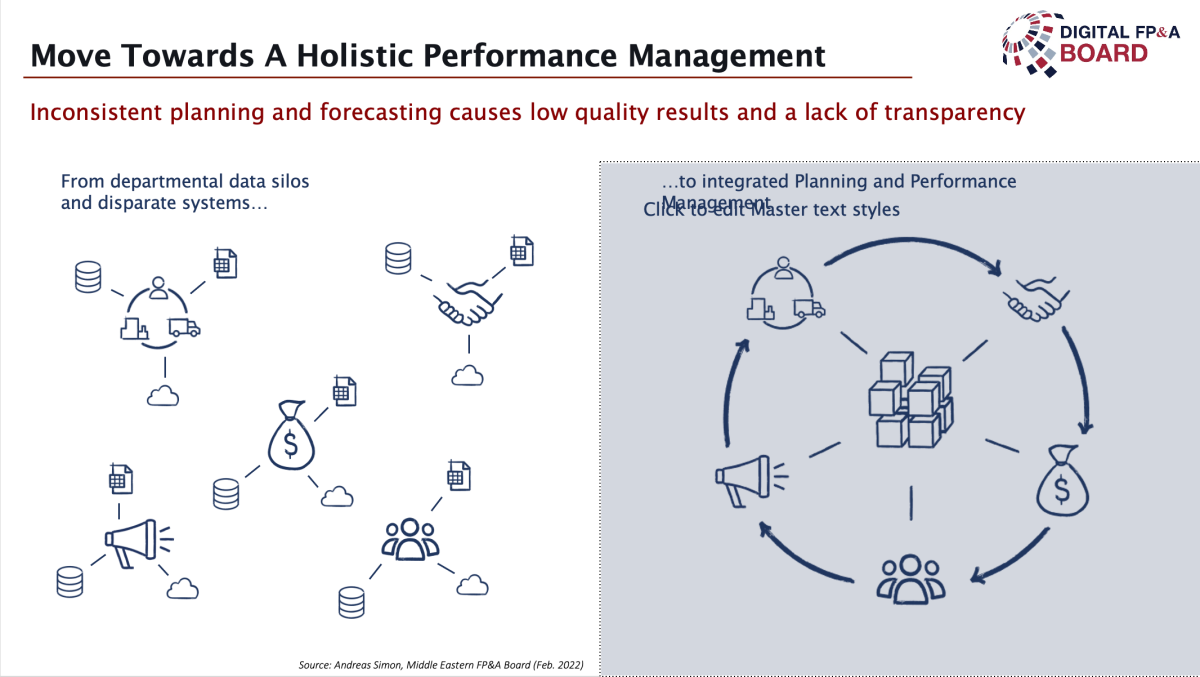 Figure 5

 
The concise success formula from Andreas is: Think Big. Start Small. Scale quickly.
Conclusions
The speakers of the webinar shared their thoughts with us. During the webinar, many important elements of the journey were named:
Finding the right business drivers,
Introducing the right technology to ensure sufficient detail and Scenario Planning.
Building trust within the organisation,
Transition to a business partner mindset,
and fostering the culture for and Integrated FP&A  
Where you choose to start is less important than the actual start. Just start somewhere. We wish you the best of luck on your path to Integrated FP&A.
The Digital FP&A Board was sponsored by Jedox. We are very grateful for your continued support.
The full text is available for registered users. Please register to view the rest of the article.