Winning Value Creation and FP&A Business Partnering Model
Every single survey shows that FP&A is spending the majority of their time doing non-value add work. Over 60% spend between 1-4 months, with 30% spending 3-4 months on their annual planning cycle. In generating a forecast, 55% take over five days, and 32% take over ten days.
Imagine the whole of FP&A and operations are mobilised for 3-4 months on a budgeting exercise and taking ten days every month to do monthly forecasting. And let's not forget these activities are out of date very quickly.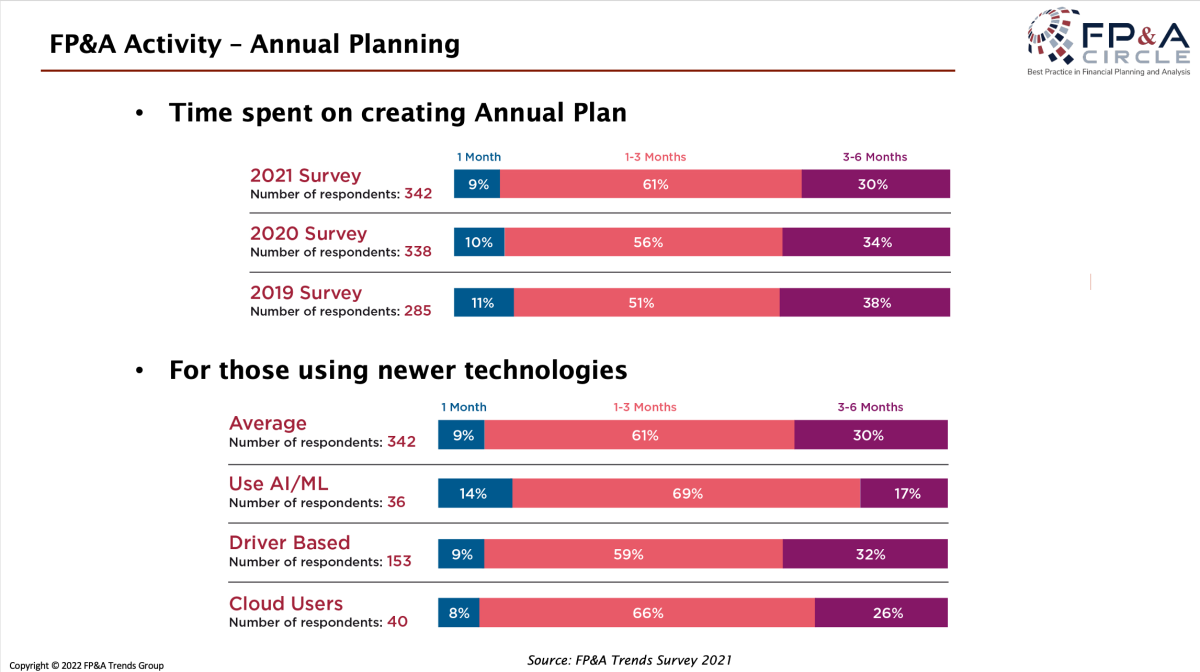 Figure 1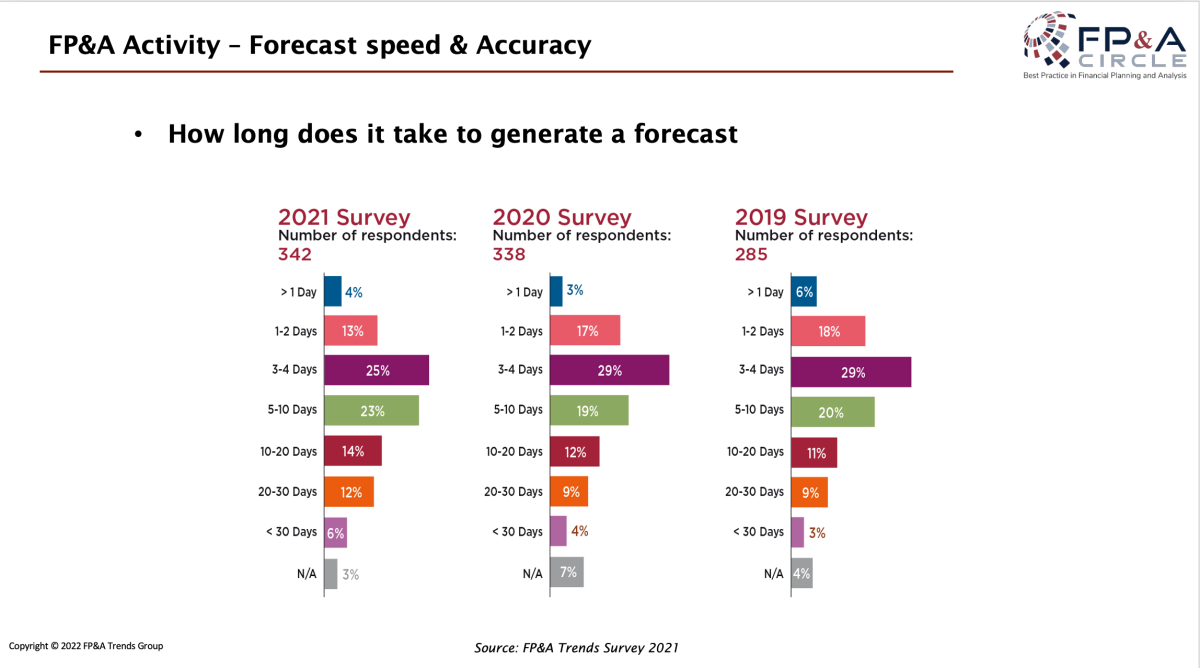 Figure 2
How do we move the dial from non-value add to creating value, and how can FP&A Business Partners help in driving the Value Creation agenda?
The Digital Middle East & Africa FP&A Circle met in June 2022 to explore this subject in detail.
Creating Value, the Direct and the Indirect method
For Mohamed ElRouby, CFO MEA at Pharmanovia, FP&A Business Partners can create value in two ways: 
The Direct way – this is where finance creates value within finance by analysing and understanding data to find ways to improve the bottom line e.g. Improve Cash, working capital, collection, cost savings and similar projects all within finance.
The Indirect way – in this instance, we work with the whole company and analyse the whole organisational value chain working as a catalyst from within in order to help all divisions to create value, whether it is the supply chain, commercial, manufacturing, IT, marketing or sales.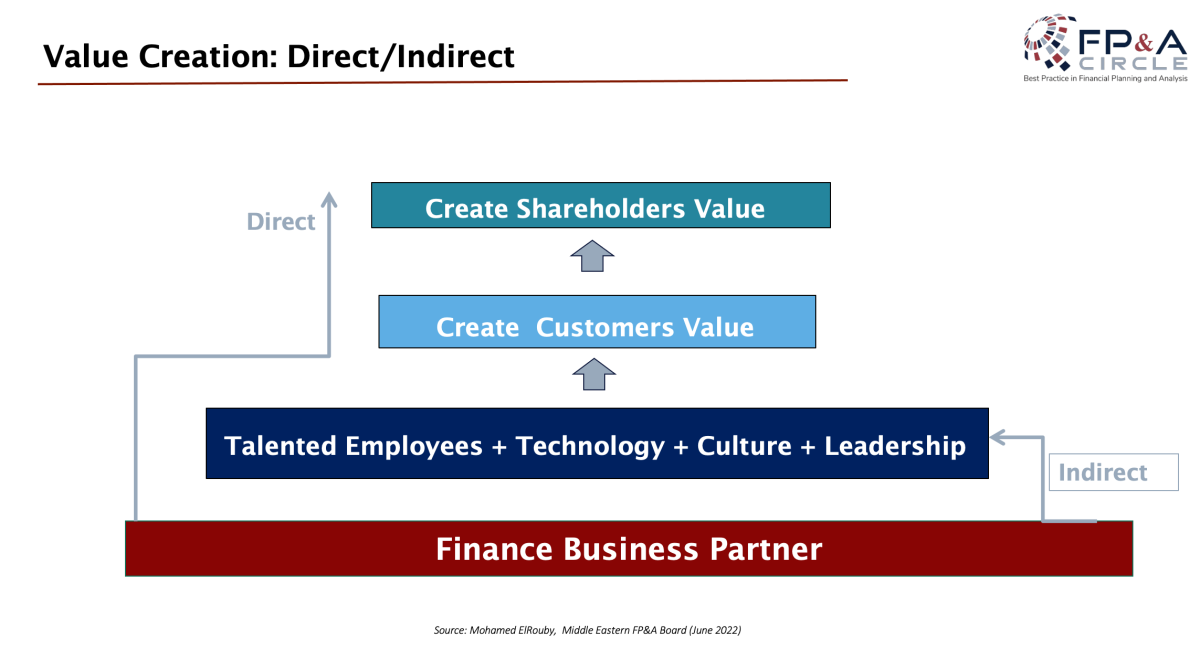 Figure 3
The key enablers for value creation can be achieved using the essential five pillars, which are as follows: 
Mindset – It is key to create and enable the right mindset whereby value creation can flourish. The attributes are curiosity, a bias for action & problem solving, moving away from process to relationship building, making it simple, a mentality of coaching rather than challenging and moving towards more face-to-face interaction.
Skillset – Our team need to be equipped with the right skillset for value creation. Some of the prior skillsets are business acumen, how to turn data into insights, storytelling, forward-looking view, problem solving and technology savviness
Systems /Tools – These have to be user-friendly and work for the whole of the business, support visualisation so we can easily tell the story, support forward-looking decision making and align with business needs.
Capacity – We need to ensure there is enough capacity in the team to deliver real-time decisions that create value. We do these by ensuring we eliminate unnecessary tasks, automate mundane and time-consuming tasks, delegate as much as we can and finally reallocate where possible.
Culture – Value creation culture has to come from the top, and some of the key things we can do to encourage this are building an environment of trust, collaboration, diversity, transparency and finally, agility.

So, What Does that Value Creation Management System Look Like?
For Shu Jiang, VP Finance at Curriculum Associates, the Value Creation Management System is a strategic plan and strategy deployment system based on Objectives, Roles and Responsibilities and Alignment.
The fundamentals of such a system are listed below (Figure 4).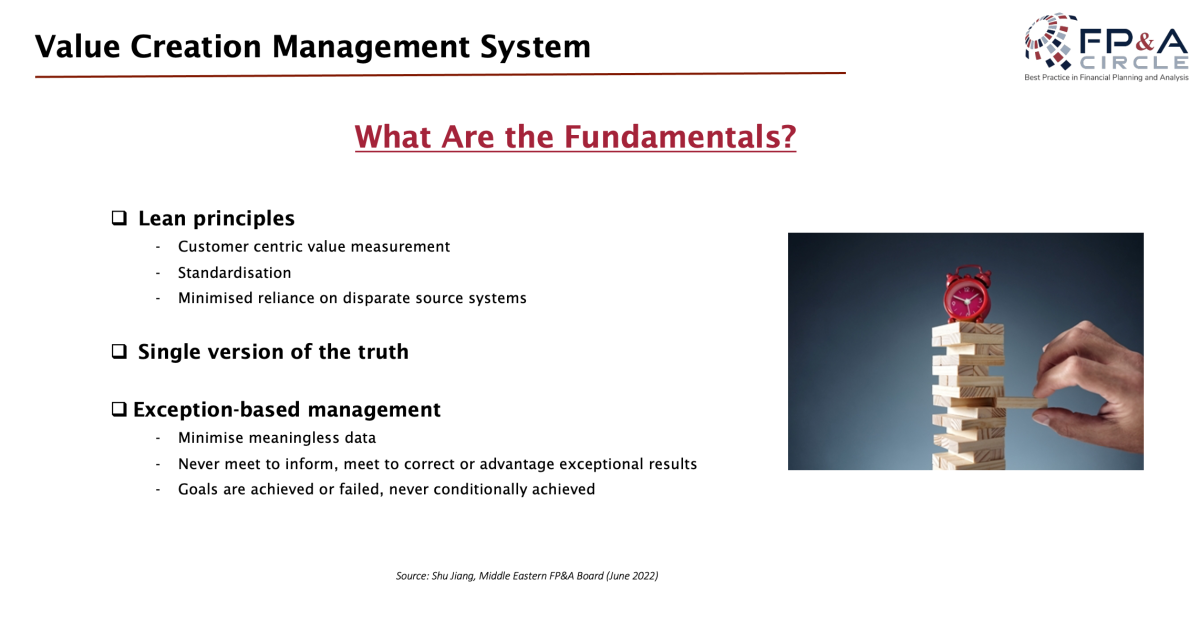 Figure 4
Running the organisation like this means there is a clear focus/link between strategic planning and deployment with a common business language used through standard measures and KPI. The whole organisation is aligned with a clear definition of success with a single version of the truth, clearly defined accountability and relationships through transparent objectives and fact-based decision making.
To put this in practice using a Balance Scorecard/a multi-planning cycle strategic plan. Ensure the primary goals are cascaded through these four dimensions, namely Financial, Customers, Employees and Operations. Add a "Problem Solving Sheet", which is a structured way to look at, solve problems and strive for continuous development.
Finally, embed the "management system" into the FP&A Business Partnering model, ensuring you have slots in your monthly calendar to review and carry out these activities.
The above Value Creation Management system has successfully been implemented in three organisations by Shu Jiang, and the organisations are thriving.
Value Creation through Sustainability
Another great way for FP&A to create value is through the Sustainability agenda. 
Shady Nassour, ME Finance Director at Bel, believes the only KPI that really matters is "The future of our planet and children". A positive impact on people and the planet means a successful business capable of investing in Sustainable Growth.
The Bel group are fighting climate change through the four action levers: 
Accomplishing Carbon Neutrality
Giving partners the power to reduce their impact
Offering consumers a preference
Build a strategy which incorporates carbon throughout
FP&A, through Business Partnering, have a key role in driving this agenda through:
Factoring all the sustainability indicators in ROI
Improving forecast accuracy, timeliness and reporting
Influencing product mix decision-making through data analysis
Managing supply chain – different carbon neutral ways and costs
How to and what are the right premiums to partners against sustainability KPIs
Looking at different ways of reducing the impact on the planet through data on customers, suppliers, internal buses, buildings etc.
How Technology Can Enhance FP&A Business Partnering and Help in Value Creation
Andreas Simon, Regional director MEA at Jedox, highlighted the importance of the Extended Planning & Analysis (xP&A) planning tool, where strategic planning is linked to financial planning, operational planning, reporting, analysis & simulations, and performance optimisation. 
Instead, what we see is that 80% of organisations are still reliant on Excel for budgeting, planning and forecasting. 88% of business use 100 customised spreadsheets to support them, and 1/3 of the respondents use over 10,000 spreadsheets (source - 2019 Forrester research report).
It is imperative we streamline our planning, analysis and reporting, see the example below. 
 
Figure 5
This will set us on the way to switch the 70% (Non-Value Add) / 30% (Value Creation) to 30% Non-Value Add / 70% Value Creation for FP&A.
Conclusion 
Great FP&A Business Partnering is what is needed to ensure we are constantly striving toward Value Creation within the organisation. To do so, we need to ensure we create the atmosphere and mindset of Value Creation around the organisation and give the team the training, the skillsets and the toolsets. 
We need to ensure we have a Value Creation System in place with lean principles, aligned objectives, clear responsibilities and KPIs to manage and constant reviews. All of this should be done in a sustainable way. Sustainability equals profitability, and FP&A Business Partners should be the ones to drive it.
FP&A should embrace an xP&A type end-to-end planning tools where strategic plans, financial plans and operational plans are all aligned, and reports and simulations are automatic. This will help us move away from the 1000's of spreadsheets we use and have time to Create Value for the organisation.
We would like to thank our global sponsor, Jedox, for their great support with this FP&A Circle.
The full text is available for registered users. Please register to view the rest of the article.