The Era of Digitised FP&A Business Partnering
FP&A Business Partnering has become even more important with the emergence of Extended Planning and Analysis (xP&A). 
Technology is now helping FP&A Business Partnering move to the next level to Digitised FP&A Business Partnering. 
Recently I had the pleasure of facilitating the Digital North American FP&A Board meeting. The subject under discussion was "The art and science of digitising FP&A business partnering", delivered by five of our expert panellists. This article summarises the key case studies and polling questions.
New Journey for FP&A – Skills and Processes
FP&A roles can be described as business partners, financial advisers, insight tellers and can support and influence business decisions. Over the last year, the world has changed dramatically, so it is important to talk about the role of FP&A in a post-pandemic world and what are the new skills that we need to fit into this new environment.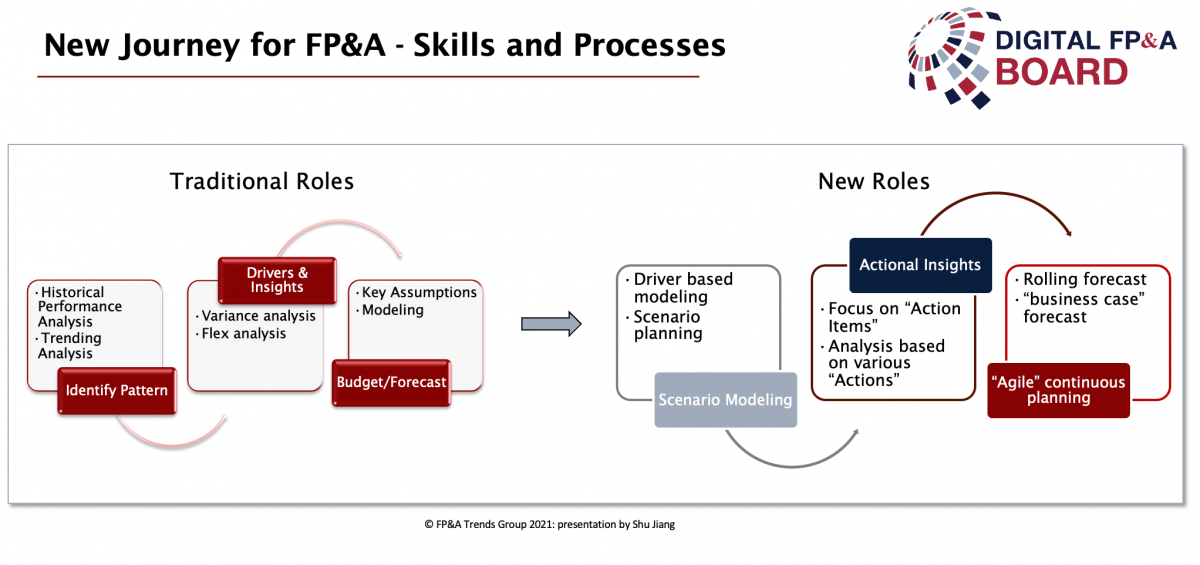 Figure 1
Figure 1 on the left shows the traditional roles of FP&A. On the right, we can see new roles that appeared in the uncertain times of the pandemic. Organisations have been rethinking the skillsets, processes and tools needed to move from the left side to the right.
Business partnering is no longer just about reporting. We have insights to drive and help grow the business. We have to change our mindsets to think of ourselves as mini-CFOs for the business we support, regardless of the title we hold. With this mindset, the first steps to introduce modern FP&A Business Partnering are:
1. Introduce Balance Scorecard – Across all business units and functions, and build the scorecard in our business partnering. There are many KPI's across a company, but if you take a step back and look at it, you can split them into four categories.
Financials 
People 
Customers 
Products & Services 
2. Introduce Monthly Finance Partner Calendar – Quick, actionable insights and influenced decision making is key. If they are late, then their effect will be weak.
Shu Jiang, VP Finance at Curriculum Associates, introduced us to the skills and requirements required for a new FP&A journey: 
Integrated data and reduced reconciliation
Suited for overall business strategy – Mini CFO
Suited for collaboration – easy to use self-service
Scenario planning with actionable insights
Flexibility and agility
FP&A Business Partnering: How Mature is Your Model? 
How do you assess the maturity of your model? The first thing you need to do is to take stock of all the activities your team is providing, and sort them into three categories.
Anthony Rossano, FP&A Director at Indeed, mentioned that when we are thinking about how to evolve your model, we should consider:
FP&A Tech stack – Are you highly reliant on spreadsheets, or are you employing visualisation techniques, AI/ML tools to help drive efficiency.
Skill Match – It's really important that your team has the right mix of both soft and technical skills, but you also need to match people who lead with certain skill sets to the right areas.
Insights, Storytelling, Influence – When it comes to storytelling, are you simply reporting the news or are you creating the news? You need to gather the insights and influence the decisions going on.
One Plan – How closely related are your strategic, business and operational models and how well do they work together.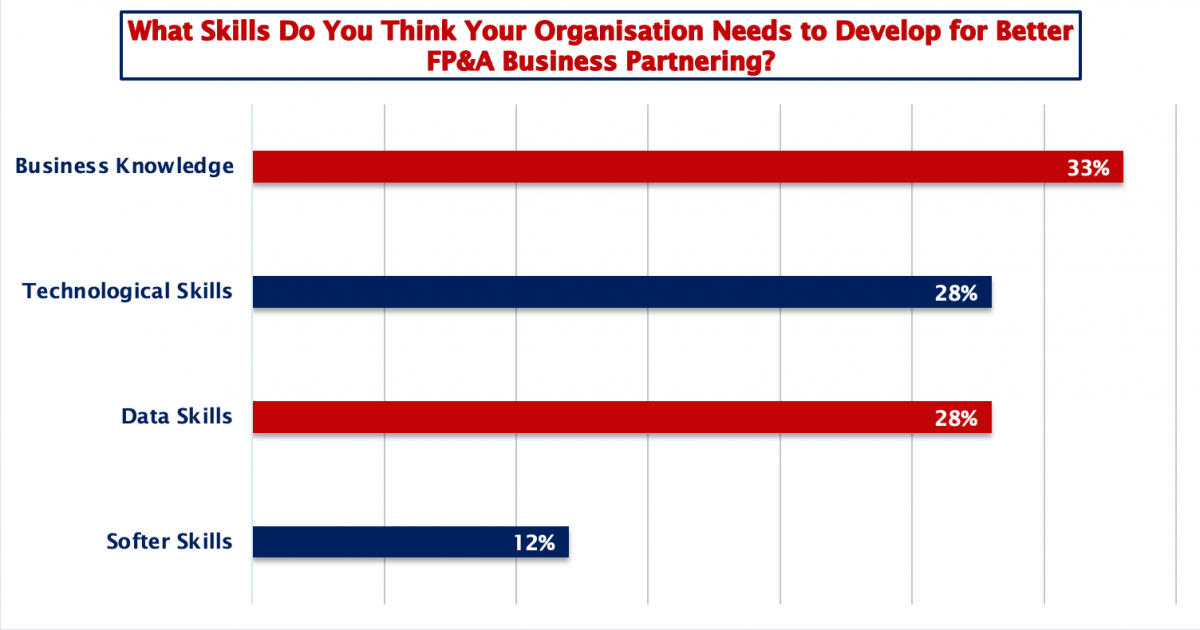 Figure 2
To see such a close vote between three of the options (Figure 2) was quite surprising, as I was expecting business knowledge to be the clear winner, so it's pretty evident that we want to develop a wide range of skills.
A Journey Towards Integrated FP&A Business Partnering
George Kolokotronis, Finance Director at Hypertec Group, spoke about his career development in FP&A and how he is helping his current organisation in its journey towards an Integrated FP&A Business Partnering.
He is currently at a young growing organisation in the digital health space. They have done so without a formal FP&A process in place. Since George joined, they have made good progress towards their plan, but they are far from being finished, and as you can see below, they are really at the beginning stage of FP&A. 
Once the organisation has absorbed the planning mindset, implemented technology and displayed the required financial discipline, there is the possibility of extending the planning function beyond budgeting.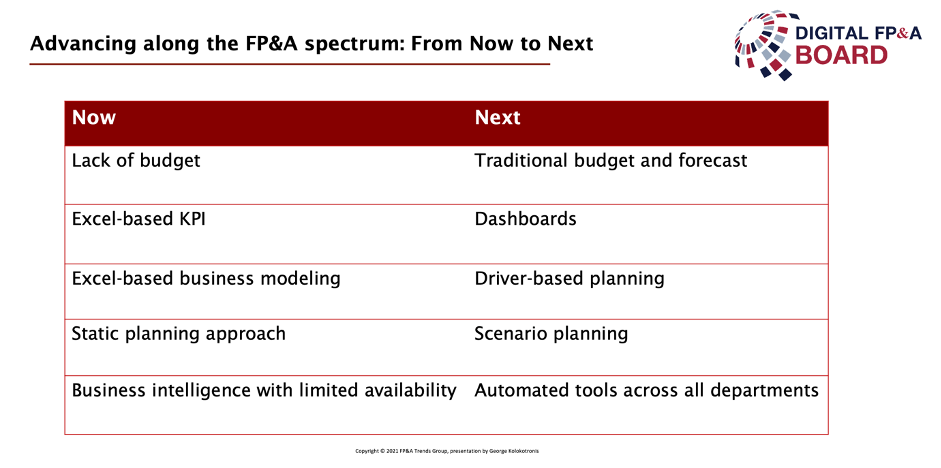 Figure 3
We asked our participants where is their organisations on the integrated business partnering journey? (Figure 3)  Nearly half of the responses said they had plans to implement it in the near future, while only 18% didn't have any plans for one, with the rest saying they were already running an integrated model. 
Technology to Build FP&A Business Partnering
An early preview from the 2021 FP&A Trends survey shows us some of the challenges that we are facing on Business partnering:
17% complete their forecast in 2 days or less
28% don't consider FP&A as a strategic investment area
An increase of time to 16% spent on driving action
Pras Chatterjee, Senior Director at SAP, shared with us three key things that are needed to see all of this fulfilled and to become a stronger business partner and to have the technology to support this.
Run Simulations – Being able to determine the impact of various situations with the ability to create scenarios immediately.
Move away from scheduled plans – Thinking ahead rather than looking back.
Be more proactive
2. Predictive Planning – All modern best in class FP&A solutions have machine learning and AI predictive planning built directly into them.
Predict scenarios with machine learning – You don't need to be an expert, there are tools that allow you to add predictive scenarios to scenario planning to combine human intelligence with AI/ML.
Uncover hidden insights – Will allow you to challenge different areas outside the norms that might not have been visible to you.
Simulate future outcomes 
3. Extended Planning & Analysis (xP&A)
Strategic alignment with all departments – Everyone in an organisation plans for themselves, but they need to be aligned to optimise opportunities.
Finance leads the planning process – Finance is in the middle of all these plans, dictating play like a quarterback through modern cloud-based technology.
Make faster, more confident decisions – When everybody's planning together, the organisation moves and thinks as one with finance having a pulse in every department, helping everyone work together.

Figure 4
The results of our final poll (Figure 4) aren't surprising and do make sense since flexible FP&A systems are the easy part of this process but integrating FP&A can be a difficult thing to implement but is certainly the most important.
Getting Future-ready for Digitised FP&A Business Partnering – Mindset Required
Finally, Tom Hood, EVP at Association of International Certified Professional Accountants & Business Learning Institute shared with us how to get future-ready for Digitised FP&A business partnering.
The Hackett Group's recent research on top 10 key issues for finance organisations, for the first time in the survey's history, showed skills at number 6 specifically aligning skills and talent with changing business needs. Changes in FP&A are accelerating, so we have to accelerate skills training to meet this demand.
Another insight was in what was getting in the way of transformation progress, and appearing at 2 and 3 were 'finance staff lack of or deficiency of critical skills' and 'organisational resistance to change', reinforcing the concept mentioned above. 
Research conducted with KPMG about what the critical success factors for finance transformation were, 39% was about mindset. 20% of this was 'motivation of the workforce to make or embrace change' and the other 19% was 'growth mindset (motivation of workforce to learn and evolve)'.  
Below (Figure 5) is a visualisation of the research Business Learning Institute conducted on what we call a T-shaped profession, so broad boundary-crossing skills across the top, with deep technical expertise below. The skills on top allow you to bring business together from a strategic standpoint.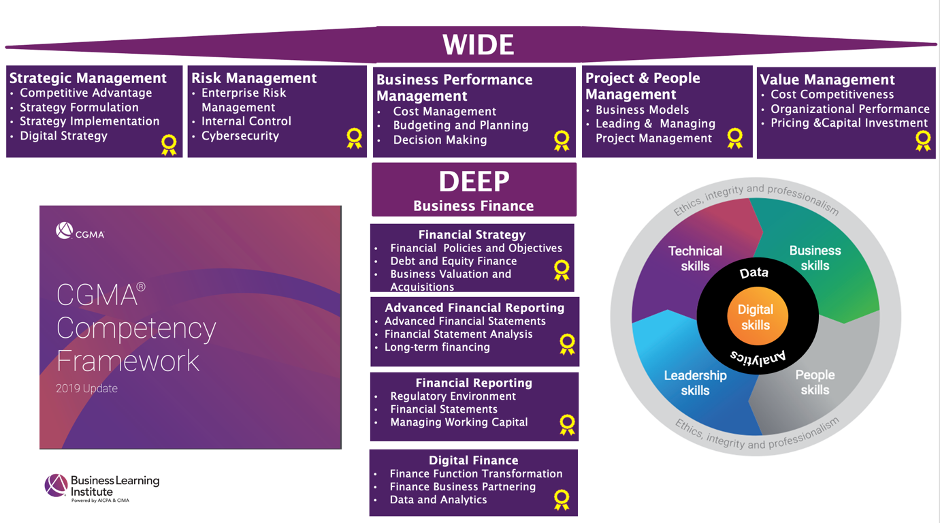 Figure 5
Conclusions
In the current highly uncertain business environment, an FP&A business partner needs to be equipped with defined skills and competencies that bridge technical acumen, technology, and influence. The organisation also has to evolve its model to allow the business partners to grow into a digitised FP&A business partner. We also need to leverage the latest technological advances in our journey to achieve this. 
Now is the time to adopt Digitised FP&A Business Partnering which is going well beyond just Finance involving the entire organisation to move FP&A and planning to the next level.
We would like to thank our global sponsors and partners SAP, Business Learning Institute Online for their great support with this Digital FP&A Board.