How an Integrated FP&A Can Drive Value Creation
Is planning a routine annual exercise or a flexible and dynamic FP&A process that drives value and supports decision-making under uncertainty? How to achieve the latter?
This is what we asked the panellists at the Digital Nordic & Benelux FP&A Board. Planning for the Unknown: Why Integrated Financial Planning and Analysis (FP&A) is the Key.
This article provides an overview of topics and cases presented and discussed by experts, as well as the results of interactive surveys.
Why xP&A Needs to Think More Connected, Complete and Continuous
Michael Huthwaite, Director of FP&A at Walmart shared with us the three pillars of modern Integrated FP&A.
Connected: Optimise planning capabilities by integrating planning techniques
Complete: Build a cashflow mindset, stop focusing on local efficiencies 
Continuous: Focus on growth and value creation while moving at the speed
Michael dived deeper into connected planning and explained a comprehensive framework of Financial, Strategic and Tactical Planning Harmonisation, which is working in both top-down and bottom-up directions. (Figure 1)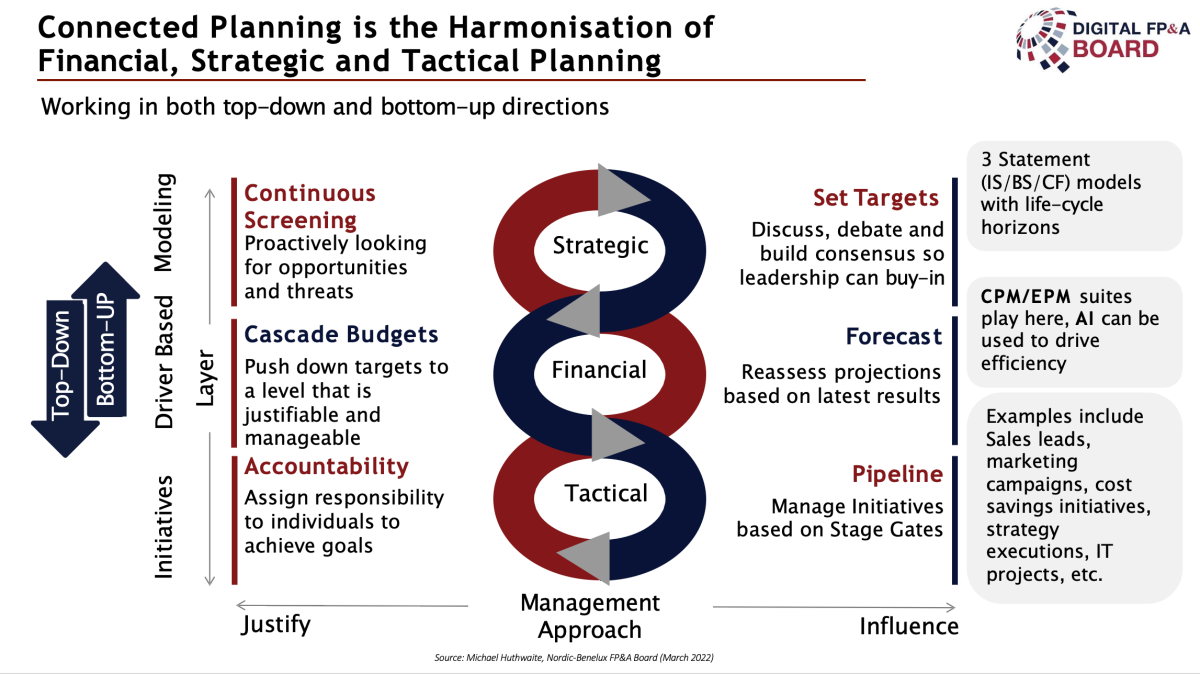 Figure 1
For this model to work together as a single process every layer has to meet certain criteria and face its challenges:
for financial planning, it is crucial to have a good driver-based logic built into it
it is not enough for the strategic level to be driver-based, driver-based modelling is needed to ensure that the results of continuous screening feed back into the budgeting process
while the tactical layer requires initiative-based action to ensure the tactical ability to execute your strategy.
What is the level of FP&A Integration in organisations?
During the webinar, participants from the FP&A industry took part in the survey and described the level of FP&A Integration in their companies. The majority of the organisations reported partial integration either only between the Financial and Tactical levels (36%) or only between the Financial and Strategy levels (24%), while 13% of participants have proudly claimed full FP&A Integration. (Figure 2)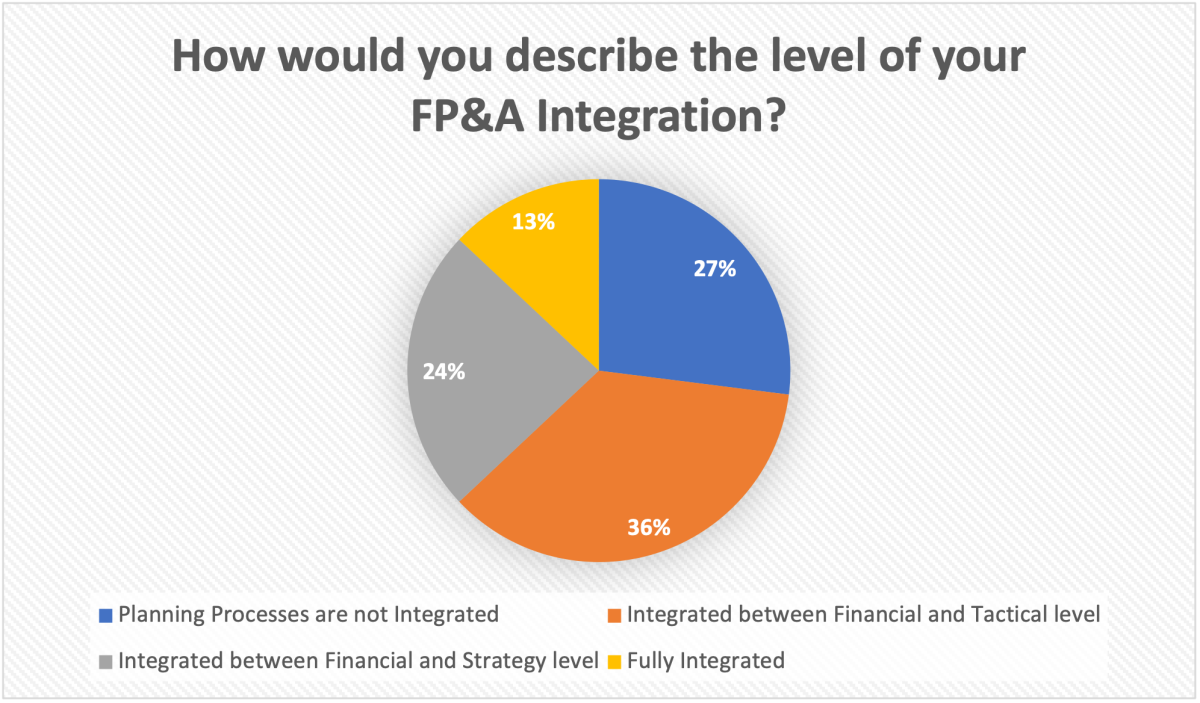 Figure 2
Bringing Strategy to the Point of Impact
Evgeniy Polonski, Global FP&A Director at Leica Microsystems, has explained to us why the traditional planning cycle is no longer effective and how it results in hockey stick forecasts.
He has demonstrated on a practical example from Leica Microsystems, how to cascade strategic plans to individual functional plans and bring the strategy to deployment.
The key steps involve:
Strategic Growth Map: Define WHAT we want to achieve; fit it on one page
Investments Map: Establish a framework to prioritise resources along the same dimensions
Functional Dashboards: Bring in functional stakeholders, define deployment into functional KPIs
Evgeniy has covered the key role of FP&A Business Partners as integrators (Figure 3) :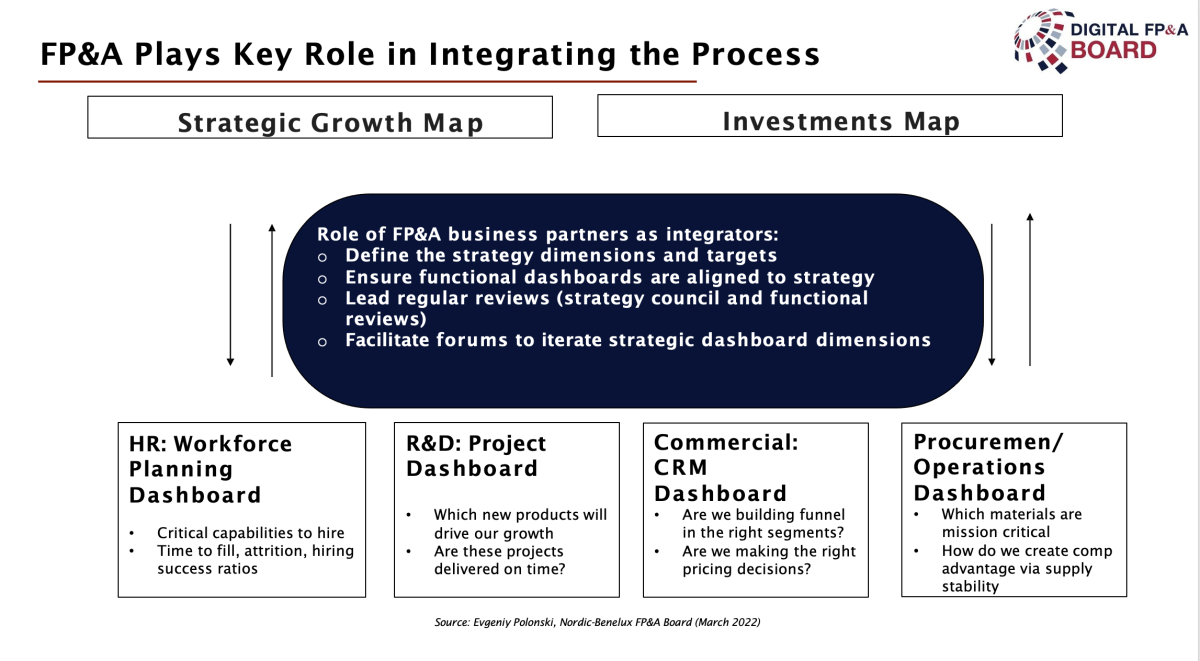 Figure 3
Finally, Evgeniy has shared with us, precious lessons learned through the integration process:
Keep it Integrated: do not get obsessed by P&L - define operational KPIs which can be linked to financial KPIs via the integrated tool
Keep it agile: Strategic planning is a continuous process and not a 1-time annual exercise
Keep it simple: 10 MB data file is not a good starting point for strategy. Put it on one page for every audience! 
Technology: Making Integration Possible
The absolute majority of the survey participants (74%) have stated that lack of proper systems and processes is the main barrier on their way to Integrated FP&A in their organisations. Our last speaker of the event addressed this issue in his presentation. (Figure 4)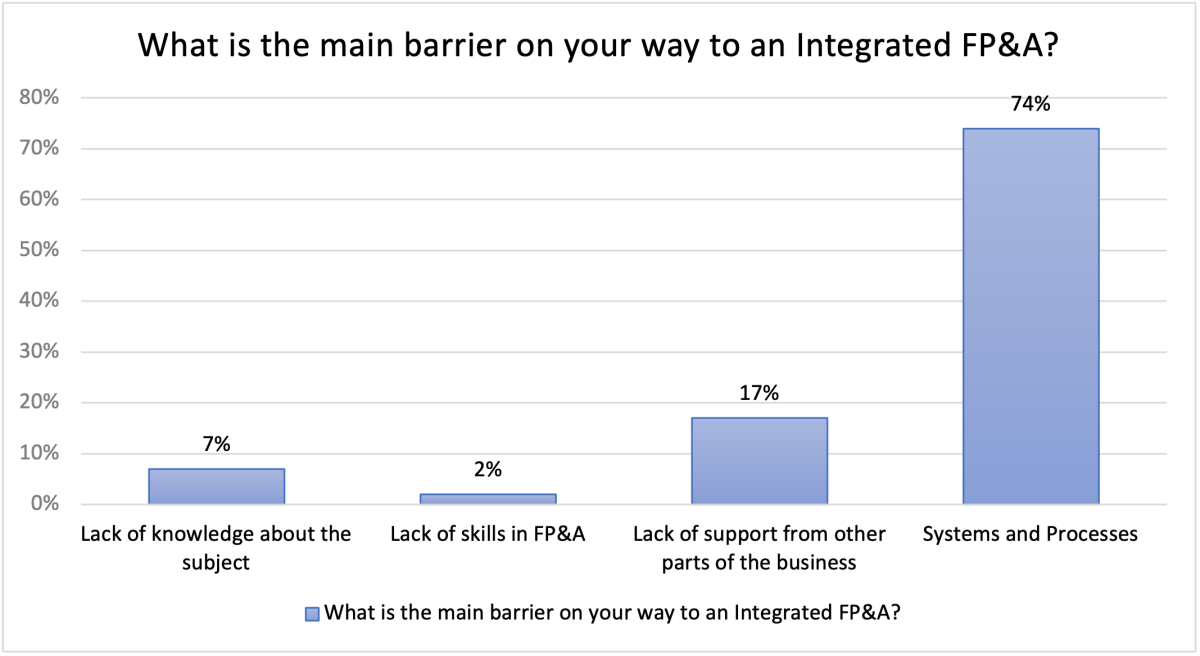 Figure 4
Chris Stiebel, Customer Engagement Director at Jedox, has explained to us how we can use modern tools to make FP&A Integration possible. 
FP&A Integration, according to Chris, is not only the integration of systems, processes and departments but also the following:
Facilitating cross-departmental, cross-organisational collaboration
Transitioning the role of finance from area specialists to business advisors
 
Figure 5
Chris explained that systems have historically been one of the main reasons parts of organisations, including FP&A, have worked in silos.
Each department of the organisation operates in its own system, which is disconnected from each other.
Technologies can solve this problem. DL and DW allow us to collect and store data from various data sources in one place and read this data using a Business Intelligence (BI) application. On top of that, EPM systems allow us to plan and forecast within this system using modern technologies such as Artificial Intelligence, resulting in robust driver-based planning and Scenario Planning.
Modern technology is an enabler and it can help you become integrated faster. Settling for outdated, excel-based planning processes will not keep your organisation and you as individuals competitive.
Conclusions
It is clear that FP&A Integration brings value to organisations, but where to start?
There are already pioneers in this area, some organisations are already far along in their journey, while others are just starting. It is less important whether you will start with technology, process or people skills, but it is important to start today.
We would like to thank our global sponsor, Jedox, for their great support with this Digital FP&A Board.
 
The full text is available for registered users. Please register to view the rest of the article.