Change Management and Analytical Change for FP&A
"Change these days is the only constant". 
The recent pandemic has caused us to overhaul the way we work. So, what does that mean for FP&A? How do we manage change and ensure whatever project we embark on is successful? 
Statistics demonstrate the stark truth: that only 30% of change programs are successful, a proportion that has hardly changed since 1995. What can FP&A do to ensure we reverse this?
During the Digital Swiss FP&A Board, the senior finance practitioners explored the subject of FP&A Change Management – how to drive analytical change. 
Introducing the subject, I took the members through the top trends in FP&A for 2021 and beyond.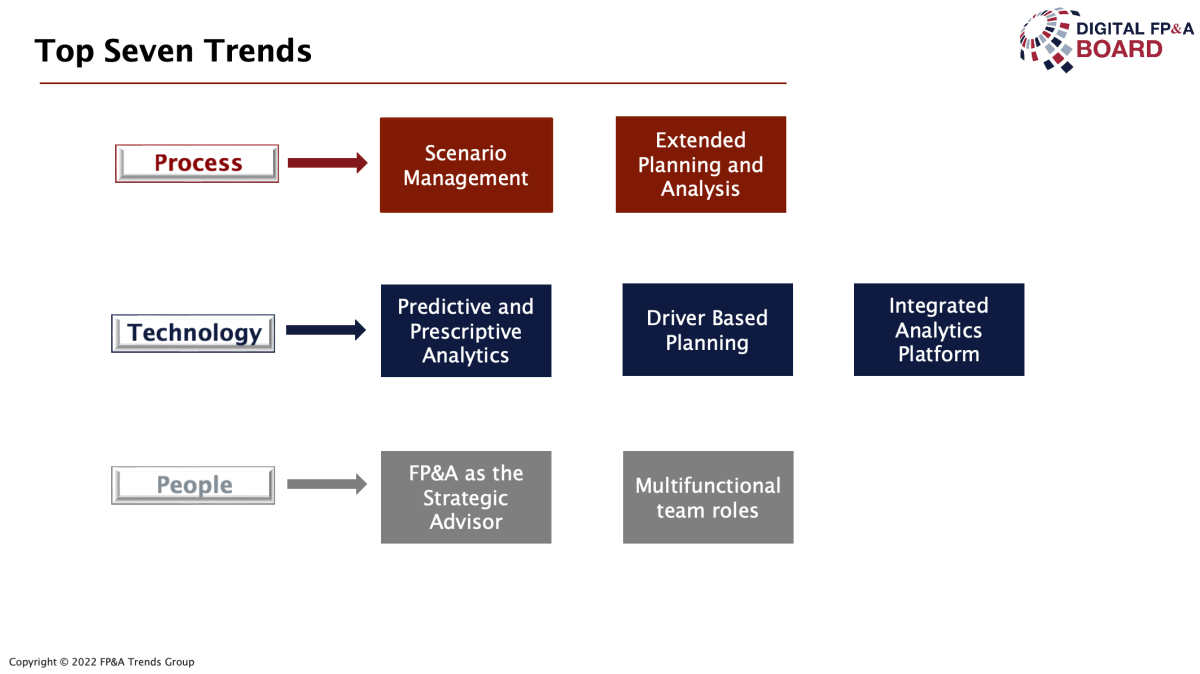 Figure 1
We then examined the FP&A Board Maturity Model in detail, to understand what leading organisations are doing in driving Analytical Change.
Oerlikon case study: Change Management Framework for FP&A System Implementation
Paola Bolderman, Senior VP group FP&A at Oerlikon, shared with us her case study of the change management framework around FP&A system implementation in Oerlikon. She described where they were, the automation they were bringing to FP&A, and the expected results.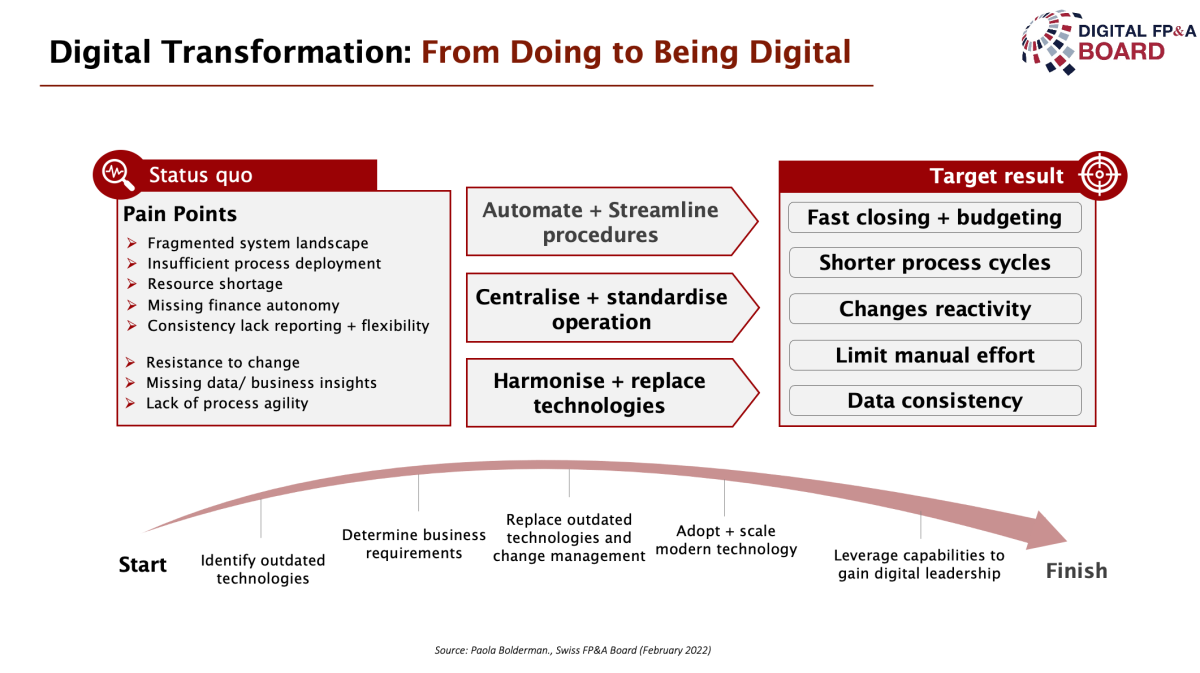 Figure 2
The key barriers to success directly related to how well the change around the project was managed. The main steps to consider were:
The compelling business case for Change
Resistance to change
A clear Vision
Leadership buy-in/sponsorship and commitment
Rigorous Project Management
To conclude, Paola left us with this powerful statement: "Mastering change provides a Strategic Advantage."
FP&A Modernisation through Change Management - A case study at Expedia
Our next case study was around FP&A modernisation through Change Management. For Gareth Bartman, Senior Director at Expedia Group, it was key to bring together the two disparate processes of biweekly output and quarterly forecast into one monthly rolling outlook. See the chart below demonstrating how Expedia went about doing this.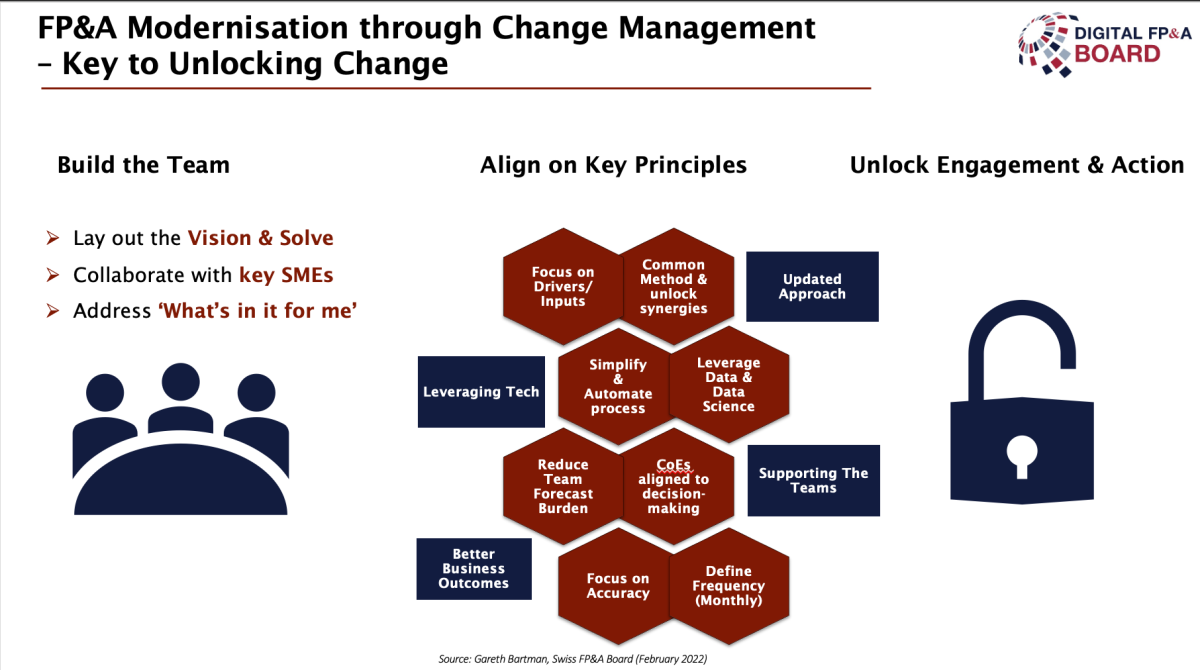 Figure 3
Gareth's learnings around People and Team were: 
CFO Alignment is a must
Empower working group
Identify SMEs and listen to them
Regular communications

Next level change management
Sandoz, where Ramon Zapeta is CFO of Europe, is a more mature company in its analytical journey, but the change was still very much on the agenda. Planning was complex, iterative, and took 6-9 months. A lot of time and energy was spent on negotiations, details and preparation. The focus needed to change from internal performance management to external. Sandoz looked at the following: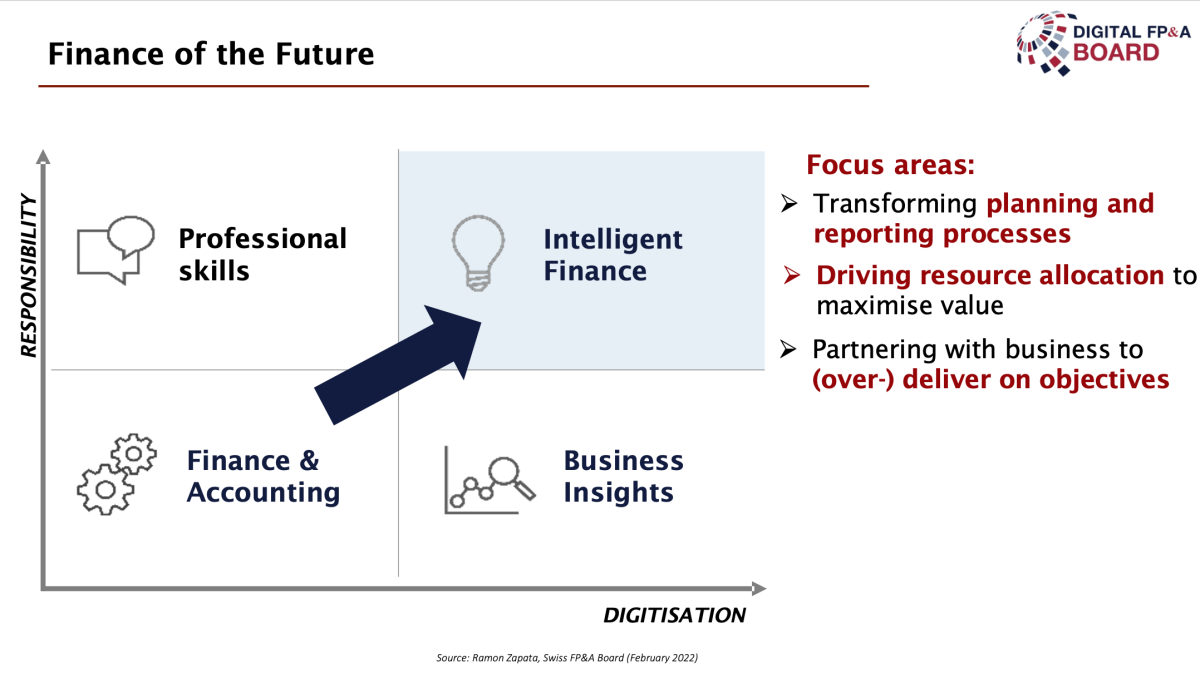 Figure 4
Built on Business Partnering
External Focus (market Share vs Competition)
Driving business impact proactively
Leveraging digital tools and AI fully
Strategic and conceptual thinking vs. process orientated
Importance of both Financial and Commercial Acumen
Technology and Analytical Change
The BARC survey "The Future of Planning, Sept 2021", as shared by Christian Kinzl, Head of Solution Architects DACH at CCH Tagetik, clearly showed Rolling Forecast, Integration with Operational Processes, Simulations and Scenario Analysis, Action and Value driver-based planning are where organisations at going to invest in the future, with 56% planning to invest in technology in the next 12 months.
Analytical change should follow the 4 pillars below: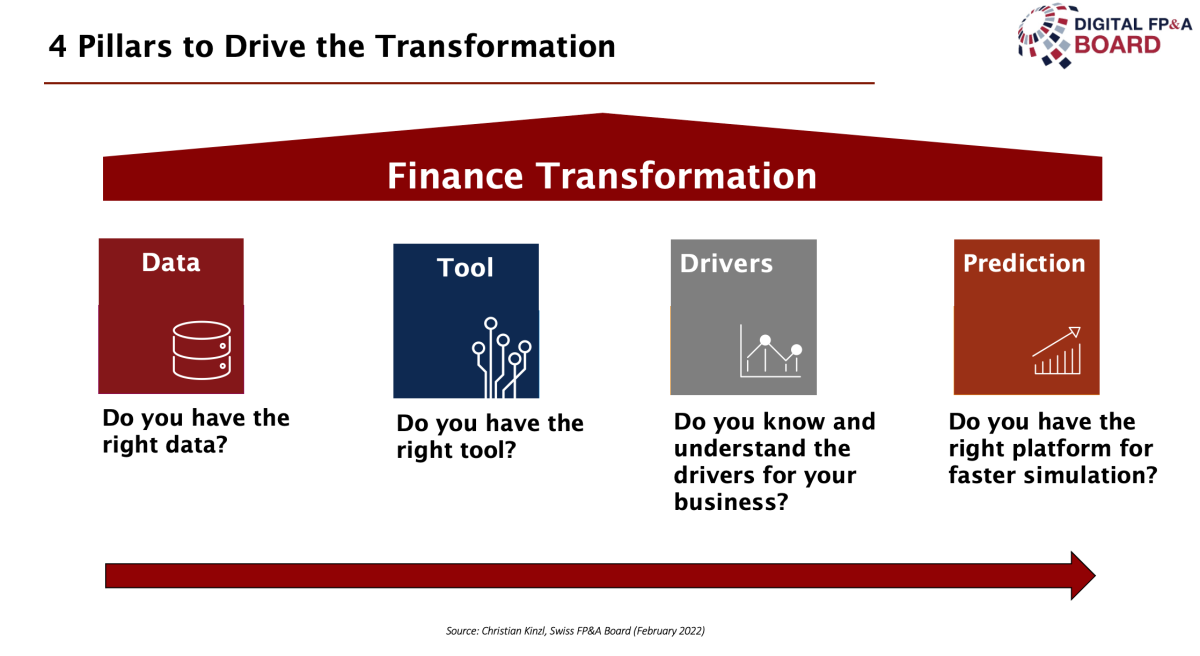 Figure 5
Data – Use both external and Internal data / Work on source systems & Connectivity / Ownership of data
Tool – Connected / Holding granular & Operational Data / Support of Data Science / Business User Centric
Drivers – Identify and manage the right drivers and their impact / Ensure easily adjustable
Prediction – Use of AI and ML / Statistical methods to adjust and learn / Faster Simulations, almost real-time.
Organisations will all be at different stages in their analytical transformations. Some will concentrate on one pillar, while others will work on aspects of each pillar at the same time. It depends on priorities and resources.
Summary 
The key conclusions from the meeting were: 
Pay particular attention to the design and execution of the change project
Important to maintain the momentum
Build the right team
Align on key principles
Pick the right moment for digitalisation 
Remember that human intelligence is key
Get the data right
Follow the four pillars route
We would like to thank our global sponsor CCH Tagetik for their great support with this Digital FP&A Board. 
 
The full text is available for registered users. Please register to view the rest of the article.