This block is broken or missing. You may be missing content or you might need to enable the original module.
Upgrading Your FP&A Team: Areas to Consider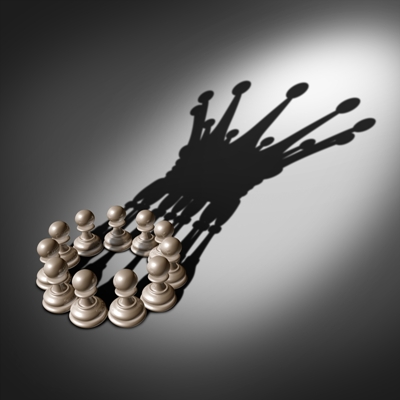 Despite the current circumstances of the COVID-19 epidemic, many FP&A teams have been able to adapt to the challenges and even become more effective during the crisis. FP&A teams are embracing new ways of working. Remote working or part-time working has led to more collaboration and is paving the way for new opportunities for both people and organisations. This article will describe the current FP&A challenges and the ways how FP&A teams can address them.
New reality for FP&A and organisations
Naturally, FP&A teams continue to be challenged with organisational disruption, cost pressures and adverse business performance due to the COVID-19 crisis. The requirement for remote and highly skilled FP&A teams and collaborative work management of FP&A activities has risen considerably. 
Managing employees remotely is a new challenge many FP&A managers have been confronted with. While many will excel, many will not if they do not change their management methods.
Increased frequency of "routine" FP&A tasks such as tracking of COVID-19 metrics, cost savings, cash management and ad hoc forecasting and scenarios have become commonplace. Company managers have required more business intelligence than ever before. Typically, FP&A teams have had to rapidly and repeatedly adapt forecasts, budgets, and investment plans to the shifting COVID -19 circumstances. This has obviously put a lot of additional work and stress on FP&A teams and the management of such teams.
This table indicates the principal organisational challenges, and the responses FP&A teams can utilise to address them.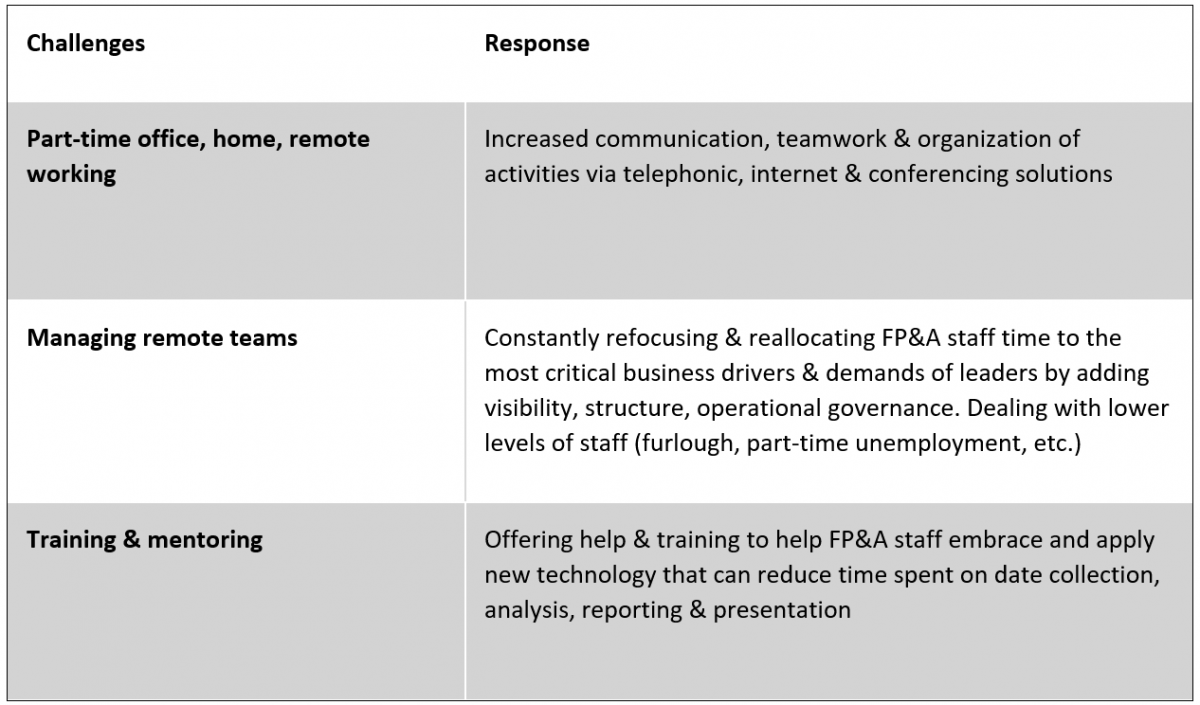 ​
Embracing new opportunities
The future workplace after COVID-19 will offer new possibilities for FP&A professionals and their managers. Technology has been leveraged beneficially to facilitate remote working during the pandemic and is now almost second nature to most professionals. Many discussions on social media revolve around the possibility of remote working post-pandemic. I believe there will have to be a considerable rethink about remote working and the possibility of companies continuing to offer a combination of time in office and remote working. 
For this new opportunity to be successful, three changes should be embraced: 
Remote working has the potential to become the norm. The organisation, collaborative technology and work management tools will have to facilitate this exciting change.
Reskilling and retraining employees. FP&A staff must be trained to become technology aware to be in a position to exploit the capabilities of advanced technology and automation to eliminate time-consuming manual tasks that inhibit value-added activities.
Investments in technology need to be combined with the adoption of new competencies, improved governance, new ways of working and effective change management.
Upgrading your FP&A team
Not only FP&A teams, but organisations themselves will have to adapt to the changing circumstances and opportunities that COVID-19 has brought with it. The accelerated global switch to a virtual world was sudden and unexpected due to COVID-19, but we have a great chance to positively change FP&A practices for the long term due to this crisis. 
There are many challenges associated with the management of remote teams, and FP&A can tackle them in several ways.
Recalibrate the function 
A lot of FP&A functions have recalibrated their structure in the past 12 months to adapt to the new conditions foisted upon their FP&A teams due to COVID-19. For example, adding more senior staff and increasing training to be able to deal with the increase in activity and requests from management. The ability to start to embrace and utilise more advanced business intelligence solutions has been critical to many FP&A teams. 
Learn new skills
A longer-term look at the skill set of FP&A teams and the associated training and development requirements of incumbent teams and new joiners is advised.  
Soft skills become more and more important as we engage with teams that are working remotely. The upgrading of skills to manage remote teams will also be critical as FP&A teams are challenged to work in larger teams remotely, manage remote workflows, communicate in real-time, and share results with consistency and speed with their business partners. Technical and hard skills should also be considered & improved, but in dealing with the changes, soft skills are essential for remote working or a hybrid version to be successful.  
Adopt the right tools
New financial analysis and financial visualisation technology will enable the FP&A teams to be more productive and effective. There are various business intelligence solutions on the market that should be considered. 
Introduce a flexible working environment
Remote & flexible working is now increasingly sought-after by employees. This will probably become a requirement for new FP&A joiners and existing FP&A teams in general. Offering help and training to assist finance staff embrace and apply new technology that can reduce time spent on routine financial processing and help the FP&A teams to improve their ability to be the best business partners they strive to be. 
Disclaimer: The views and opinions expressed in this article are those of the author and do not necessarily reflect the official policy or position of Nidec. 
The full text is available for registered users. Please register to view the rest of the article.