This block is broken or missing. You may be missing content or you might need to enable the original module.
Winning as an FP&A Team: Gallagher Case Study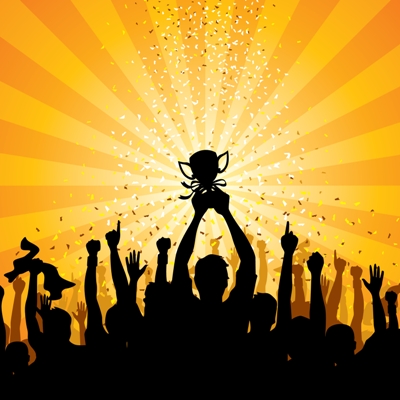 What does winning as an FP&A Team mean? FP&A teams differ from other teams in that they do not actually compete against other FP&A teams so winning won't be shown on a scoreboard. FP&A teams collectively support a bigger team, the whole organization. Organizational winning occurs when the organization out-performs its competitors, servicing its customers with superior products and services. The FP&A team can play a key role for the organization when it provides its business leader with timely and relevant information to be used in strategic decision making. 
A common problem for the FP&A team occurs when the information provided is not used or valued in the decision-making process. Setting up the FP&A team correctly will help alleviate this problem and optimize your FP&A team's influence. This article will examine how Gallagher has set up its FP&A team to win. 
Integrated FP&A Teams at Gallagher

​
One of the challenges of running FP&A in a large organization is there are numerous smaller teams FP&A helps win within the organization. At Gallagher, our Corporate Management Leaders looks at trends in the data centrally with a high level of materiality. They are looking at a portfolio of business comprised of different locations, different products, and different industries across the entire organization. Comparing and contrasting different aspects of the business helps identify success stories and opportunities for improvement. We have a central team of analysts that support our Corporate Leaders. Central team members are highly dependent upon big data to perform their responsibilities.
We also have local leaders in the field supporting branches in different geographical locations. FP&A team members in the field know the business they support like the back of their hands, transaction by transaction. Local FP&A team members are more likely to make their recommendations using a practice called "thin-slicing". Thin-slicing is a term used in psychology and philosophy to describe the ability to find patterns in events based only on "thin slices," or narrow windows, of experience. Field analysts identify transactions that they believe are representative of trends to "thin slice" stories that explain the P&L numbers and persuade their local leaders.
The offshore team in India supplies standard reports across our operations. The offshore team supports both the Central FP&A team and Local FP&A team, providing additional manpower that can distribute reports and perform numerous repetitive tasks quickly and efficiently including data mining. 
5 Key Roles in FP&A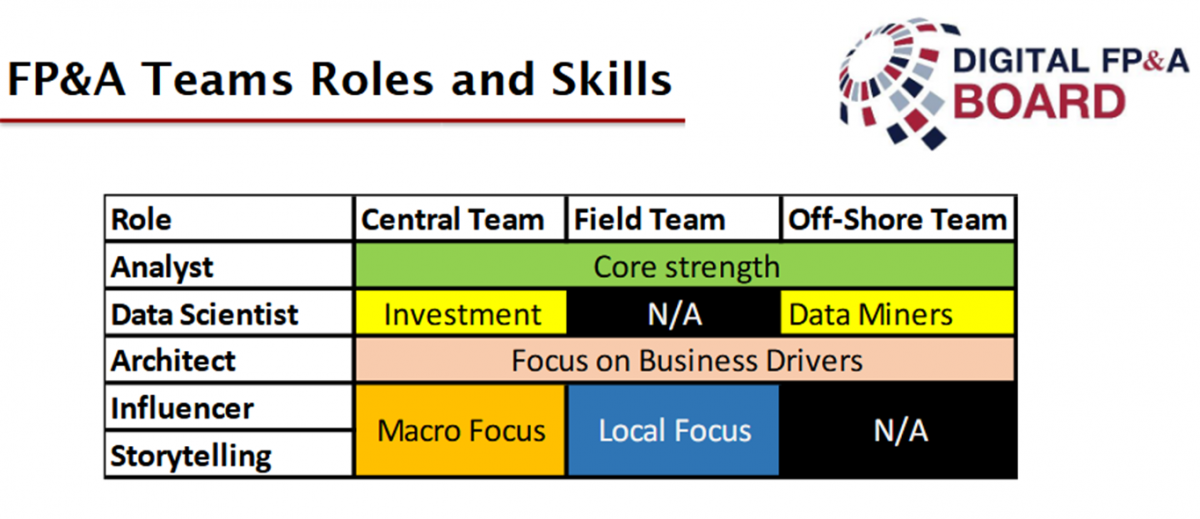 ​
Setting up both the local and central FP&A teams is critical to being a more persuasive FP&A total unit. Equally critical is understanding the team roles. 
Analyst:  All FP&A team members must be able to analyze numbers. The FP&A team analyzes numbers in monthly results, for annual budgets and strategic plans. However, statistics can be used to support both sides of an argument and we find that the same information can be interpreted very differently depending on the audience. Corporate and local management often have competing agendas that drive differences so it's critical the analyst know the audience. 
Analyst role beware: The analyst can have their data used against them. For example, $1 million in raises sounds like a lot from a $ perspective, and therefore it may not appear raises are necessary. However, if $1 million is less than 1% in raises, the information is perceived much differently.  
Data Scientist: As volumes of data become bigger and bigger, the simple Excel spreadsheet is no longer enough to be able to understand how to interpret data. The Data scientist has the ability to harness data from large databases, run algorithms and perform derivatives to test hypothesis using the scientific method. The scientific method includes developing hypothesis, testing with data, drawing conclusions and retesting to evolve our original hypothesis. It lets us become a true learning organization as we learn from trials.  
Data Scientist Beware: Data Scientists have access to volumes of data. If they present the data without simplifying to focus on key trends, it is likely the end user may disregard the data. The data scientist needs to partner with the storyteller to explain how the data is relevant to upcoming decisions.
Architect: Robert Cialdini, a famous social psychologist, noted that what's focal is causal. That means whatever we focus on is deemed to be more important in terms of obtaining superior results. As financial analysts, we have the power of pen and can design reports to help branch managers focus their attention. If we focus them on line items within the P&L instead of business drivers like new business per producer, we spend more time talking about the P&L as opposed to revenue-generating activities and business drivers. Since local and divisional leaders are often focused on different things, it is the financial analyst's responsibility to focus on the common ground that brings the sides together.  
Architect Beware: The architect may be encouraged to design reports to focus on things that are not business drivers. The architect needs to make sure they are partnering with the analyst and storyteller to make sure the report focuses on business drivers and is presented in a way the business understands.
Influencer: The key to influencing is usually more centered on empathy than it is on knowledge. As Stephen Covey's habit #4 states – seek first to understand, and then to be understood. We need to understand our branch manager needs so we can present data that meets their needs and influences their decision making. While we have standard reports, we also have customized reports designed to meet specific needs.  
Influencer beware: The influencer is frustrated when they cannot get the attention of the business.  The influencer needs to partner with the analyst to determine business drivers, and the storyteller to come up with stories that help influence.
Storyteller: It's critical we can story tell to help others visualize our recommendations. We can tell a branch manager their precise metrics; however, often those metrics by themselves are ambiguous and confusing. For example, we could show that we have 2200 employees on staff. We can turn this into a story with statistics identifying trends. For example, we have 2200 operational employees on staff down from 2300 last year due to hiring freeze reducing their costs from 12.1% to 11.5%. We need to hire 100 employees back but believe this will only bring the ratio to 11.8% as we have obtained synergy savings from the growth. The local analyst can add anecdotes from the field explaining how we lost a customer because we were short-staffed, or how adding an additional employee helped grow a business. 
Storyteller beware:  The storyteller needs to partner with the analyst and influencer to make sure the stories are supported by the data and reaching the influencers.
Key Takeaway  
Winning as an FP&A team is so much than just delivering the numbers and forecasts. The great FP&A teams know how their business leaders want to see the data to make decisions, as well as know the time to present to make decisions. Setting up your team with influence with local decisions makers matters. Additionally, understanding the 5 key roles – analyst, data scientist, architect, influencer, and storyteller – will help your toolbox in the ability to persuasive in our presentations. We win when the organizations win and value us as a key to their success!
The full text is available for registered users. Please register to view the rest of the article.