FP&A: Thriving in Uncertainty
The world around us is rapidly and continually shifting. We are overloaded daily with news of spikes and shifts, whether on the market, in industries, the environment, or in politics. Understanding the consequences of these changes and defining clear actions swiftly becomes essential. Being informed and being agile has become the norm of our daily life.
So how can we deal with this new norm in Financial Planning & Analysis (FP&A)? The answer lies in looking at the past and the future of our function.
Indeed, in recent years we have experienced significant events that have impacted our way of living and working. However, in my opinion, these events have accelerated the evolution of the FP&A function.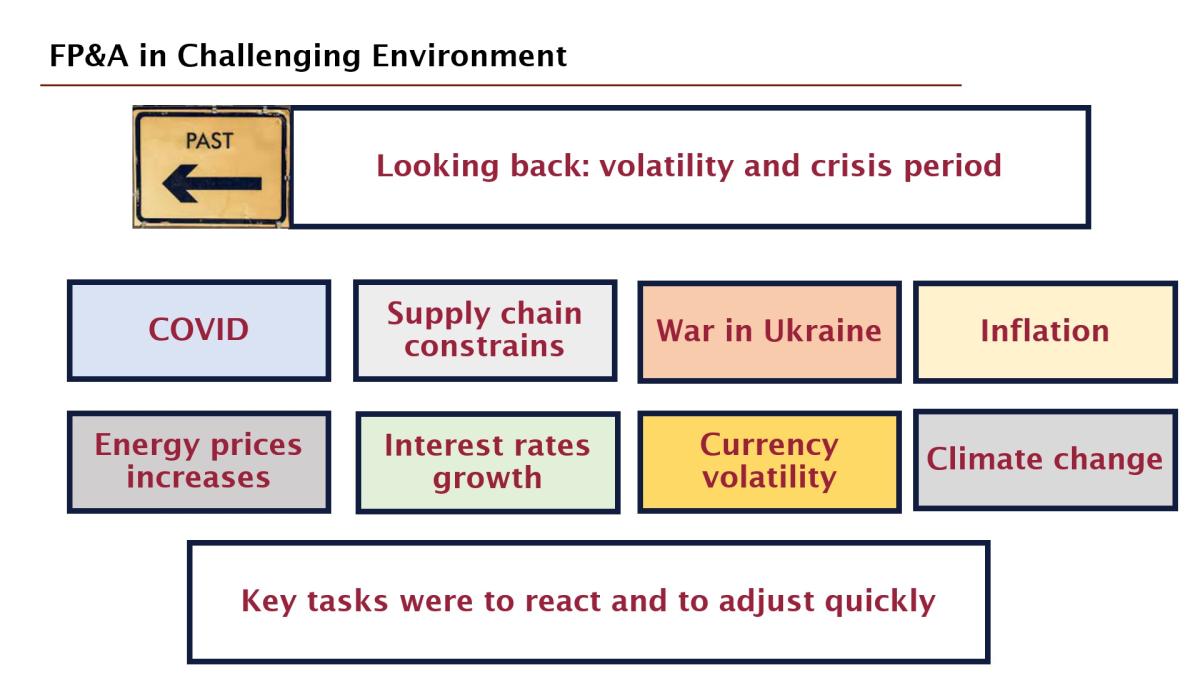 ​
Figure 1
Facing a global pandemic, supply chain constraints, the war in Ukraine, inflation and other significant political and economic events, FP&A professionals have had to react quickly and adapt to new requirements 'on the fly'. With no manual or training material, organisations have adapted in their own specific, but in many cases similar, way.
For example, with an increased need for the latest information at our fingertips, risk KPI dashboards were created or extended with critical information elements. The frequency of data sharing was adjusted to closely monitor the evolution of business key areas: sales, procurement, pricing and others.
The challenges of these unexpected impacts spread throughout every department: Business, HR, Logistics, Marketing, Finance, etc. As such, a need arose for a coordinator who could summarise information from different sources and have a complete picture of possible impacts.
In many companies, FP&A stepped in to take this role. Today, we have emerged more experienced and stronger due to these changes, recognising the need to learn lessons and to continue to expect the unexpected. 
Here I am sharing some key elements to consider in preparing for future uncertainties. 
External Environment
To be well prepared, FP&A must closely monitor the external economic and political situation, and its evolution and identify related internal impacts.
For example, this might mean:
When observing an increase in interest costs, refocus more closely on tracking credit and receivables, identifying possible impacts on cash cycle health;
 
When observing inflation growth, consider possible higher payroll costs and other expenses or probable lower customer demand.
When we identify these trends, we should consider the following:
What do they mean for the company's risks and opportunities?
 
Which internal data from which system or department can demonstrate the impacts? 
 
Is there a need to rework the latest outlooks, adjusting to possible impacts? 
 
Is it better to have different Scenario Planning to allow greater flexibility concerning upcoming changes?
Finding the answers to these questions is already part of the FP&A routine today and certainly will remain that way. But to make this routine efficient, some elements should be in place.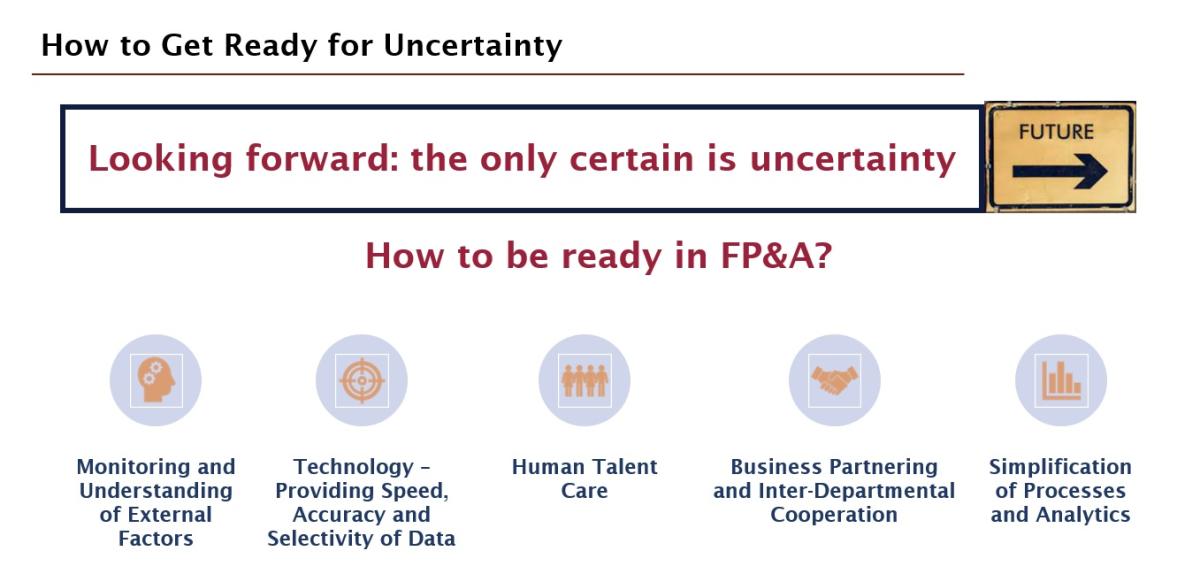 ​
​

Figure 2
Modern Technology
For example, the implementation and usage of modern analytics systems allow greater data consistency among different sources, which helps make the necessary KPIs and specific metrics available quickly.
Automated planning, where just some key driver entries are needed for extended plan creation, can lead to quick and easy scenario modelling. Artificial Intelligence and Machine Learning programs can reduce manual data modelling time and allow broad data validation options.
Smart and modern dashboards provide the needed flexibility and selectivity of data, including self-service options for different areas of the organisation, saving mail distribution and file sharing time.
xP&A
Intensive cooperation between different departments helps us to understand the needs of other areas in the organisation. Also, it can provide the internal specific metrics which could be used in FP&A Analytics. 
For example:
Monitoring order status with procurement can support further revenue plans, especially sensitive during periods of supply chain constraint.
 
HR metrics related to attrition or Annual salary review rules can support cost validation and scenario building.
 
Treasury can offer more insights into possible impacts during the currencies' volatility periods.
Citing just these few elements, we can already see that an active link between FP&A and other departments is valuable in ensuring a stronger FP&A for our future. 
People
Last but by no means least, it is important to mention how essential it is to care for our teams.
FP&A professionals are uniquely talented and resilient individuals who can combine financial and technical knowledge with communication skills and sound business understanding. This unique combination of skills is highly sought after on the market, and our target must be to develop and retain such talents in our teams.
With the move to a remote working model due to the pandemic, we are now slowly recovering from a period of extreme isolation. We have proved that we can act from a distance and do the job well. But we also realise the importance of human interaction, especially when talking about newcomers and onboarding processes. It is not only about knowing what and how to do but also about team spirit, quick real-life exchanges for solving complicated matters as well as team spirit strengthening. We have learned that keeping people at the top of our priority list is absolutely essential.
Simplification
Finally, achieving excellence in FP&A requires simplification wherever possible. 
Processes, analytics and dashboards must be reviewed regularly. This means making an inventory of them and removing obsolete data or templates, stopping old intersystem dependencies by implementing new technology, and combining processes in overlapping areas, as just some of the examples to mention here.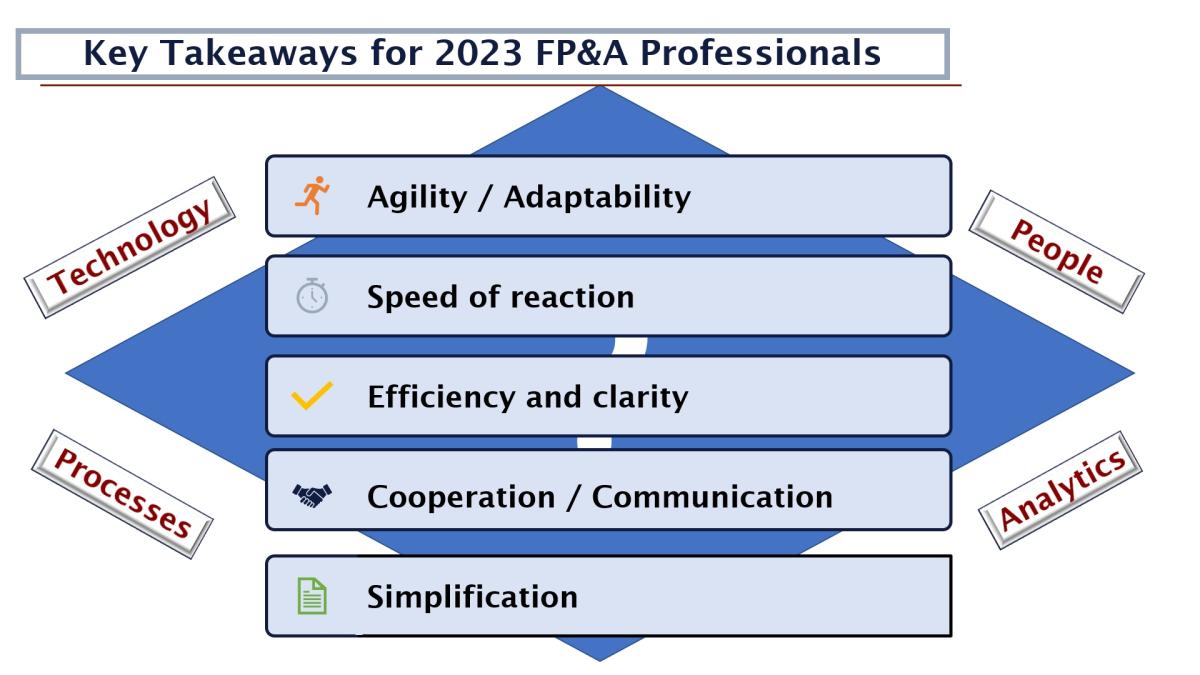 ​
​

Figure 3

Conclusion
When combined, all these elements can be of tremendous help in gaining speed and efficiency in adjusting to new requirements and needs.
Equipped with these tools and actions, we can be more agile, quicker, more efficient and clearer in our data and statements. We can improve the support provided to our business and strengthen the cooperation between different areas of the organisation. 
The result? A robust, efficient, reliable and strong FP&A function. 
The full text is available for registered users. Please register to view the rest of the article.