This block is broken or missing. You may be missing content or you might need to enable the original module.
FP&A Integration: Bringing Together Financial and Strategic Planning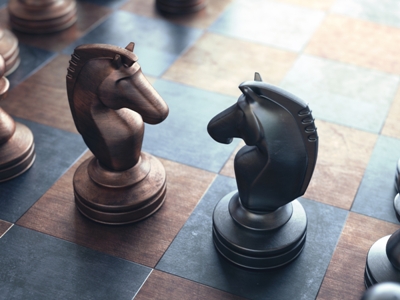 Having a well-defined strategic plan and tracking its execution with focused diligence can be a differentiator for a company. This is easier said than done. According to Harvard Business Review (HBR), 67% of business strategies, even well-formulated ones, fail due to poor execution. 
FP&A departments are able to track and manage financial plans. But can FP&A help manage the execution of a strategic plan? And can strategic plans play a more defining role in financial planning? Better still, is there value in integrating these two processes? 
In this opinion piece, I will make the case that integrating a strategic and financial planning process that is facilitated by the FP&A Head can create an edge for an organization thereby setting the stage to successfully execute a business strategy while meeting financial goals.
Strategic vs Financial Planning
A good strategic plan articulates the purpose, business model, product/service offerings, business goals and priorities of an organization over a set planning period. 
A strategic plan could be as simple as a sole entrepreneur sharing his business ideas on the back of a napkin, or as complex as a large multi-national organization embarking on a six-month intricate process. Whatever its form, a strategic plan is essential to align and communicate the purpose of an organization and set its direction. 
In addition, the process itself can be a powerful team building and collaboration exercise. But by far, the most significant impact of a strategic plan is when it is embraced and executed upon with discipline by different functional areas. 
Financial plans, on the other hand, set a financial path and define the financial goals for an organization. Good financial plans are built with cross-functional input and test multiple scenarios. There is a heavy emphasis on the development of the financial plan as it is a primary measure of an organization's performance and the basis of management bonuses and payouts. 
As a result, actual vs. planned performance is monitored closely, and financial planning and tracking processes are well-established by FP&A professionals. 
However, there is one major challenge in financial planning that is all too common. During the development of a financial plan, internal rallying by stakeholders often influence or skew the plan. This could result in a snowball effect leading to a "story" being developed to justify a financial plan that departs from the organization's strategy thus ending in poor strategy execution and financial performance. Breaking this downward spiral is why we need to think of ways to integrate strategic and financial planning processes.
What are the Similarities Between Two Processes?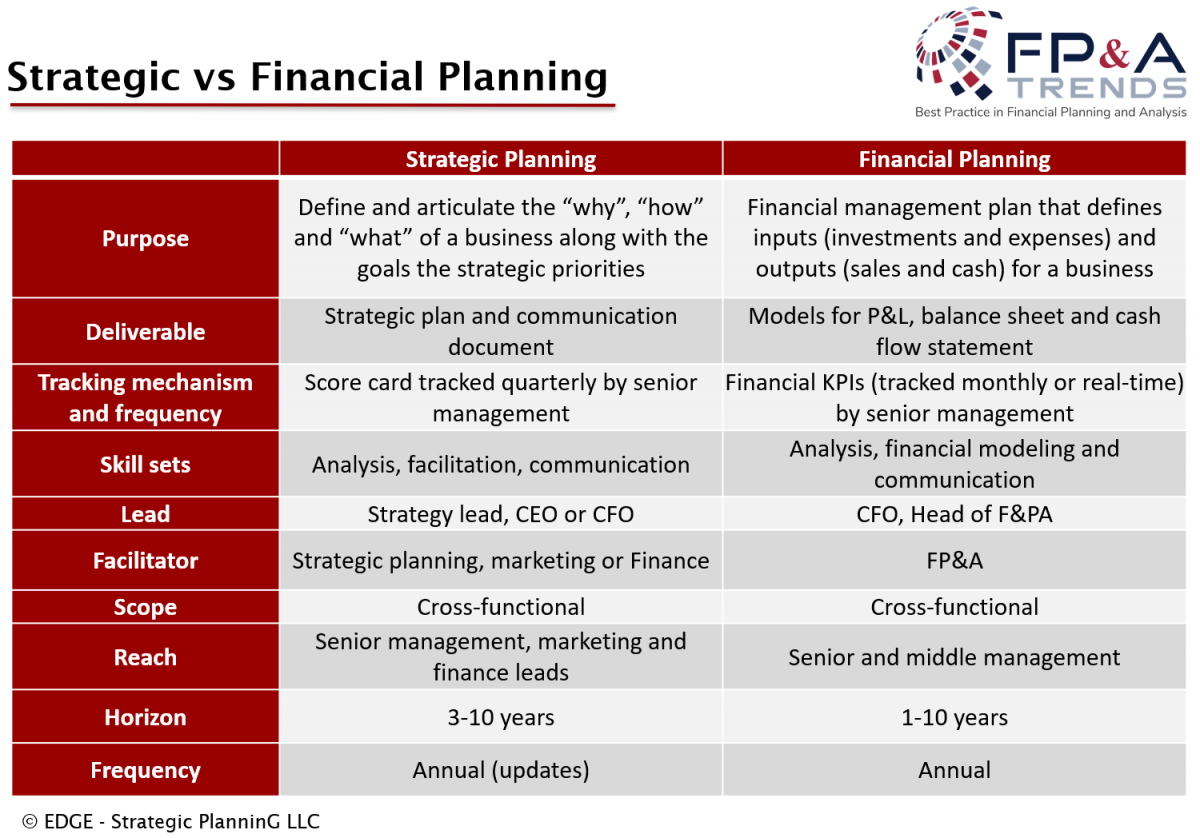 ​
​Table 1. Strategic vs Financial Planning.
A review of the key elements of these processes (Table 1 below) illustrates that there are several commonalities that enable integration. 
FP&A Involvement in Strategic Planning: What Benefits Does It Bring?
Having worked on strategic plans facilitated by different functions, I found that those led by FP&A teams, in close collaboration with other functions, are most likely to be implemented without significant changes. This is due to the following reasons:
Exposure and/or responsibility for the big picture. Collaboration increases the knowledge base of the finance team in regard to external factors and internal strengths and weaknesses, thereby broadening considerations for investment decisions and reducing political tussles during financial planning. 
Debates on the risk vs benefit vis a vie strategic projects are sorted out prior to starting the financial planning process thereby reducing delays and changes.
Score cards developed for tracking of the strategic priorities are more measurable and tracked with the discipline and rigor applied to a company's financial plans.
Internal stakeholders have to engage with just one team reducing redundancy and inconsistency between the strategic and financial planning processes.
In conclusion, there are several benefits in having FP&A lead the strategic planning process especially when it comes to the implementation of a strategy. In follow-up articles, I will share an integrated model that has been used successfully and skills set needed for an FP&A team to run the integrated process. 
 
The full text is available for registered users. Please register to view the rest of the article.