This block is broken or missing. You may be missing content or you might need to enable the original module.
The FP&A Dilemma: Balancing Long-Term Strategic Objectives & Short-Term Goals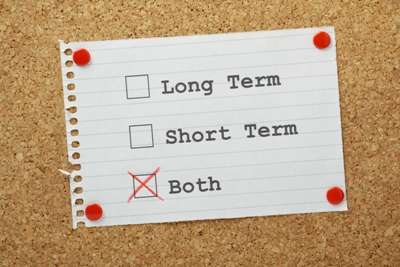 Organisations often struggle to find a balance between their long-term strategic objectives and short-term goals. Being a key player in an organization's strategy setting and budgeting process, FP&A professionals also face this dilemma as a part of their roles.
 
Balancing both long-term objectives and short-term goals requires a deep understanding of the business and its nuances and learning to perform a tightrope walk. How much an organization and its executives succeed in striking this balance determines the very success and sustainability of the organisation. Below is a discussion on this issue and the nuances involved.
What are long-term strategic objectives?
Every business organisation needs to have a long-term strategy that details the direction it intends to grow in within the next 5 or 10 years. The right time period for strategic objectives is dependent on the nature of business and the maturity stage of the organisation. For example, a start-up in the technology space may have a shorter timeline while a 50-year-old steel company may have a longer one. 
The importance of having clearly laid out strategic objectives cannot be overemphasized. It is vital to have a clear end in mind while formulating shorter-term plans and making strategic and tactical business decisions. Without it, business leaders and executives will steer the ship that is the company in arbitrary ways leading to a directionless pursuit which is bound to fail.
What are the short-term goals?
An organization also works on a set of short-term goals – in the form of annual budgets, quarterly forecasts, monthly rolling forecasts, weekly targets, etc. While annual budgets are a decomposition of the long-term strategic plans into an annual target, quarterly and monthly forecasts are more dynamic plans that are vital to ensuring the business is managed with agility in response to rapidly changing environments.
The Balancing dilemma
"Life is what happens to you while you're busy making other plans." – John Lennon.
In an ideal world, the long-term strategic objectives would translate into annual plans that would decompose into quarterly and monthly plans. The achievement of the shorter-term plans would roll up into an achievement of annual plans and a move in the direction of the strategic objectives. However, the reality of business environments with so many moving factors ensures that it would never be this smooth. When a business organisation with clearly articulated long-term strategic objectives faces a dynamic business environment, the dilemma of long-term vs short-term goals begins.
Let's take the case of a hypothetical cigarette manufacturing company, Cigar Ltd. Cigar Ltd's top management and Board of Directors have determined in 2010 that considering the increasing awareness against smoking as well as the tightening government regulation in their country of operations, their 100-year-old flourishing cigarette business is at potential risk in the future. Hence, in order to ensure sustainability and growth in the future, they decide to diversify into non-cigarette portfolios where they can leverage their manufacturing and selling capabilities such as CPG (consumer packaged goods) over the next 10 years. 
This objective is clearly laid out in the form of a strategy document with an alignment that such diversification would necessitate initial investments into R&D, Manufacturing Operations and Brand building as well as a dilution of margins and profitability due to entry into categories with lower margins than cigarettes.
 
In 2012, the business suddenly faces headwinds with a 100% increase in duties on cigarettes, bad tobacco crop leading to reduced supply and regulation to put pictorial warnings on cigarette packs. As a consequence, the business starts falling terribly short of its annual targets. The business executives, whose incentives are linked to the current year's bottom line delivery decide to roll back all investments in developing the new categories in order to save costs. This, however, is clearly at odds with Cigar Ltd's strategic intent. 
Considering that this is an exceptionally unfortunate series of headwinds faced in a single year, the decision to roll back investments in new categories would not be entirely unjustified. However, looking at things more carefully, one would realise that other than the bad crop, the other two factors of increasing taxes and pictorial warnings are, in fact, what Cigar Ltd predicted and the very basis for making the decision to diversify. 
The nuances of the situation would also have to be assessed such as how much investments have already gone in and by what timeline will the new categories start to be sold and begin to contribute to bottom-line delivery. While some postponing of investments may be required, a complete roll back of investments in order to protect current year's bottom-line and incentives would mostly be unjustified.
What role FP&A should play
It is easy for a business executive or a sales and marketing person to get caught up with the daily business and develop a short-term vision. In a bad year, it is easy to lose sight of long-term strategic objectives and make rash decisions that are not in line with them. As a strategic business partner, an FP&A professional should play the role of a conscience keeper and raise a contrarian voice in ensuring the direction of a company stays on track towards the strategic objectives. 
One can add tremendous value by performing deep-dive analysis and bringing out actionable insights that make decision-makers more aware and avoid misinformed decisions. For example, in Cigar Ltd's case, an FP&A professional is in an excellent position to analyse the additional investment involved (ignoring the sunk costs) and the projected sales and contribution of the new categories. Various scenarios and their financials can be worked out in order to ensure minimal additional depreciation hit to the P&L or maximum preponing of new category sales to contribute to the bottom-line within the year. While the aforementioned analysis is only illustrative, the scope for adding value in such situations is immense and would depend on the initiative of the professional and his understanding of the nuances of the situation. 
In conclusion, an FP&A professional is an excellent position to help organisations and business leaders manage the balance between long-term strategic objectives and short-term goals and through this contribute tremendously to the organisation's continued success and sustainability. 
The article was first published in Unit 4 Prevero Blog
The full text is available for registered users. Please register to view the rest of the article.