FP&A Evolution: From Silos to xP&A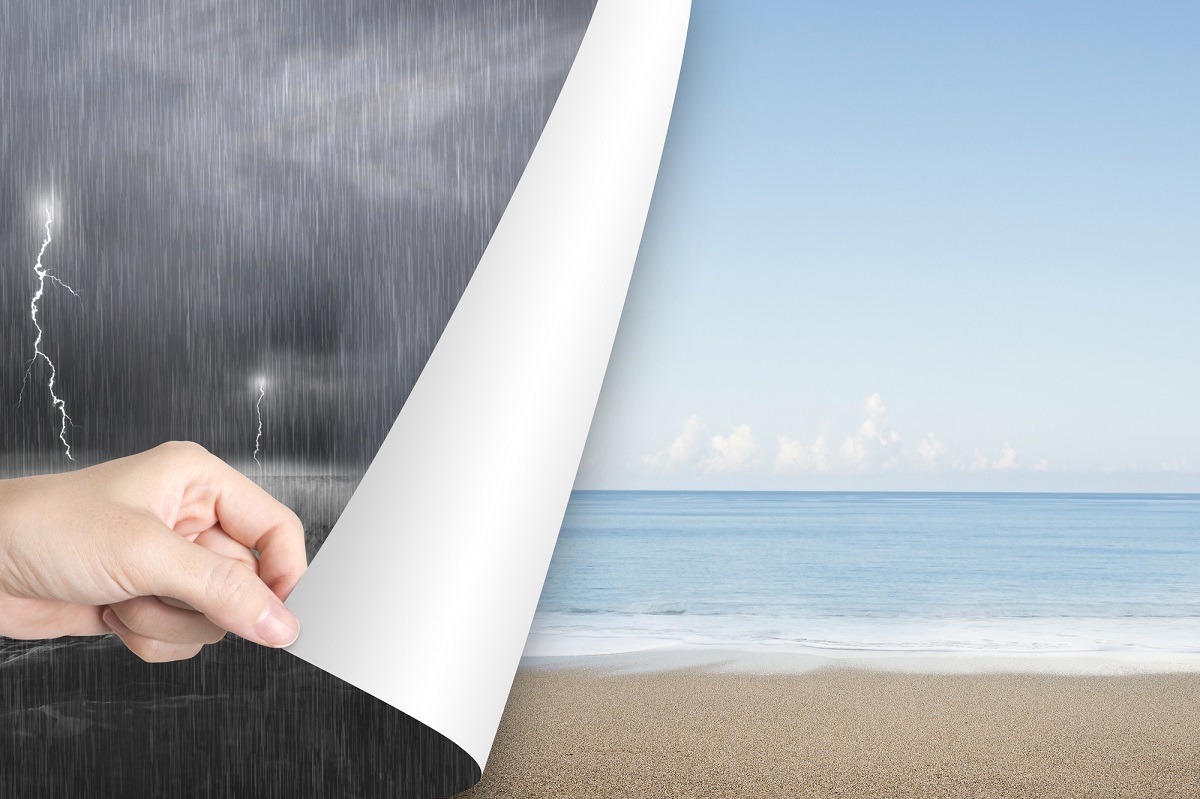 Every FP&A professional has a similar horror story. At some critical juncture, a detailed analysis and recommendation on a key decision must be presented to management. The presentation has been practised for days, the numbers have been checked (and rechecked), and multiple scenarios have been analysed with a key recommendation.
However, when the team sits down with the executives in the board room, they are confused. "Didn't I just review a similar presentation from sales last week?" the CEO asks. Blood runs from the team's faces.
The executives are, once again, frustrated to be presented with different recommendations from different functions, with each presentation lacking a cohesive view of the entire business. So, what's a leader to do? They do what they're accustomed to with such disconnected analysis: they continue to lose trust in their teams and make a decision based on their tenured intuition.
The good news is that, while painful, these integrated analysis challenges are far from unsolvable.

Siloed Ambitions
The word 'silo' derives from the word 'isolated'. A silo is essentially an island within the corporate geography, limited by distance, culture, leadership, and technology. Silos occur when departments or groups within an organisation work independently from one another for various reasons, including differences in goals, communication breakdowns, and competition for resources.
Organisational silos are a significant problem in many businesses that harm productivity, communication, and morale. In some cases, silos can create an us-versus-them mentality, further impairing collaboration & productivity.
While sales, marketing, HR, engineering, operations, and supply chain contribute to the bottom line, each is accustomed to creating their own operational plans using separate planning tools, methodologies, and standalone spreadsheets – without insight or awareness of how they may impact each other.
What should be an organisational synergy develops into paralysis as each function fights for its fiefdom and status within. Today, many organisations are stuck with the traditional approach to planning, as seen in the left table in Figure 1.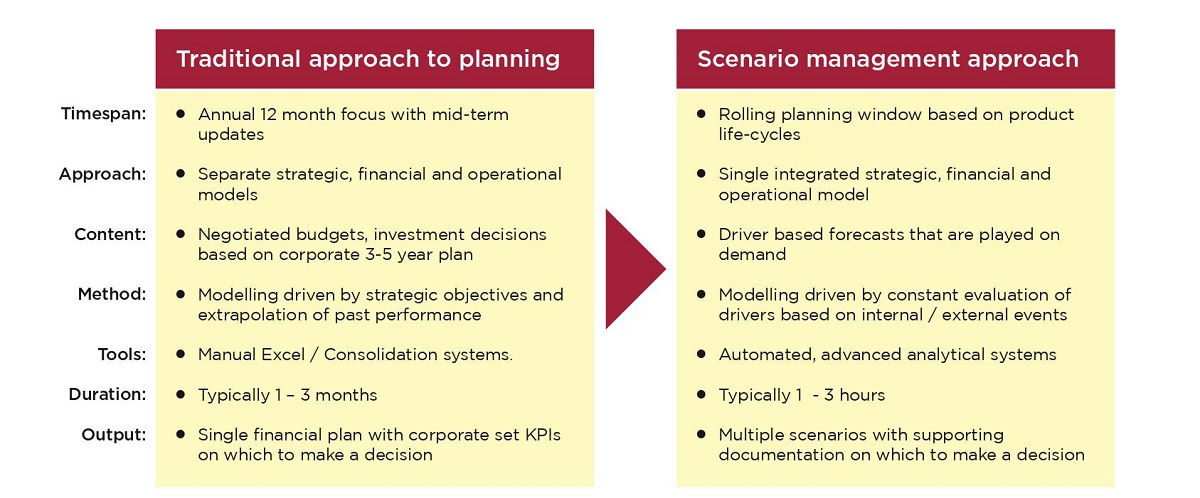 xP&A De-silos Organizations
Extended Planning and Analysis (xP&A) is the best solution to resolve siloed efforts.
As the name suggests, extended planning and analysis (xP&A) expands past traditional financial planning and analysis (FP&A) tools, practices, processes, and methodologies. Here, the "x" is a variable that represents all departments- finance, sales, operations, supply chain, or HR. The planning process expands beyond the finance function, as depicted in the right table in Figure 1.
At its core, xP&A links plans and people to identify potential impacts, opportunities, and risks within different departments, helping organisations to develop solutions as soon as challenges appear. With xP&A, multiple scenarios can be analysed with one "Number of Truth" outcome clearly demonstrating the impact on each organisational function.
Even better, xP&A doesn't just link operational plans to each other – it also links plans to strategic objectives, which helps CFOs and their teams to forecast, monitor, and evaluate matters holistically. Now, executives can pair their intuition with real-time, accurate, and cohesive analysis to boost their decision-making confidence.
For example, when a new blockbuster product takes off, xP&A solutions indicate staffing and production requirements, possible supply chain disruptions, the need for additional capital, and forecasted profits and cashflows. The beauty of xP&A is that when one plan changes, the fully integrated model shifts, and the whole organisation can focus on confidently taking its product to market.
As you can see in Figure 2, pairing the right tools to implement xP&A creates a unified planning capability.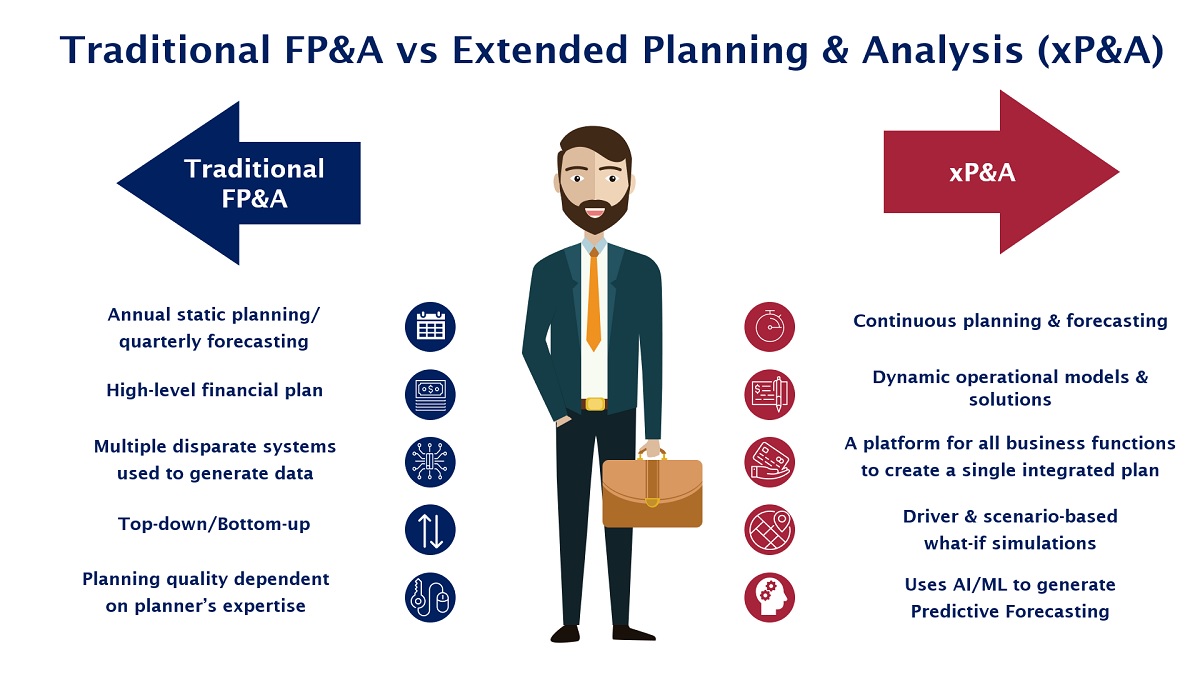 Figure 2: Next Generation FP&A Model

Technology Finally Catches Up
The pain points of integrated planning aren't new; this isn't the first time a solution has been called for. However, what has changed is that technology and organisations have finally evolved to the point where they are both ready for each other. After first learning how to walk, we are now ready to run.
Centred around best-in-class technology, xP&A leverages the power of teams to break down silos between departments – and connect and synchronise plans across the entire organisation compared to an FP&A-led approach. What's integral is having your planning system connected to your ERP and other enterprise applications in real-time.
To prepare for xP&A, organisations must prioritise investment in Change Management for all involved — from executives and directors to managers and users. A well-prepared and trained function will ensure seamless Change Management and communication throughout the xP&A deployment process.

Conclusion – FP&A Evolution: From Silos to xP&A
While silos have always been a persistent challenge to sound decision-making, the future is promising. No longer theoretical, xP&A can be adopted by savvy organisations today.
Organisations that embrace integrated xP&A's modern technology will beat the competition. Instead of more of the same and trusting only FP&A teams to produce analysis, xP&A stands poised to drastically enhance the planning process, allowing executives and each function to run simulations to support what-if analysis and planning scenarios seamlessly. Organisations embracing xP&A can trust the data available as they have a fully connected planning and enterprise application platform that doesn't replicate data and embraces a single version of the truth. With xP&A, silos are broken down and work collaboratively to produce fast and informed decisions across the business, to better understand the impact on operations and the bottom line.

This article was first published on the SAP blog.
The full text is available for registered users. Please register to view the rest of the article.