Becoming a Great FP&A Storyteller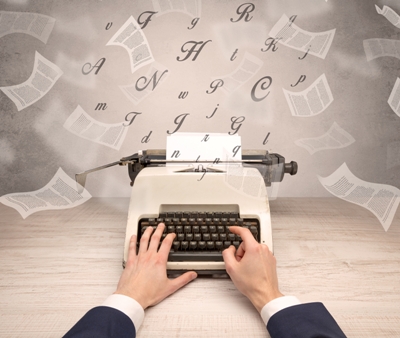 This article on storytelling will evolve around the three core elements of a good story — the narrative, visuals and data. I will cover how combining these allows FP&A to fulfil our goal in life of influencing change.
Evolving as a storyteller
Throughout my working life, I have always been more fascinated by the story behind the numbers than the numbers themselves. "The numbers say it all", I often hear. Well, they don't and only by adding a story to the numbers do you see the whole picture and are able to use the numbers to add value in the decision-making process.
Each audience brings the need for different techniques, different levels of details and various formalities of the language used. Storytelling is not a case of "one size fits all" – it needs to be adapted.
There are common traits and learnings I have gained from all the audiences I have presented to, and I continue to learn on a daily basis.
Three pillars of FP&A Storytelling 
The success of FP&A in influencing change is directly related to our ability to convey the essence of a topic. We do this by:
creating a compelling story using the right facts (data)
engaging stakeholders through clear communication (narrative) 
enlightening our audience using relevant visualisations of data (visuals)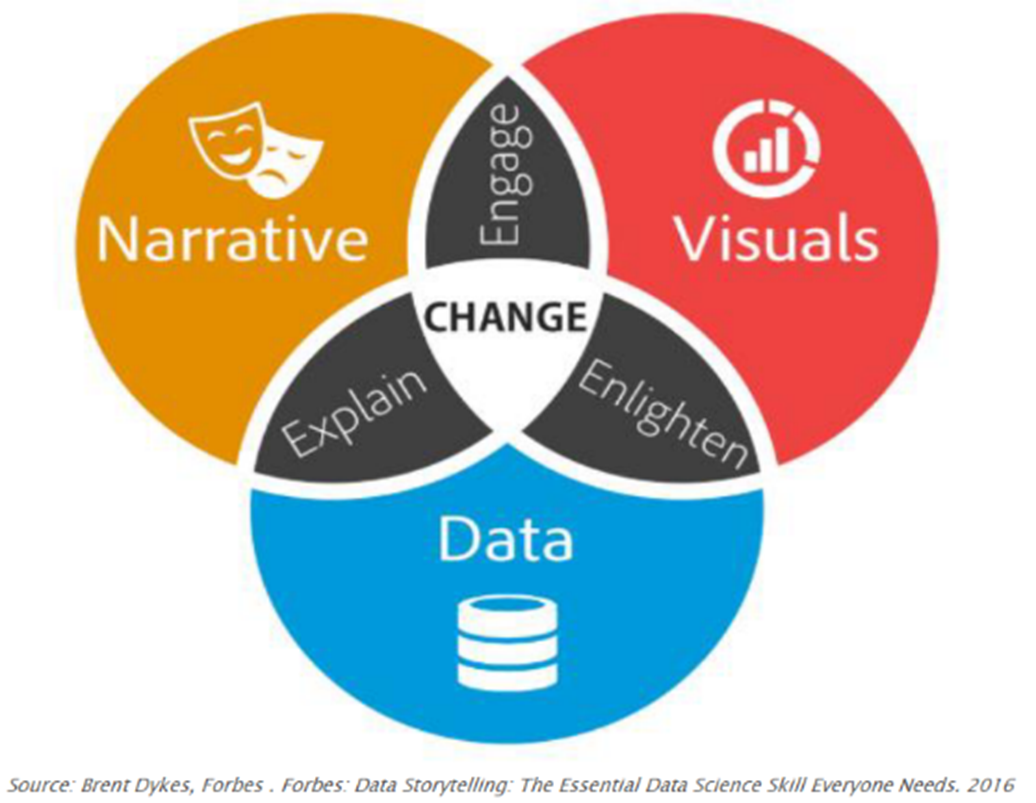 ​
Increasingly, FP&A's most valued skill is turning data/facts into a story and putting these into context. However, my experience is that there is generally too little focus on the actual art and science of storytelling and more focus on creating dashboards as a means to "tell a story". Storytelling, with all three core elements, is the primary tool in business partnering, and as FP&A, we must be masters of it. As FP&A, we create value by bringing all these elements together to influence and drive change.
The Narrative: delivering the key messages
Ryan Simmermaker stated in his recent article published on FP&A Trends, "FP&A professionals often falter in the last step of the analysis process …. communicating to management". Ryan references the short attention span of executives, which has also very much been my experience. Not because they aren't interested in the topic at hand — mostly because of the amount of information they need to consume on a daily basis. Therefore, to get your story across, you need to ensure key messages from your story are at the forefront of your delivery. 
FP&A often have to translate large amounts of data into targeted storytelling. So, how do you ensure the message is sufficiently crisp and captures the attention of your audience? 
You have probably heard of the elevator pitch before. Suppose you want your elevator pitch to be successful. In that case, you need to leave the elevator with the other party, either committing to action or having a decent enough understanding of the topic to be able to repeat it (correctly) to others. 
This means you have only a couple of minutes to convey the key points of your story and capture your audience. If you dive into details, the bigger picture will be lost, as will the attention of your audience. Less IS more, but make sure the "Less" is what is really important — not to you, but to the audience to ensure you get buy-in. If you do capture attention, no doubt your audience will want to join you on a journey into more details.
Ask yourself:
What is essential to your audience, and how much time do they have to consume the information?
What does your audience already know, and how do you best communicate to them?
What are the key messages you want to leave them with?
Also, consider that different levels of the organisation want or need different levels of detail, as illustrated by the simple pyramid below.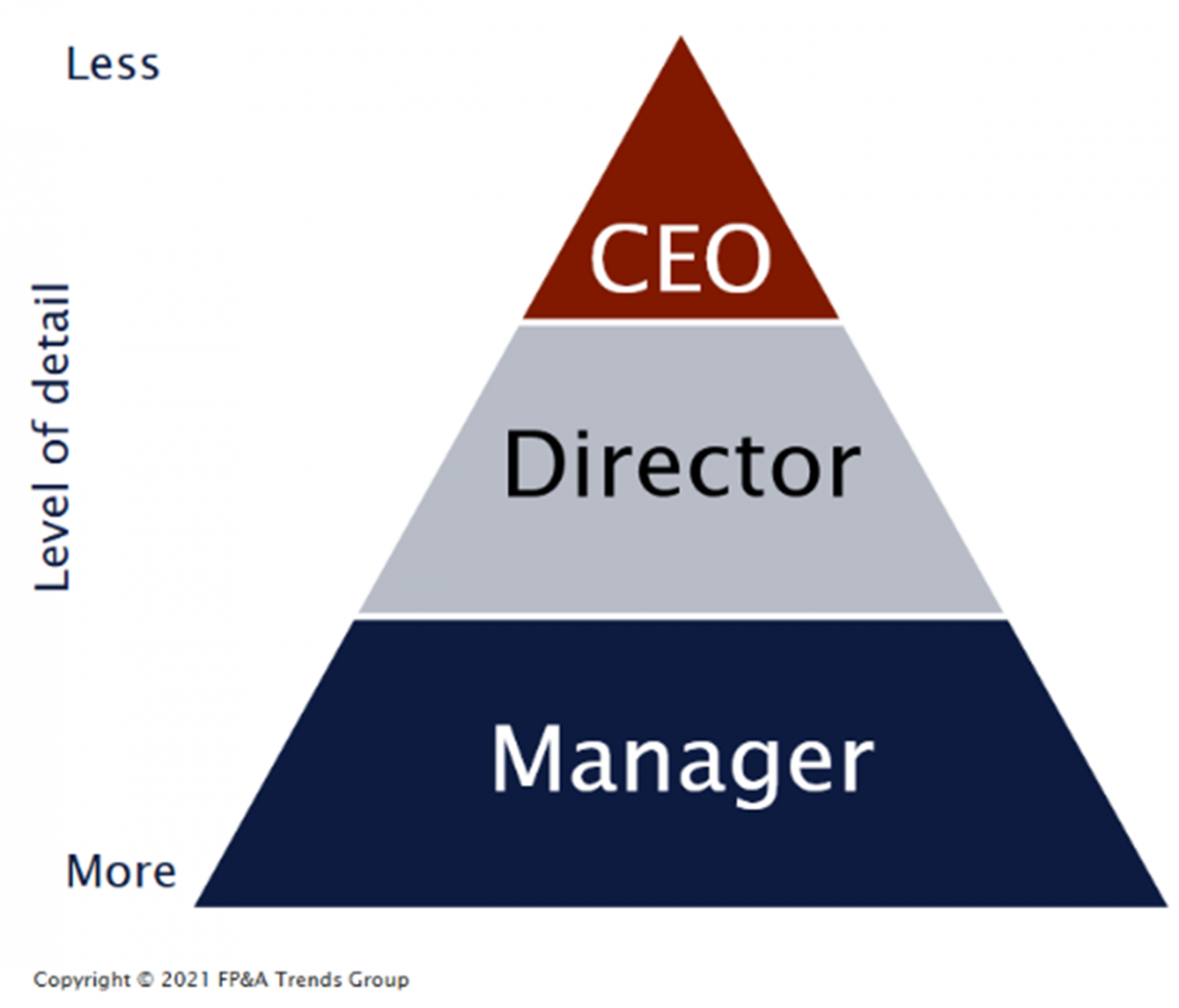 ​
Don't add details the audience is not interested in. Also, don't assume your audience is familiar with the acronyms you are using — they may mean something different to them. Spell the acronym out the first time you use it.
Remember to use simple, crisp statements. Don't overcomplicate the message with too much detail.
This approach to preparing your story works for not only elevator pitches but also presentations, reports etc. Why do we have Executive Summaries? To capture the essence of the topic in a short overview. And I must emphasise the "short" in that statement. An Executive Summary of more than one page is too long. Remember, you are dealing with short attention spans. 
The Visuals: supporting your narrative
Do you always need visuals? No, but they help to visualise the topic and the story. Each visual used should enhance the understanding of the story. If in doubt about whether you are using the right visuals, test their effectiveness on someone else — your partner, a colleague, a friend — and check whether they understood your message through the accompanying visuals.
When selecting visuals, consider your audience. Do they prefer graphs, tables or pictures? Do certain colours have hidden meanings (red = bad, green = good or vice versa)? Should certain colours be avoided?
And a final tip. Avoid animations in presentations. Most executives don't like them!
The Data: the main act or a supporting role?
In your storytelling, are you using data to tell a story, or is the story about the data itself? These are two different ways of looking at data, each requiring a different approach to preparing the narrative and, more importantly, to preparing supporting visuals.
When you are reviewing data, think about how you will tell the story. Visualise how the data can be presented, think about your audience and, most importantly, what is relevant and vital to them. In other words, plan ahead and don't forget your storyline.
In summary
Listen to your audience. Listen to feedback, learn from reactions and anticipate potential questions. This will all help improve your storytelling skills.
What feedback are you getting during your storytelling (verbal and non-verbal)?
Is the message being received as you intended?
How do you adapt your storytelling — either during the presentation or for the next time? Should you skip certain parts or go more into detail on others?
Were there visuals that were misinterpreted? Did they actually support the story or just cause confusion?
Was the right data used to support the story? What was missing?
I think you will agree with me that finance professionals are generally introverts, but don't let that get in the way of exploring your limits. Seek demanding audiences, and you will experience how it hones your storytelling skills — maybe with a few scars and battle wounds along the way.
Don't limit learning to your own storytelling. We have all been audiences. What did you like? What not? What would you have done differently? I often watch Ted Talks, sometimes because of the topic, but just as often to learn from how the story is being told.
This is how you evolve as a storyteller.
The full text is available for registered users. Please register to view the rest of the article.