Gaining Business Acumen for FP&A in 9 Steps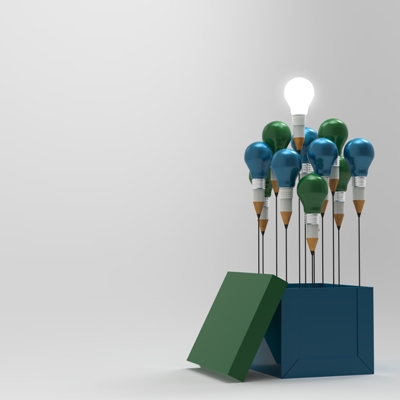 Business acumen became one of the most important competencies for financial planning and analysis (FP&A) business partners. It is the admission ticket to a permanent seat at the decision-making table in your organisation. 
Without business acumen, finance cannot contribute effectively to the value creation process and is not able to understand what is behind numbers. 
This article will explain how FP&A professionals can gain or improve their business acumen.
Business Acumen and Its Importance for FP&A 
Business acumen is a competency that includes multiple skills to fully understand
how the company makes money, how the business operates, what is the business model and value chain. 
the key revenue drivers, key cost drivers, customer value proposition, customers segments, key channels, key partnerships, pricing strategy, key competitors, suppliers, etc.
the internal organisation, structure, cultures, who are the key decision makers, who are the key influencers, what are the roles of each function in the organisation.
Finally, business acumen should also include full awareness of the external factors, Technological, Legal and Environmental factors.
A solid business acumen person can see the "full picture" of the business internally and externally and can help an organisation create value.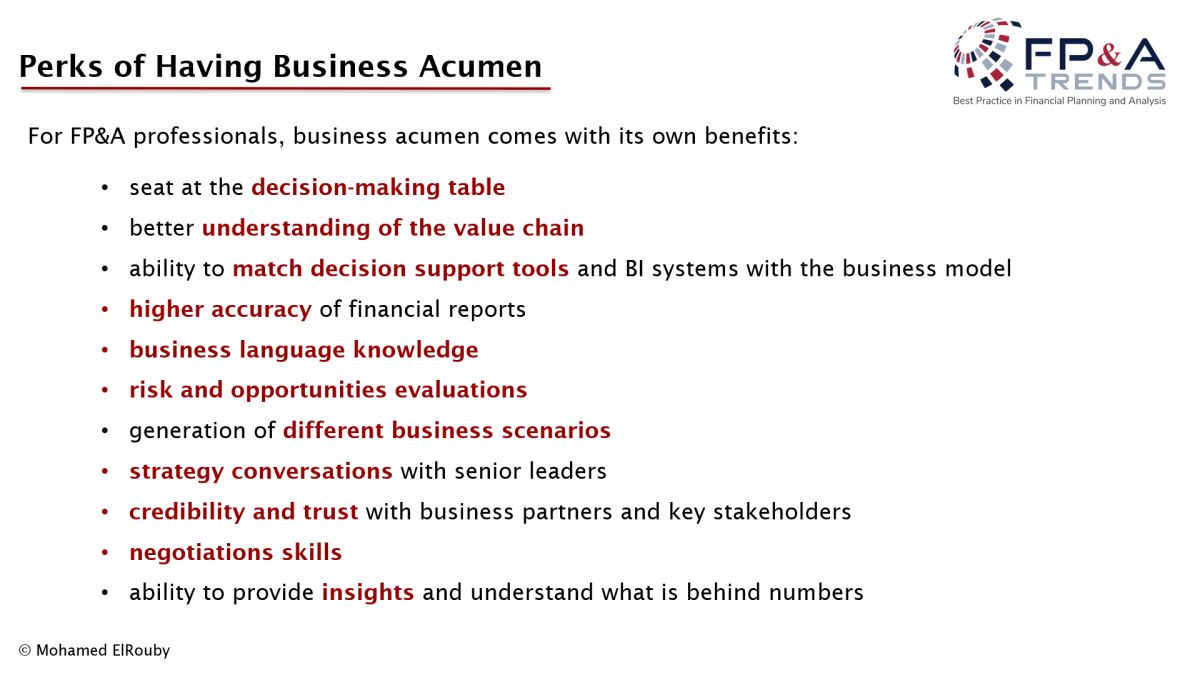 ​

Nine Recommendations to Develop Business Acumen
1. Draw the business model of your organisation with your finance team. 
Take it as a project and spend quality time with each function to understand the whole value chain, revenue drivers, key cost drivers, customer value proposition, customers segments, key channels, key partnerships, pricing strategy, key competitors, suppliers, etc. The outcomes after completing the project of drawing the whole business model will be outstanding. You and your team will be able to understand the full picture of the organisation.
2. Run strategy conversations.
Do not miss any opportunity to run strategy conversations with senior leaders. If you got the chance to meet with the CEO, General Manager, Marketing Director, etc., ask them about the company's strategy, competitors' strategy, and the company's strategic goals. Such conversations will give a good business understanding of how the company is thinking about its future.
3. Invite people for coffee.
Invite different people from different levels in the organisation for a cup of coffee. You cannot imagine the deep business knowledge you can get from running informal conversations with the people working on the ground, like sales reps, key accounts, product managers, etc.
4. Conduct frequent field visits.
Frequent field visits with the commercial team will help you and your team understand what is behind the reported numbers. Seeing the day-to-day challenges of the sales reps on the ground is a unique experience. To understand the market dynamics, pricing strategy, and all other commercial strategies, do not hesitate to speak with customers, compare the position of your company's products on the shelf vs competitors and talk to retailers, wholesalers, key accounts, etc. 
To make these visits as productive as possible, you can take notes and later discuss them with the commercial leaders to get their feedback. The outcomes from the frequent field visits are always outstanding for you, your department and your relationship with the commercial team.
5. Take part in cross-functional projects.
Do not lose any opportunity to join cross-functional projects either as a project team member or as a project leader. It is a great way to learn, increase business acumen, strengthen business relationships with other stakeholders, and improve interpersonal and social skills.
6. Train the Organisation.
Although collaboration is important, finance should not underestimate its knowledge. Our business partners are eager to learn many things from us. You can provide training like "Finance for Non-Finance" or "Advanced Excel", etc. Such training will help you have business conversations with your stakeholders, and you will understand their business problems when they share examples from their day-to-day activities.
7. Get acquainted with the product list.
You need to print out the products master list, go to the marketing team, ask them about each product in the list, and get deep knowledge about each one: its features, benefits, pricing strategy, market share, position vs competition, etc.
8. Meet external partners.
I highly recommend you meetings with your external partners (suppliers, customers, retailers, etc.) on a regular basis. This will provide you with a full understanding of the external market dynamics and the industry updates.
9. Do not ignore any learning opportunities.
Joining any possible industry training and being an active member in the industry associations will help you be on top of the new industry trends.
Conclusions
Business acumen is a must-to-have competency for all finance professionals. Without it, they cannot build credibility with business partners, provide business insights or create value. Therefore, I highly recommend all organisations to include business model, value chain and product knowledge as an essential part of the induction program for all finance new joiners.
The full text is available for registered users. Please register to view the rest of the article.
atefdesouki
September 23, 2020