Middle Eastern and African Insights: FP&A in the "New Normal"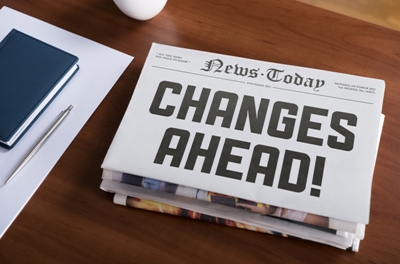 On the 28th of September, I had the pleasure of hosting The First Digital Middle Eastern and African FP&A Board. The subject under discussion was FP&A of the Future: Adapting to the "New Normal".
COVID-19 has completely changed the way we do financial planning. Budgets and forecasts set earlier were out of date. Scenario planning came to the forefront and even these had to be quick, flexible, and adaptable. Our six panel members took us through how they had to adapt and change system and processes for the "New Normal".
This article is divided into two parts:
Case Studies (Abu Dhabi Health Services Company, Nielsen Media International and Sandoz)
Thought leadership insights (analytical stage, required skill set and the latest trends in FP&A recruitment)
Part 1. Case Studies
Scenario Planning at Abu Dhabi Health Services Company - SEHA
SEHA is the largest healthcare provider in the UAE with some 20,000 employees, 63 facilities comprising of just under 2500 beds. According to George Capitelli, Group CFO at The Abu Dhabi Health Services Company (SEHA), their business model changed completely during COVID-19 whilst they were at the forefront of the fight.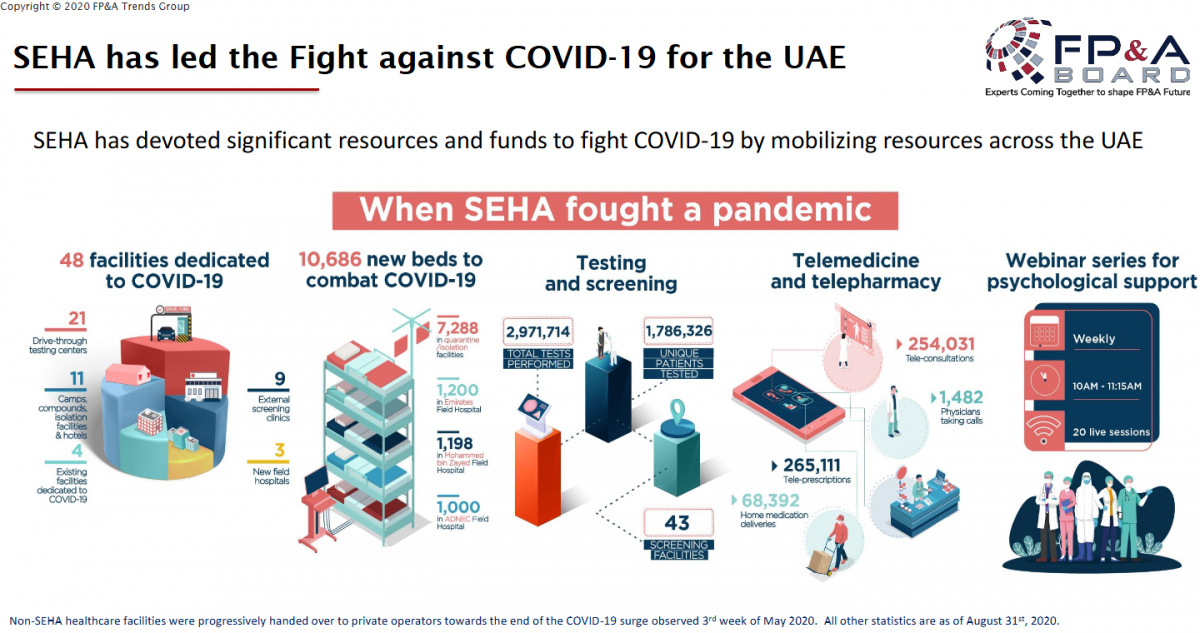 ​
​The company had to significantly rethink their way of working by acquiring a predictive COVID modelling tool, implementing a major upgrade to the financial forecast model, meeting stringent reporting requirements for key stakeholders. 
This led to the organisation not just coping well but also excelling. The key successes and learnings were as follows:
Good internal and external communication
Finance team wellbeing focus 
Regular updates to instil confidence in the financials
Caveats made clear / Limited surprises / Stakeholders became advocates
Key staff excelled & teamwork
The results of the first poll of the day are shown below:​

​
It was great to see that 94% of FP&A Board members could play scenarios with 50% doing it in less than 1 day. The 45% who found it time-consuming can use tech the remaining 6% can use the COVID situation as an opportunity to include scenario planning in their tool kit.
Team Building at Nielsen Media International
Clara Hoon, Nielsen Media International Finance Business Partner, explained how she has had to adapt her sizeable international team and promote collaborative planning during these uncertain times in Nielsen.
The team is made up of 143 Finance FTE (30 FP&A) based at 61 different locations split up in 4 regions. How do you carry on managing such a sizeable team in time of uncertainties? Nielsen finance is using available collaborative tools to facilitate communication, discussion and knowledge sharing. They are also leveraging on their systems drive consistency and provide live updates across all countries round the clock.
Below is a slide from Clara's presentation illustrating where she has spent her time and effort.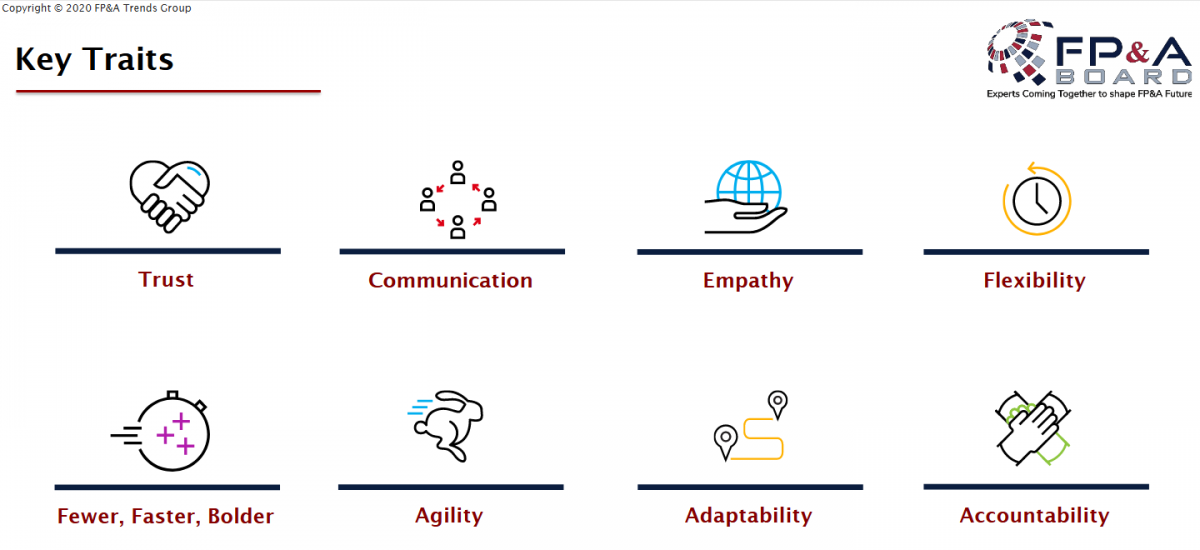 ​
The key successes and learnings from this case study were as follows:
Trust – Manage but do not micro-manage, set expectations but give flexibility to staff.
Transparency – Keep the team informed of changes in a timely manner and be available as a leader.
Multiple communication channels – Video over audio, chat tools for informal communication, small talks whilst awaiting meeting to start.
Homelife challenges acknowledgement – Associate personal situation and be flexible with work schedule.
Our second poll, which, looked at FP&A team business engagement, showed promising results as 93% of FP&A practitioners are always involved: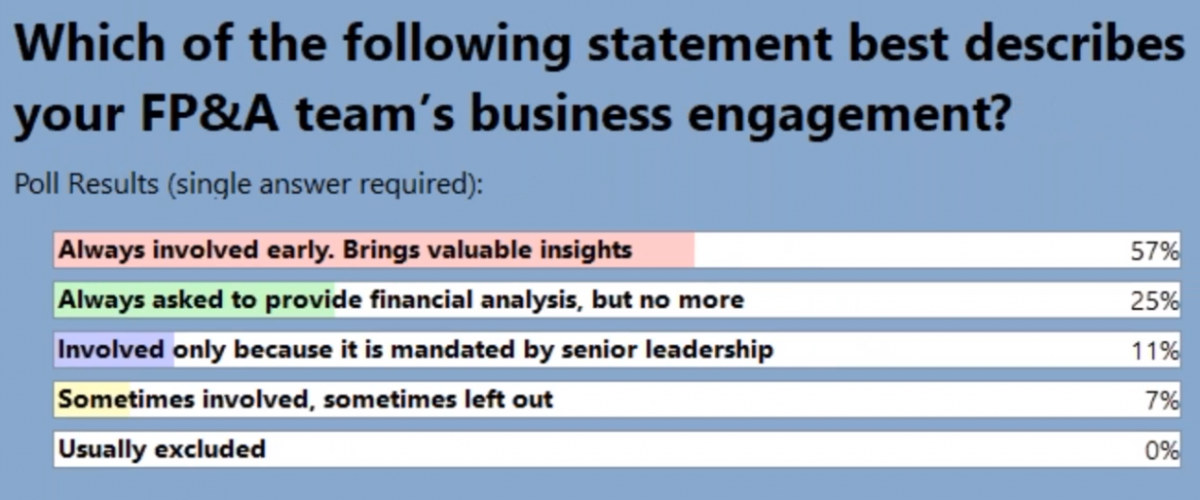 ​
Automation Tools at Sandoz
Flavio Caruso, CFO Cluster I Europe at Sandoz, talked about how he is using technology to ensure finance function is at the forefront.
He shared with us his vision of an Intelligent Finance Function whereby finance moves away from "transaction processing" to "analysis" and from "finance" to "value-adding". The best way of achieving this is to focus on three key priorities which are Planning, Analysis and Advising by leveraging on Digital Technology. 
The four different blocks of Technology currently being used by Sandoz to achieve this is shown below: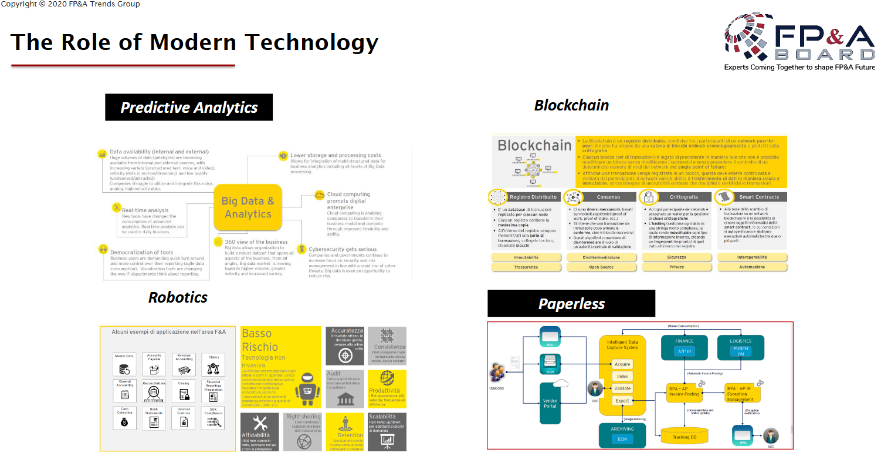 ​
By using the above technologies, Sandoz managed to reduce write-offs, decrease stock-outs, implement better inventories management and improve their forecast accuracy and COGS. All this can be seen in real time and live on the finance team's phones and tablets with another innovative App the team developed.
Finally, Flavio's mantra for a Successful Digital Journey is:
"Define your goal 🡪 choose the best technology 🡪 go for it".
Our third poll of the webinar surprisingly showed that more than 69% are not using any collaborative technology now. However, 55% are planning to implement it soon.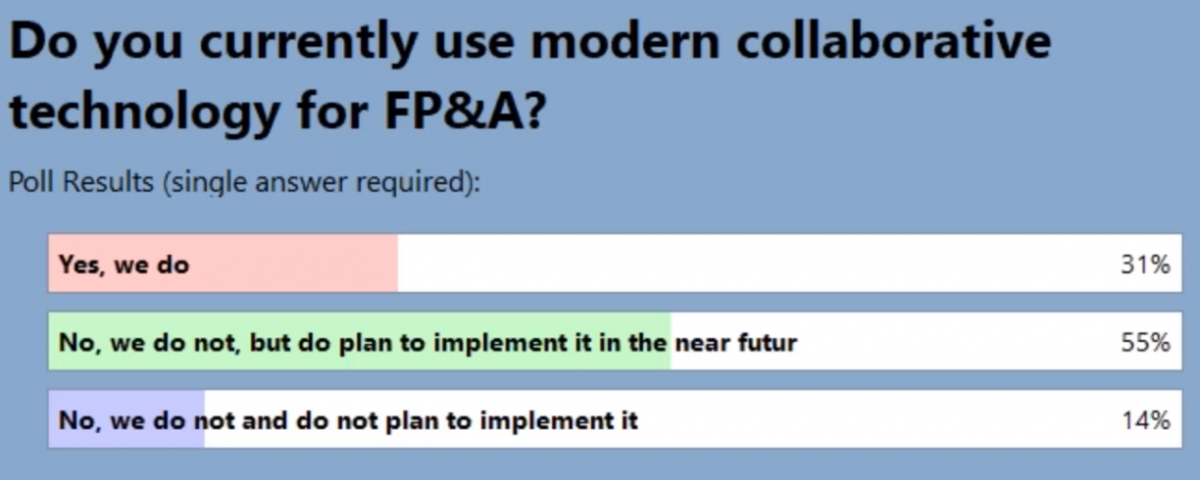 ​
Part 2. Thought leadership insights
What are the critical success factors for digital FP&A?
In his presentation, Shyam Rajandra, Managing Director at Planafin, outlined the 5 key steps: 
Direction Setting
New Models, Scenarios and Data
Digital Team: Analytics Talent strategy (Business, Technology & Analytical skills) 
Technology Mix
Internal Center of Analytical Excellence
Shyam referred to a practical example of a healthcare company where they used a Value-Based Model comprising a three-prong approach of Feasibility Analysis, Planning and Outcome Measurement leveraging big data / AI / ML, driver-based scenario planning, Iterative tools. They managed to make the most of the systems to move to the leading stage.
According to Shyam, these are the critical success factors for a great digital FP&A: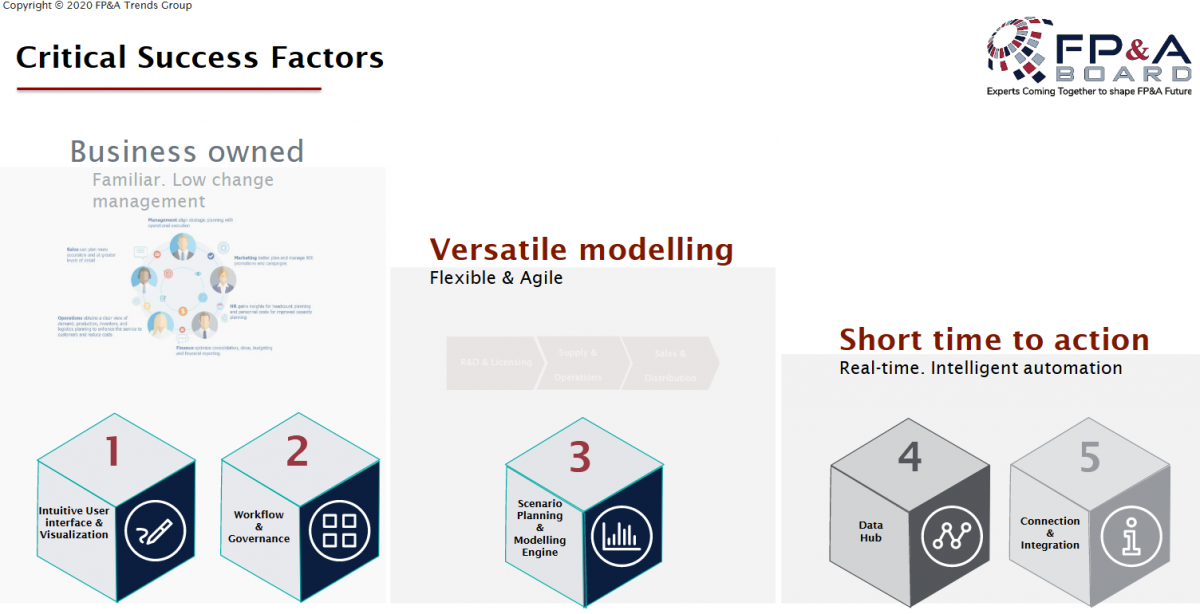 ​
The final poll, which looked at predictive and driver-based planning usage, showed encouraging results. More than 84% of FP&A Board members used some elements of the technology with 5% at the forefront and 11% fully driver based.

​
How can you align FP&A skills to the New Normal?
In these uncertain times, finance need to deliver value, demonstrate capabilities, and deliver a skill set that makes finance an indispensable asset to the organisation. So how does FP&A deliver these? Himashi Soriano, Managing Director, APAC at Association for Financial Professionals (AFP), shared some areas that you might want to consider focusing on.
Value: Allocate capital to best use and improve business decisions
Capabilities: Integrated Planning / Performance Management / Analytics / Growth of FP&A
Skills: Finance & Business Acumen / Technology & Data / Personal & Team effectiveness
Himashi shared with us the AFP's Maturity model which helps an organisation map out where the FP&A team is on the Value, Capabilities & Skills. This will show where the team is excelling and where there are areas for improvement.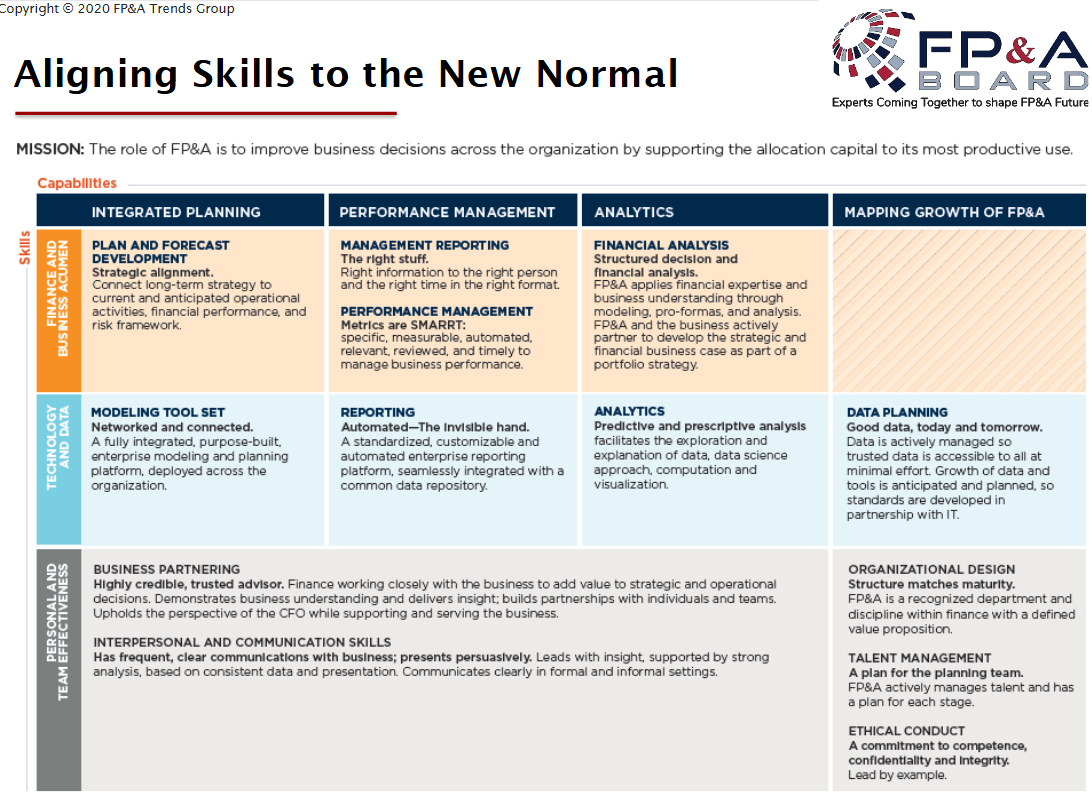 ​
What are the latest trends in FP&A recruitment?
Devanjali Rishi, Associate Director at Michael Page, shared an overview of the trends in the job market due to COVID-19 in Middle East & African region based on a LinkedIn survey carried out by Michael Page.

​
We also looked at which industry and what FP&A roles are being recruited in the ME region.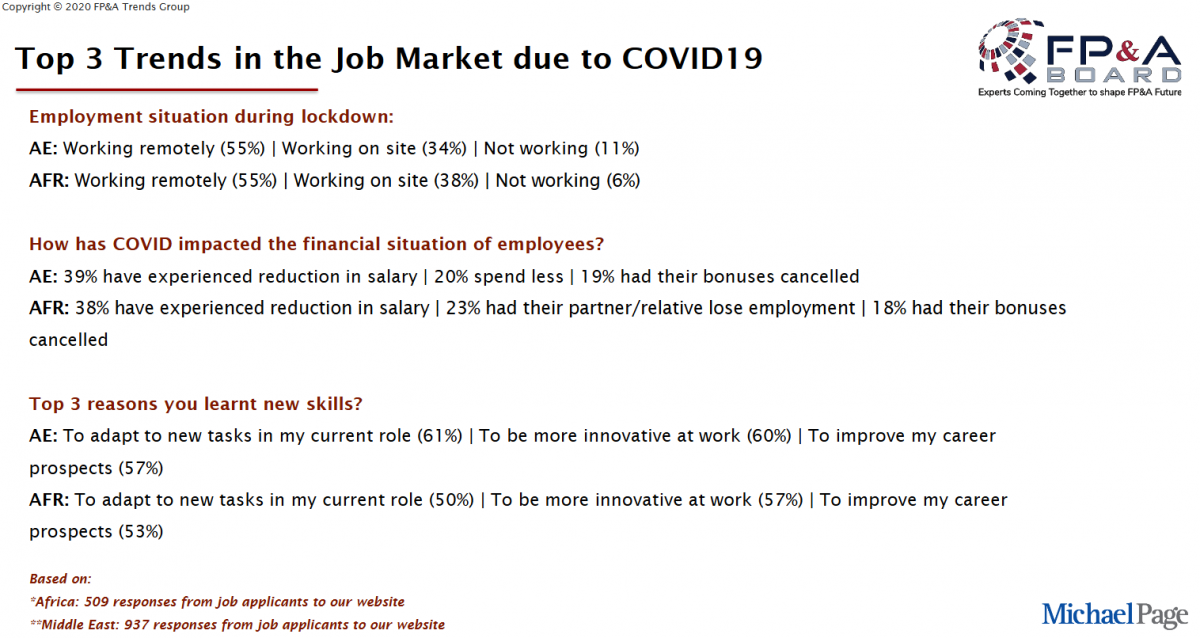 ​
Conclusions
Working under the uncertainties of COVID-19 has shown that we must continually strive to head towards the Leading FP&A stage on our FP&A Maturity model, make our business and FP&A model adaptable, quick, multi-dimensional and focus on skills that address disruption.
We would like to thank our global sponsors and partners: Jedox, Planafin, Michael Page, and the Association for Financial Professional (AFP) for their great support with the First Middle East & African FP&A Board. 
Also, we are very grateful to our panel of experts for delivering great presentations and insights and to the FP&A Board attendees!