Three Critical Roles for Every FP&A Team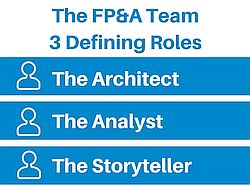 I read with fascination the interview  between GTNews and Larysa Melnychuk, Managing Director at FP&A Trends group, regarding the global name recognition of 'FP&A.'
As the term 'FP&A' gains traction well beyond North America, how about the roles supporting the FP&A function? Are those roles edged in stone? I'm not sure. Accordingly, I'd like to suggest 3 defining and critical roles for every FP&A team.
The Architect
The architect has this uncanny ability to create models that would take forever for non-architects to build.
They are the systems analysts, designers, and coders all rolled up into one person from a financial perspective.
I'm also amazed at how they can connect the dots on the drivers that cause costs to behave the way they do.
In short, the architect builds.
The Analyst
The analyst has but one job, to interpret results and to lose oneself through scores of what-if scenarios.
The instinctual analyst goes well beyond, 'the what' of an issue. The seasoned analyst has this special way of deriving 'the why' of an issue and can even start prescribing or advising 'the how' for problem resolution.
The analyst is brilliant when it comes to knowing both what and when to stress test the most vital drivers impacting top, middle, and bottom lines.
Before moving on to the third vital FP&A role, I want to point out that when analysts are required to expend energies in the architect role, performance declines. We've all been there at one point in our careers where we've been both the architect and the analyst.
When we build models, the analysis seems secondary. Or if we're only focused on analysis, the models usually take a back seat. And that's an unfortunate reality of the two- or three-person FP&A team.
In short, analysts interpret. They describe, predict, and prescribe.
The Storyteller
My vocabulary is not wide or deep enough to describe the FP&A storyteller. But I can point you to one.
Jim Collins is a gifted storyteller. How does such a person take a five-year project comprised of 21 team members studying 1400-plus companies and roll reams of data into a best-selling book with ideas that simply stick?
 Jim Collins gave us memorable terms and concepts such as Level 5 Leadership, First Who, Then What, The Hedgehog Concept, and my favorite, The Flywheel Effect.
Likewise, FP&A storytellers possess the unusual gift to turn seemingly complex issues into simple, digestible nuggets that any leader can both grasp and understand.
The FP&A storytellers are adaptive. They can do monologue. But they are masters at dialogue too. They can create the narrative. Or they can improvise on the fly. Ad hoc discussions do not scare them.
In short, storytellers leave us wanting more by communicating the financial story arc in plain, simple language.
Avoid This Mistake As The FP&A Function Evolves
Which role is the most important? Yes, that's a trick question. We need all three roles if possible.
My biggest concern is when we try to have architects or analysts become storytellers. Or vice versa. That's flirting with disaster.
I'm reminded of Peter Drucker's advice on this matter when he stated, "First and foremost, concentrate on your strengths. Put yourself where your strengths can produce results."
My advice to the analyst who is really good at it and enjoys that role is to keep getting better and better at it. Every day, the analyst needs to become the best version of themselves. And that's true of the gifted architect and the storyteller.
Summary
In the FP&A world, all of us love frameworks. The FP&A Roles framework is imperfect and needs to be honed. Yet, I personally view it as a great coaching tool for existing FP&A teams. I seem to recall one gifted storyteller urging us to get the right people on the bus and in the right seats.
I want to see the term 'FP&A' become a household name globally. Equally, I want to see team members embracing an FP&A role they are truly proud of that will urge them to continuous, ongoing improvement.
The full text is available for registered users. Please register to view the rest of the article.