Pan-Asian FP&A Board on FP&A Team Building in the New Normal
On the 6th of October, I had the pleasure of hosting the Second Digital Pan-Asian FP&A Board. We had six insightful presentations that are summarized below.
Do not forget about the "Trust Equation"
Rex Gu, CFO at Maersk Far East Operations, shared with us how he had to refocus his team, honing in on special skillsets to deliver:
Resilient Scenario Planning – lead different scenarios/play devils' advocate
New Revenue Streams – look for opportunities / new revenue streams
Repurpose the budgeting & forecasting – roles & responsibilities / challenge /true business partnering to business
Reimagined analytics – analytics to deliver impact / exerting influence / adding value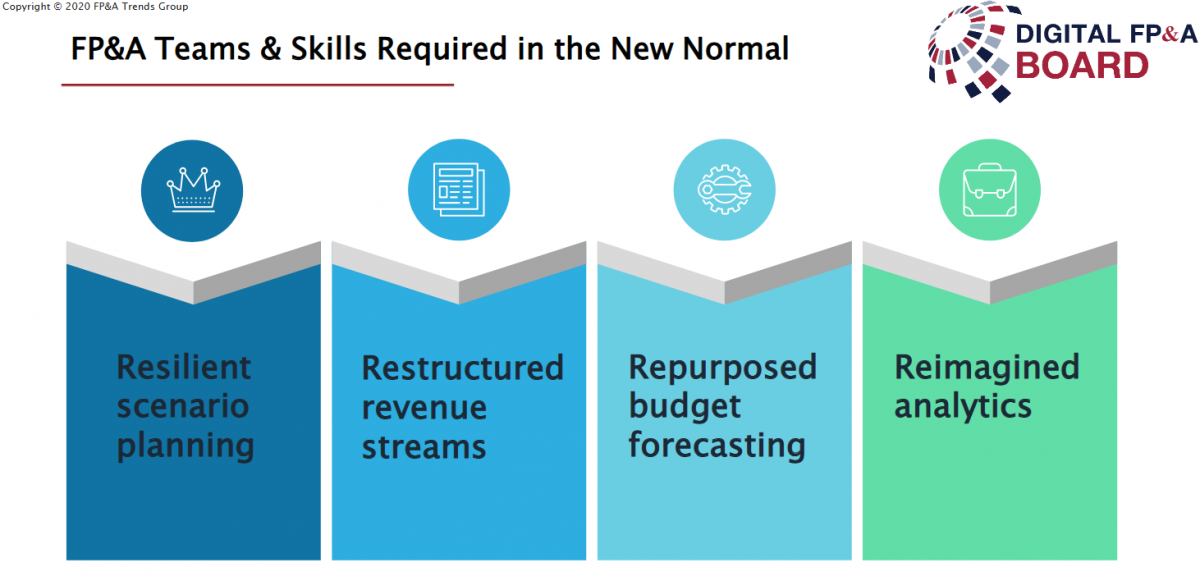 ​
In New Normal, communication is key:
speak in a language which your business partners understand
speak with empathy and
always refer to the "Trust Equation".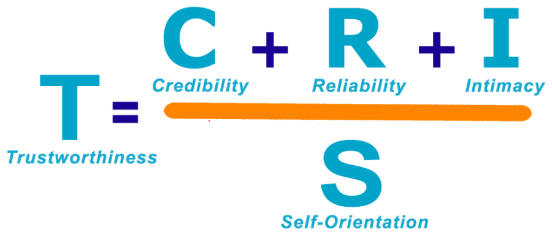 ​
Our first poll was on the "favourite FP&A role one likes to play". The softer skills were much more prominent at 74% which highlighted a potential lack of skills in the Architect / Data Scientist area.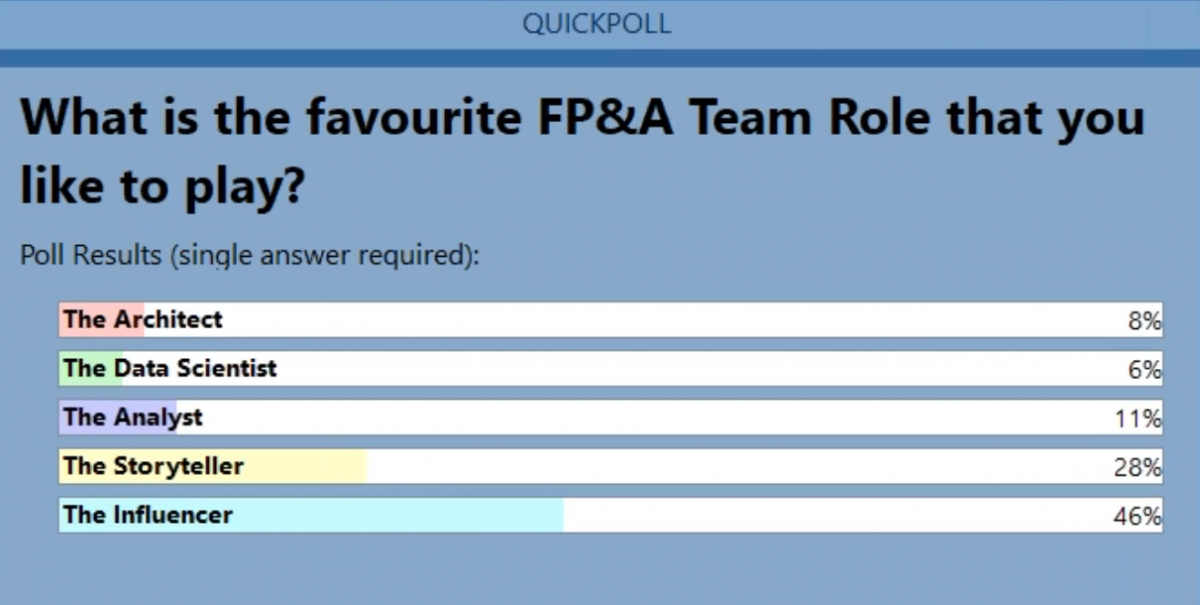 ​
Celebrate your achievements together
Anna Brueva, FP&A Director at Philips, explained how stressful working from home can be and how she is dealing with these in her team.
Stress can take various forms:
Spiritual: 'Why?'
Mental: 'I have so many things to take care of'.
Physical: 'My routine changed. I feel so tired'.
Emotional: 'I am so frustrated'.
Environmental: 'I feel stuck at home'.
There are several ways to deal with this problem as a team leader:
Create and nourish trust: show vulnerability and avoid micromanaging.
Involve team members: find ways to connect and offer a buddy system.
Promote self-care: do not underestimate self-awareness and healthy boundaries.
Celebrate: acknowledge, reward results and get together.
Leaders have their own formula for managing their team under uncertain times. However, the four key elements above should be a required minimum. The last one is especially important: you should be able to celebrate your achievements with the team and get together via zoom or any other tools and have a drink or pizza.
Our second poll, which looked at biggest barrier to team synergy, showed that
42% was due to lack of alignment around goals.
24% because of different mindsets.
22% due to lack of communications.
All these can be worked on and improved.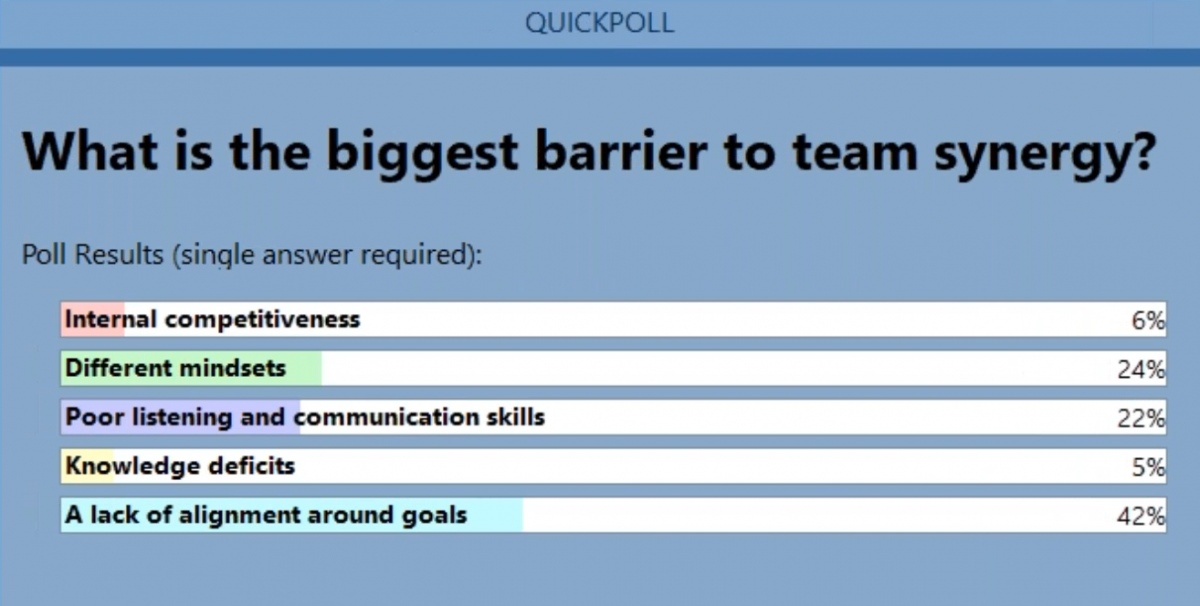 ​

Adapt your processes
Svenja Amrhein, Director Finance & Business Services at Roche, shared with us Roche's transformation journey that started 3 years ago. They went from an inward focus, siloed working and speaking about the customer to a network way of working within and with the eco system and finally speaking to their customer rather than at. Finance started it all, by proposing to get rid of the budgeting process and go BEYOND BUDGETING.
Instead of full bottom up, predictive model is now used. Focus on opportunities & business strategies. Costs and sales are looked at more high level, allowing teams to spend what they thought was correct. Teams now spend time and effort with the customer where it is more beneficial for the business.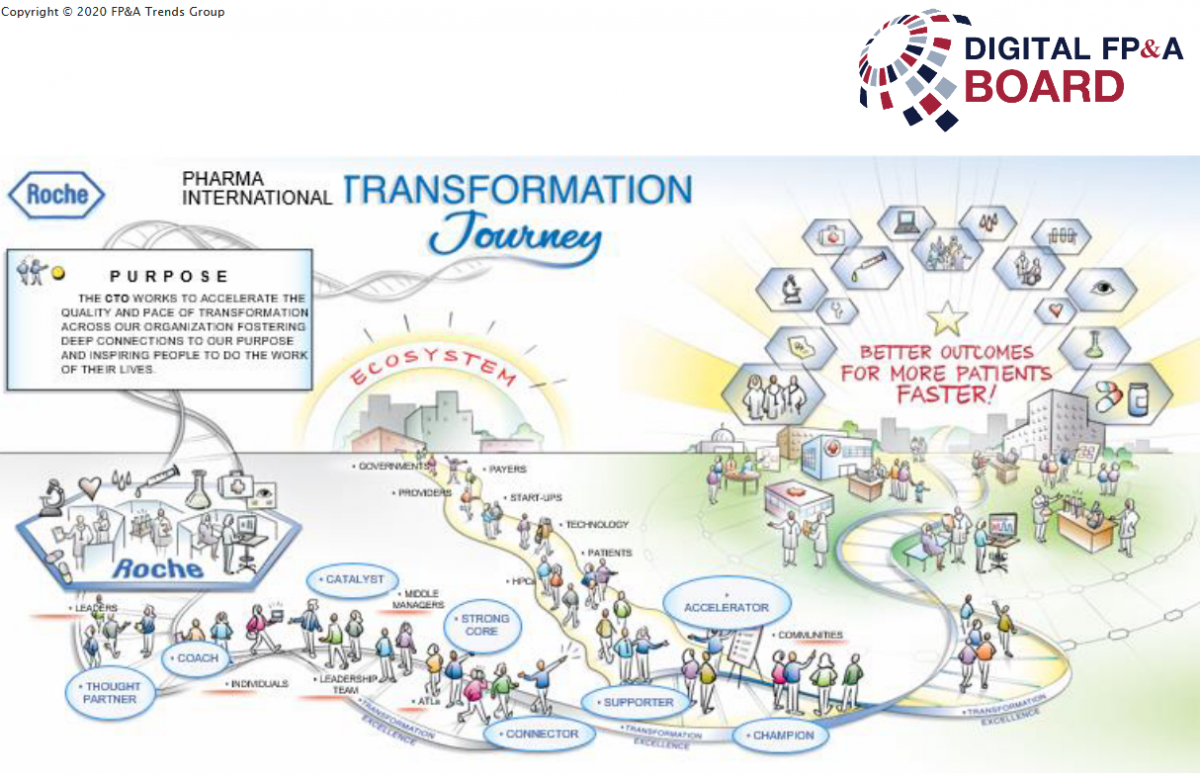 ​
Transformation never had COVID-19 in mind, however, it has proved invaluable at Roche. They still focus on customers, finance focuses on the different assumptions, adjust total sales at high level if assumptions change majorly. And business focus still on opportunities and priorities.
What can we learn from Roche's transformation journey?
It is a hard & long journey
Trust at all level is very important
Easy tool should be used to support decision making
Be prepared: COVID-19 will not be the last black swan
Our third poll of the meeting highlighted the challenges of remote working with 27% working too much, 20% feeling lonely / lack of human interaction and more surprising that 39% felt there were communication issues. FP&A leaders need to manage these but at the same time ensure that there is not too much more work or too many zoom calls in the diary.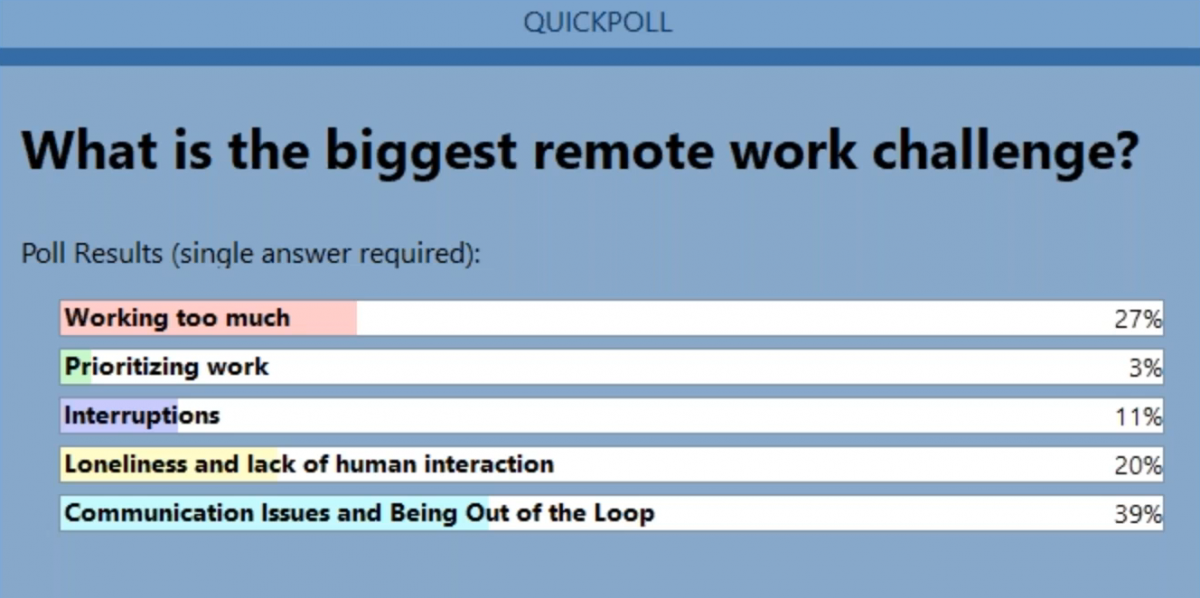 ​

Leverage technology capabilities
In his presentation, Selveraja K, Global COE for Analytics & Insight at SAP Asia, outlined how business are achieving using technology for enhancing FP&A teamwork:
Automation – cost-efficient & compliant finance processes
Adopt Advanced Analytics & Reporting – proactive business steering
Real-time & Predictive Insights supporting business strategy
He also shared the formula of Plan to Perform and the success story of three businesses.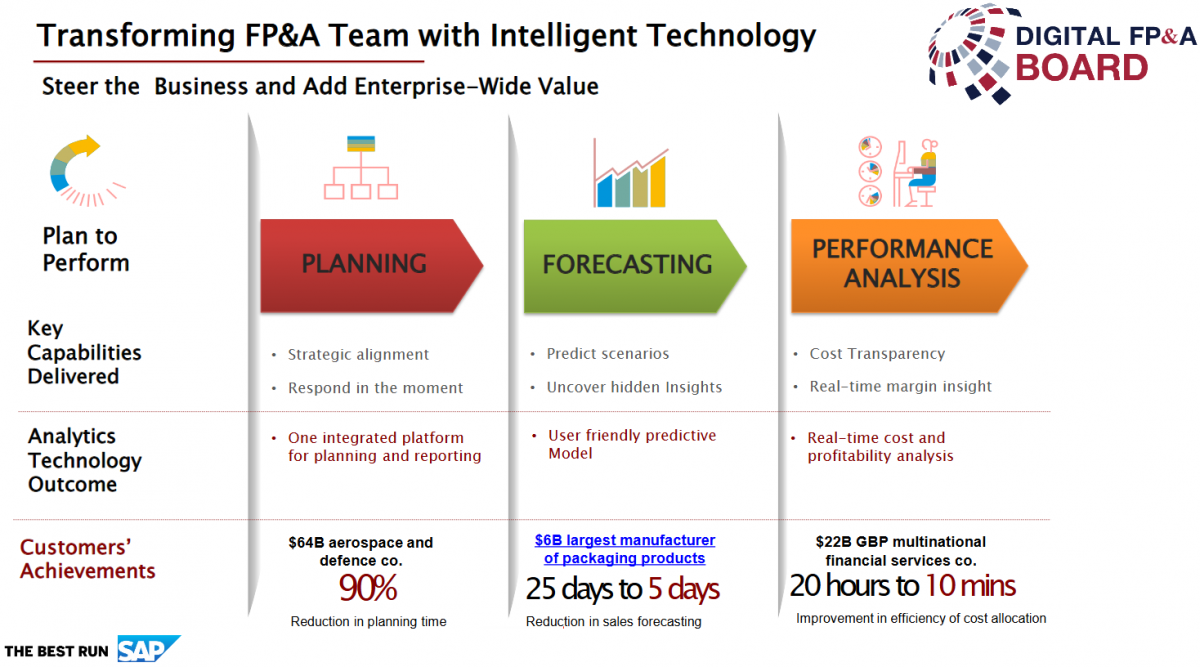 ​
The final poll, which looked at the use of modern collaborative technology, surprisingly showed only 24% do. Encouragingly 54% are planning to implement and the rest will hopefully follow soon. Key takeaway was tool or not, people have to collaborate.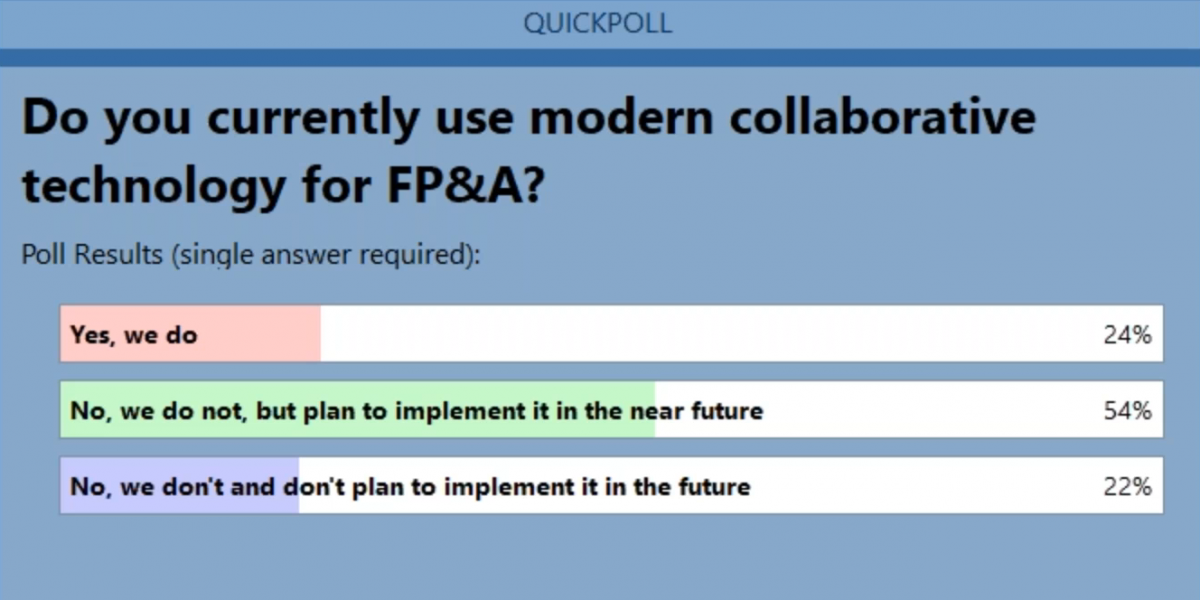 ​

Use bots in FP&A Teams
Bryan Lapidus, Director, FP&A Practice Association for Financial Professionals (AFP), shared with us what bots are and how to integrate them into our FP&A teams.
Bots or artificial intelligence has been around for years. These are set of scripts and algorithms executing instructions but now they seem to act autonomously and push info to us that we may not have asked for and this gives us the illusion of thinking hence behaving like robot.
X + AI - Everything we do will be merged with and enhanced with AI. We will do it bigger, better, faster, and more of it. Will replace some roles but it will combine, advance, and create more roles in the future.
Examples of FP&A Bots:
Robotic process automation - running scripts to help you gather, transform & load data
Natural language generation – writing reports that explain variances
Predictive analytics – runs 100's of regressions to determine best fit model & create a budget
Machine learning – read other data bases in your system and create a forecast in seconds
Three key successes to integration are shared in the slide below.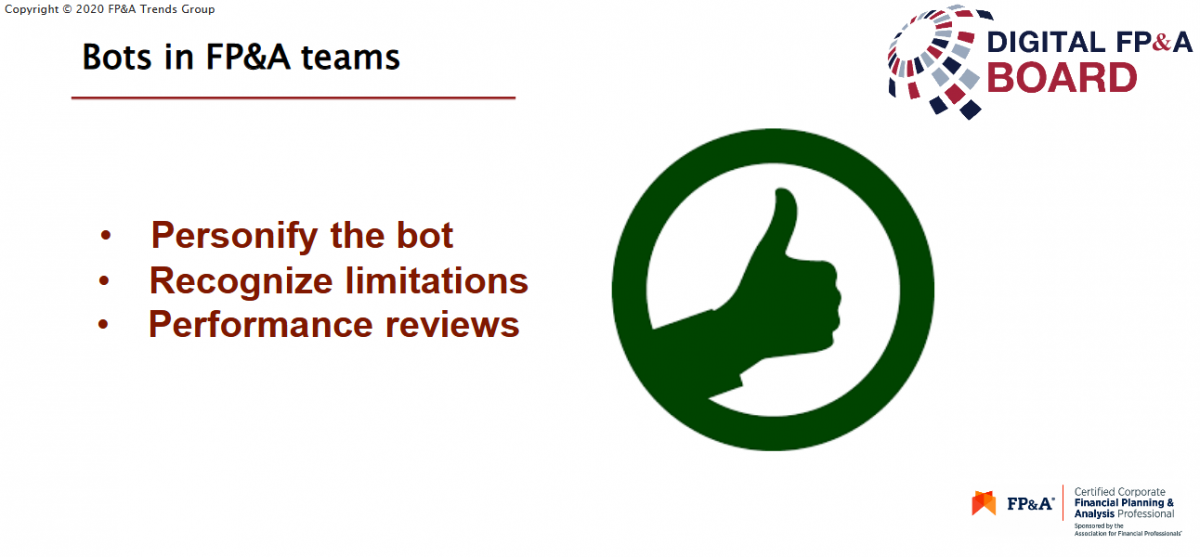 ​
Keep track of the latest trends in FP&A recruitment
Amanda Wu, Associate Director at Michael Page, shared an overview on the trends in the job market due to COVID-19 in the Pan Asian region.
COVID impact on FP&A hiring trends:
A surge of demands in FP&A talents across the region
Cost reduction, offshoring transactional accounting functions
FP&A roles get "exceptional approval" on headcounts even during hiring freeze
New normal:
Recruitment process – go virtual
Tech driven business process
Booming of tech related and healthcare industries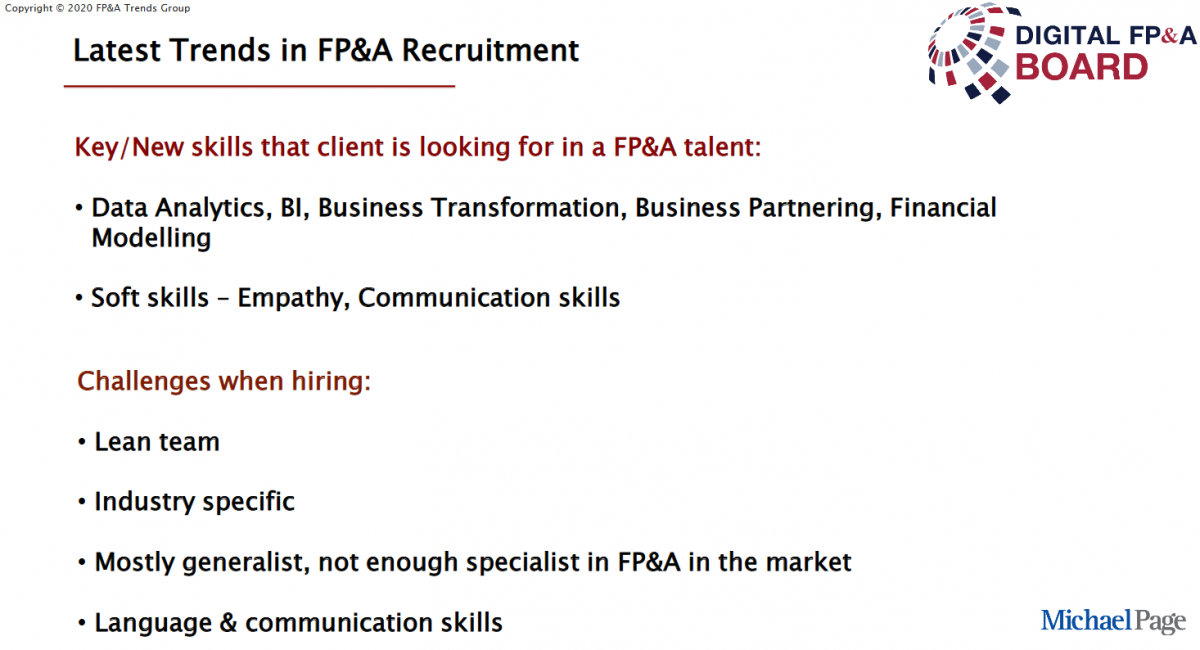 ​
Conclusions
Working under the uncertainties of COVID-19 has shown the importance of having a great synergistic team, making sure they are looked after, making sure we can reassess the skill sets required and rearrange the team accordingly and also leverage technology to ensure best performance.
We would like to thank our global sponsors and partners: SAP, Michael Page, and the Association for Financial Professional (AFP) for their great support with the second Digital Pan-Asian FP&A Board.
Also, we are very grateful to our panel of expert for delivering great presentations and insights and to the FP&A Board attendees!