Corporate Performance Management (CPM): The Need for a Framework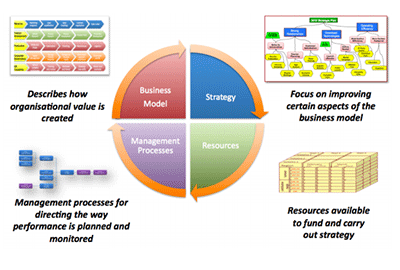 In December 1999, Gartner introduced the concept of Corporate Performance Management (CPM), which they defined as the "... the processes, methodologies, metrics and systems used to monitor and manage an enterprise's business performance". 
Since that time the concept has been adopted by most major software vendors, although they may refer to it using other 3 letter acronyms such as BPM, EPM and so on. 
However the market is currently confused in that many offerings, although labelled CPM solutions, are only partial solutions and do not meet the needs of CPM. CPM has also become synonymous with planning, budgeting and forecasting, which only forms part of a true CPM offering. 
To address this confusion, this document outlines a framework through which CPM can be defined and evaluated. 
Imagine that the only way you could have a car was to buy the individual components from one or more manufacturers. Suppliers would be selling the power of their engines, dashboard vendors would 'wow' you with their fancy dials and gauges, while those supplying the control mechanisms would impress you on the benefits of using the latest technology. As it would be up to you to put it all together, integration would be a key requirement for those with previous 'car-building' experience. 
Also imagine if you then had to supply your own fuel to power the vehicle, which of course would need to match the engine or at least go through various transformations to make it suitable for its intended purpose. I wonder how many cars resulting from this process would fulfil the original vision that the user imagined? 
Something similar happens in the world of decision-support software. Managers are faced with a range of tools and technologies under various vague names, such as CPM, BPM, BI, OLAP – all of which claim to be able to support organisational decision-making. But, as with the car analogy, it is up to the end-user to figure out how it all fits together. 
A Gartner survey showed that most BI applications are disconnected from the business process and the decisions they support, and that many decisions that are made have a negative or suboptimal effect on performance. In research for his book 'Transforming Performance Measurement', Professor Dean Spitzer found that today's reporting and analysis systems are used to create separate, disparate silos of information that tend to focus on the performance of individual departments. Because of this, the decisions that emanate can often undermine the performance of other departments as well as undermine the achievement of overall organisational strategy. 
Many organisations are confused as to the role of the different tools available to support decision- making. This is made worse by vendors claiming to support CPM when their definition of CPM is unclear, and the 'how' of making their systems fulfil this task is completely absent. 
Because of this lack of clarity, a framework is necessary that will: 
Provide a clear holistic view of what CPM is by describing the processes involved and how they interact with each other
Help organisations to identify what systems they need and how to put them together to truly support CPM
Assist organisations when evaluating software and service provider offerings 
Encourage software vendors to deliver more complete solutions. This document outlines such a framework that we will call "the CPM framework"
The full text is available for registered users. Please register to view the rest of the article.