Seattle FP&A Board: Driver Based and Predictive FP&A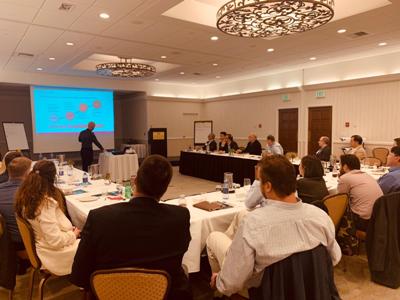 The fourth Seattle FP&A Board, which was sponsored by SAP and Robert Half, was devoted to the subject of Driver Based and Predictive FP&A. FP&A as a function has for such a long time been a traditional function relying on drivers. Many companies are journeying today somewhere between their drivers being static, partially driver-based, to very few that can claim to be utilizing fully driver based FP&A approach.
FP&A Challenges
Over the years, we have gotten so much better at descriptive analytics and even diagnostic analytics (please refer above Gartner's Analytics Maturity Model). The Seattle FP&A Board members agreed that there are challenges to overcome in order to provide Predictiveness to FP&A while Prescriptive seems a distant dream. 
As a group, we listed challenges, which include skill-set of being a finance person and having to work with more technical or rather mathematical, statistical knowledge like a data scientist.
Organizations could struggle with power-play. Even though FP&A is decision support to strategic layer of management, however, it reports to the CFO of the organization. That is not a bad idea but when it comes to the ownership of data and assumptions behind planning then it does get into a conflict of interest where it ends up being more like business vs finance. 
Predictive vs Prescriptive Analytics
Predictive analytics in simpler terms is aggregation of our data. Some take away from the meeting for me was how we should aim to look for 20% of our business drivers that influence 80% of our business. They can be simple drivers or multi-layered complex drivers. The bottom line is we should be able to identify them in order to improve analytics around them. This is the stage when the organization arrives at the Predictive analytics level. 
The next logical step would be to apply proactive analytics on a granular level, which is like extracting value from your financial data and/or operational data (any data elements in the organization that is not necessarily financial data). This may or may not be your list of drivers that you started with. This stage is when you have finally arrived at Prescriptive Analytics.
Conclusion
At the meeting, we also had two presentations. Allen Girnus, Senior Director of Finance and Operations at Wicresoft, talked about multiple regression analysis as a tool to answer FP&A questions. Hector Arcaya, Finance Vice President at T-Mobile, shared his practical experience on Driver Based and Predictive FP&A.
How I would sum-up: Predictive analytics is when models can tell you it is going to rain. Moreover, Prescriptive Analytics is when they can tell you to take your umbrella!