Moving Towards Better and Beyond Budgeting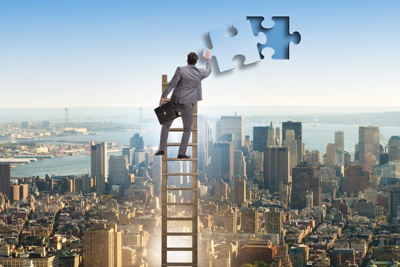 On December 10th, 2020 we had the Second Swiss Digital FP&A Board hosted under the  Global FP&A Trends group umbrella. The impressive speakers panel approached a wide range of topics focused on gaining and enhancing business agility and how technology can be used as a lever to support more effective and efficient planning. 
In this article, we will walk you through the practical examples and case studies from Hilti and Roche presented by our panellists, compelling discussions around the journey to more agile budgeting practices and the results of the four interactive polling questions.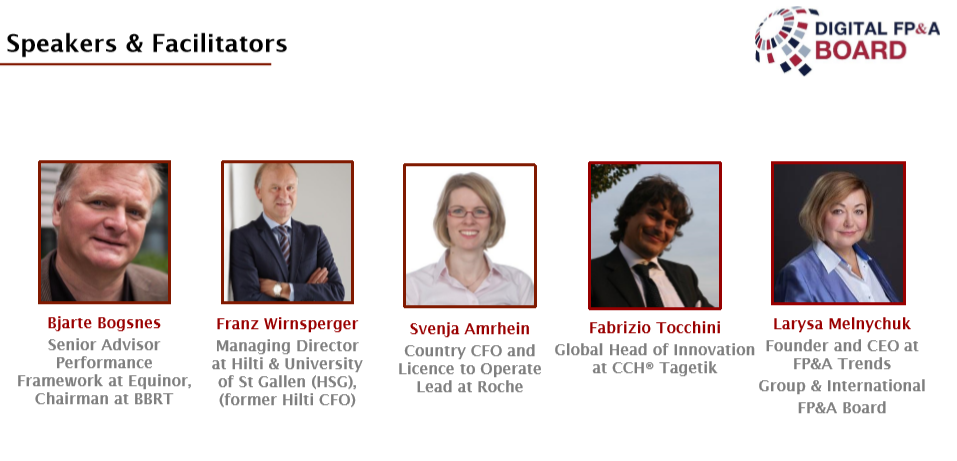 ​
Beyond Budgeting - Business Agility in Practice
Established approximately 100 years ago, traditional budgeting was intended to provide a certain level of operational and financial predictability yet its reliance on past historical performance and previous budgets brings a plethora of challenges and a question mark over its suitability to cater for the more sophisticated needs of modern organisations and the ever-evolving complexities they encounter.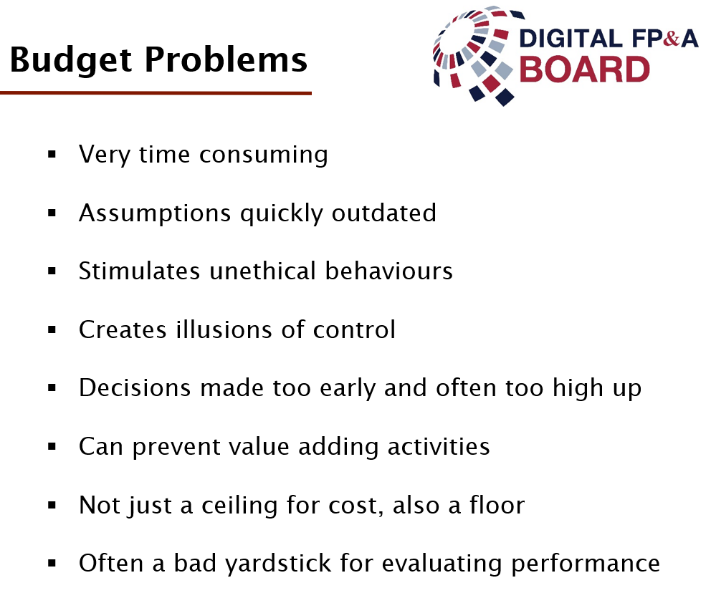 ​
Beyond Budgeting (BB) can be one of the alternatives to traditional budgeting. According to Bjarte Bogsnes, Senior Advisor Performance Framework at Equinor, Chairman at BBRT and winner of a Harvard Business Review/McKinsey Management Innovation award, "the main purpose of BB is liberation from dictatorship, micromanagement, number worshipping, calendar periods, hierarchies, secrecy, stick and carrot".
By separating the three processes simultaneously catered by traditional budgeting into completely independent processes, organisations have a better chance to focus on their improvement agenda aligned to the type of business they operate:
target setting – inspiring/ aspirational dimension, 
forecasting/ budgeting – a realistic view of what we think will happen,
resource allocation – focused on optimisation.
Recapping on the Beyond Budgeting principles summarized in the below table, Bjarte Bogsnes also cautioned us on the importance of prioritizing coherence and adherence of management processes to the leadership principles on the left-hand side and avoid insisting on a very detailed travel budget, constant micromanagement and approval and review processes overburden.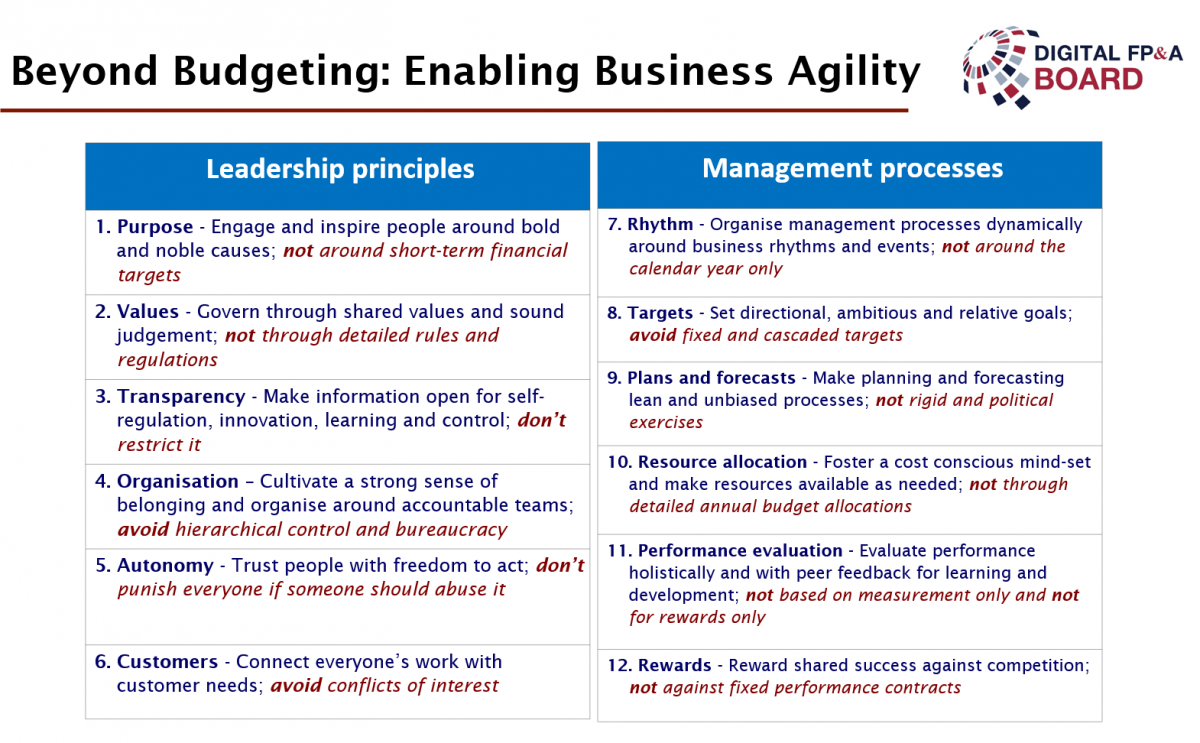 ​
Following thought-provoking insights on Beyond Budgeting, we conducted a quick poll to benchmark where webinar participants and their respective organisations are on their BB journey.

​
The poll revealed that only 15% of the companies represented by our respondents have already embarked on the journey, 29% are only starting to consider BB as an alternative whilst the majority (55%) have not expressed interest in exploring BB as an alternative to traditional budgeting and performance management processes. 
Hilti Case of Beyond Budgeting and Corporate Performance Management
Hilti Beyond Budgeting journey started more than 15 years ago being prompted by the clash of paradigms the company was experiencing back then. From one side, a strong control and command behavioural pattern at the management level (extrinsic and often tactical) and from another side, the owner's vision who believed that outstanding performance can only be achieved by a strong sense of purpose and intrinsic motivation.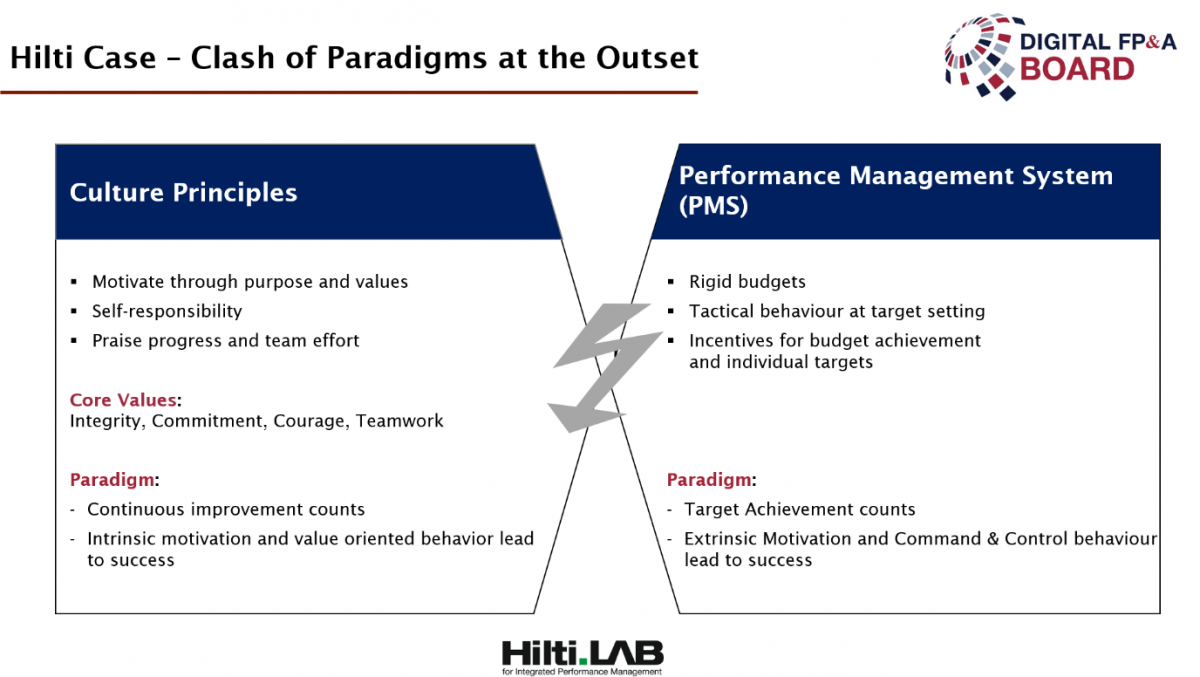 ​
According to Franz Wirnsperge, Managing Director, Hilti Lab for Integrated Performance Management at University of St Gallen (HSG) and former Hilti CFO, the first steps were more intuitive in nature. The company focused on changing the target setting system and the incentives system, delinking both of them from the planning and budgeting system.
Thus, a new target setting system "North Star" was implemented – rule-based and self-adjusting, focused on a few relative strategic target KPIs. It included a consistent measurement system via progress monitoring and a consistent incentives system linked to the team or the company performance (no individual bonuses). Rolling planning and forecasting as a budgeting system became the obvious choice to replace traditional budgeting. The newly implemented system soon produced very visible, positive behavioural changes.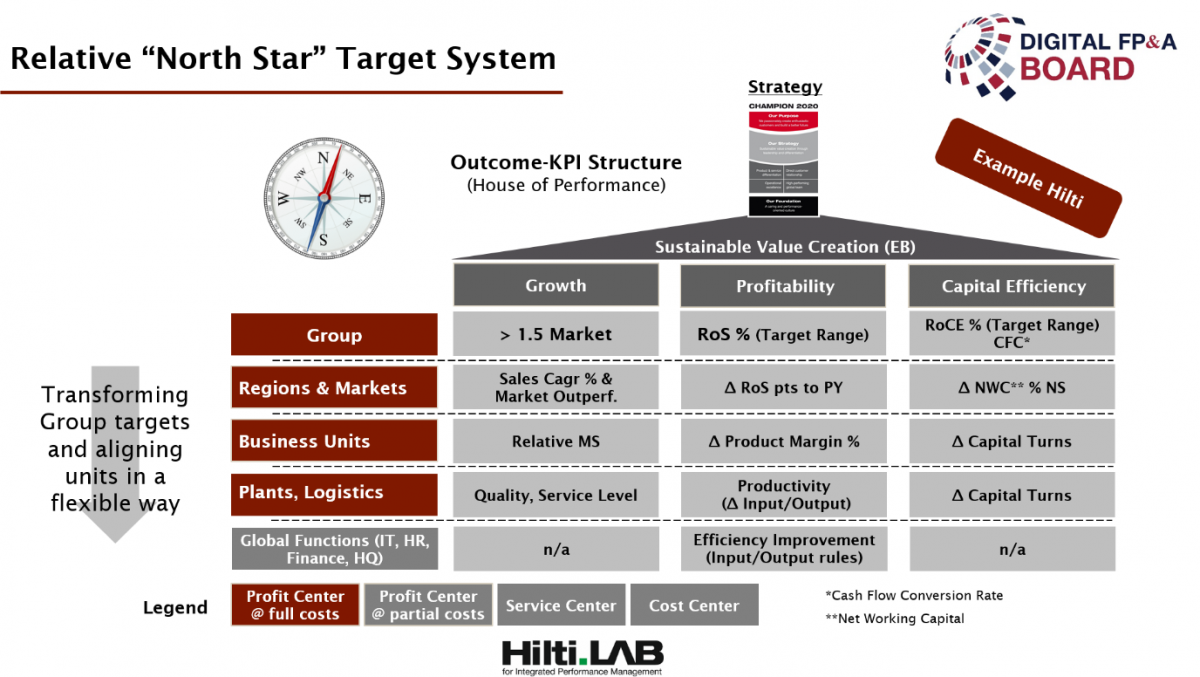 ​
By using an integrated performance management model, Hilti managed to reach across the organisation and touch on HR practices as well to facilitate a new focus on action rather than result and self-control as a mechanism.
The second poll explored the organisational culture and senior leadership appetite to move away from traditional budgets as a control mechanism. The results revealed that most of the Swiss FP&A Board members (58%) believe their organisations are not yet ready to give up the sense of control and 28% are confident that certain parts of their organisations are ready to abandon budgets. Beyond Budgeting is not about abdicating control but about a different, more effective form of control, by using the target setting process as a purpose vehicle.

​
Roche Case Study on Moving to Beyond Budgeting
Svenja Amrhein, Country CFO and Licence to Operate Lead at Roche, shared with us Roche's Swedish affiliate finance transformation story. In 2018 Roche pharma moved away from their existing planning processes. The new approach led to a mindset change across the business. Instead of asking "Do I have the budget for this?", the organization focused on "Is this the right thing to do for our customers?".
Finance played a key role in enabling communication, based on trust, sending a clear message that there was no secret budget or hidden agenda. This created transparency on priorities. In traditional budgeting, priorities are discussed mostly or only at the senior management level as they are the ones making decisions on the budget allocation.
Another dimension of this finance transformation journey was reporting. Roche's finance team chose to build a large part of the reports in collaboration with various business teams, sharing an integrated platform and sacrificing the actual vs. plan variance analysis in favour of analysing full-year predictions. In the spirit of transparency, reporting outcomes were shared across the business at all levels.
This transformation journey managed to free-up time and helped team members acquire broader skills by moving away from being purely financial analysts to becoming holistic analysts or business analyst. The team had also undergone restructuring and its size was reduced.
Instead of reassessing all assumptions, all the time (what would happen in traditional budgeting), Roche focused on those which had a real impact and only involved those people from the business they really needed, allowing the rest of the business to make an impact where it mattered the most – with the customers.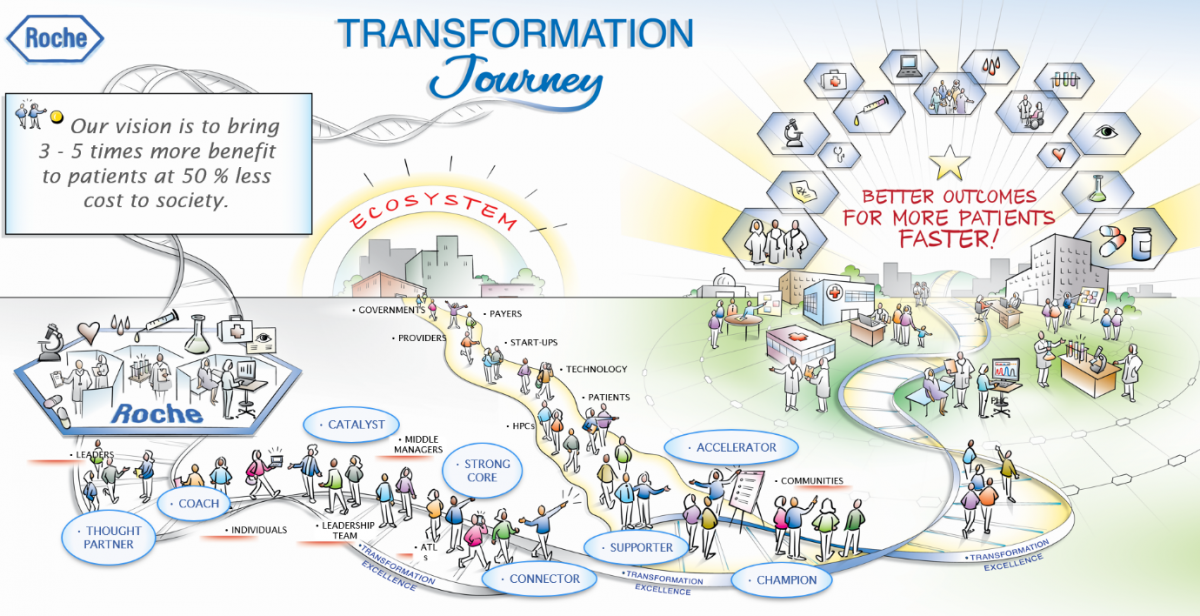 ​
The key prerequisites for Roche's successful Beyond Budgeting implementation were:
Strong leadership support
Transparency on priorities across the organisation
A finance team well connected with the business 
Trust and easy-to-use tools
Mindset change.
Whilst there is no one size fits all, Svenja encouraged FP&A Board members to find divisions within our organisations where they can try this approach.
The third poll tried to help our participant benchmark the duration of their current annual budgeting processes to then be able to seize the amount of time they could release by implementing Beyond Budgeting. 

​
Our survey results revealed that the overwhelming majority of the respondents spend from 1 to 3 months preparing their annual budgets (47%) or even 4 to 6 months (33%) and only 5% of them have fully embraced the BB method. Though these timelines are extremely long and reflect a significant time and resource consumption by the budgeting process, we can still observe some positive shifts starting to happen compared to 5 years go when it was completely unrealistic for most large-scale organisations to spend less than 6 months preparing their annual plans.
How technology can enable Better or Beyond Budgeting
Fabrizio Tocchini, Global Head of Innovation at CCH® Tagetik, introduced us to the various dimensions of how technology can support the BB journey.
Cultural change – helping engage people across the organisation by easing their access to data and information consumption.
Devolution – facilitating decision making based on reliable data based on alignment with the company strategy.
Autonomy – crucial for real-time decision making by front line people when facing the customer. This needs to be a self-service based experience leveraging various use cases for artificial intelligence (AI) and natural language processing (NLP) and speeding up decision making.
Business agility is all about using intuitive and easy-to-access tools which are fully supported by cloud-based technologies and require minimum training.
Ambition to action is focused on measurable KPIs and the capabilities to understand performance drivers to inform decisions and future actions.
On-demand re-forecasting should bear in mind both internal and external factors. AI continues to support this by bringing in external data to model future outcomes.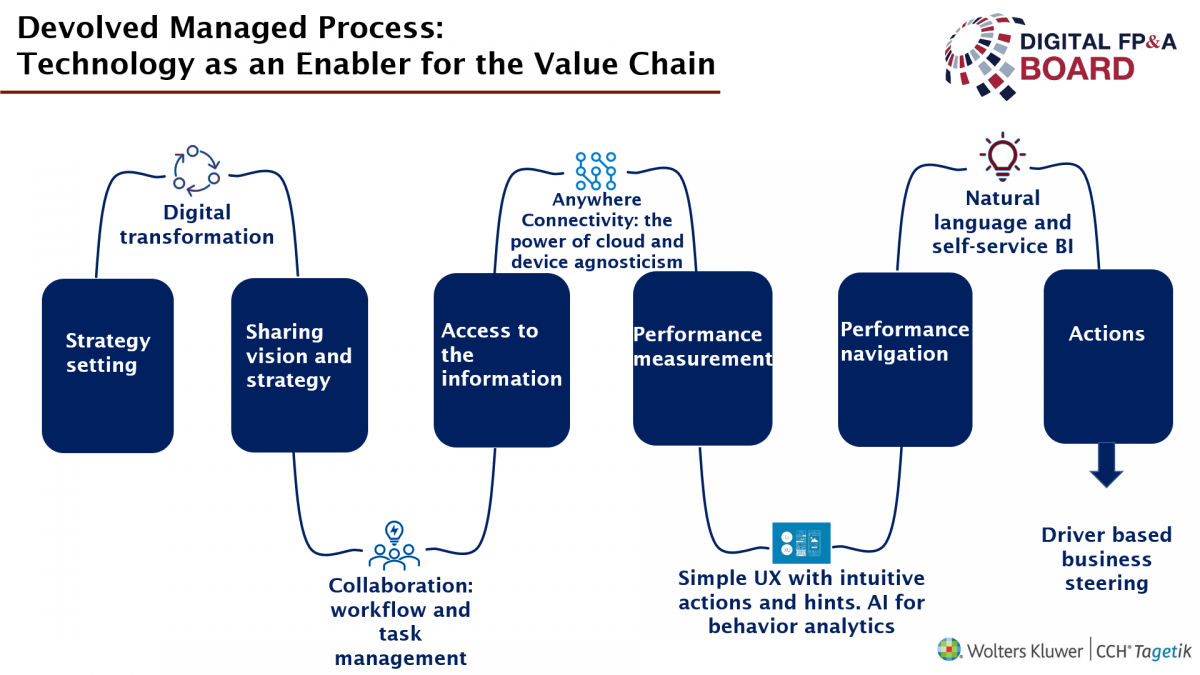 ​
According to Bjarte Bogsnes, while Beyond Budgeting is a method that does not advise on the technological aspects of implementation, transparency is one of its key areas and it cannot be easily achieved without leveraging technology to create a single source of truth.
Trying to understand better the level of technology adoption across our participants' organisations, we conducted a fourth polling question.

​
The above results show that 63% of our respondents see technology primarily as an efficiency driver, 22% believe technology helps them strengthen command and control (a characteristic of traditional budgeting approaches) whilst only 15% see technology as a catalyst for empowerment and cultural change, in the true spirit of BB.  
Conclusions and Recommendations
Although there is still some level of reluctance from most organisation to take a "leap of faith" and challenge their traditional methods, change is unavoidable. It will be our choice whether we want to become early movers and gain a competitive advantage from this vs. late adopters. The study cases have also demonstrated the scalability of the beyond budgeting method irrespective of the size of the organisations that are encouraged to keep in mind the full potential of the BB concept and leverage technology where appropriate.
We are very grateful to CCH Tagetik and Page Group for supporting this event.