Fractal FP&A: How to Apply the 80/20 Pattern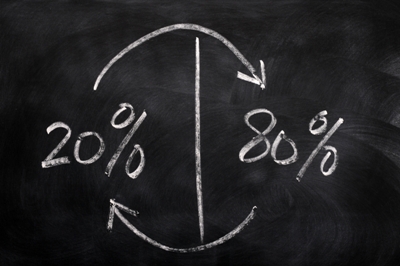 As a word fractal is not frequently used in conversation. As a concept fractal is frequently present in our lives. Its presence is evident in nature.
The concept of a fractal was established in large part by the work of Benoit Mandelbrot, a mathematician whose work covered a wide and diverse number of disciplines.  Perhaps the most notable example of how he established the concept of a fractal was his study of England's coastlines.  What his study identified was sections of England's coastlines resembled the coastlines as a whole.  This resemblance has been labeled self-similar.  Self-similar, or self-similarity, has affected a number of studies related to science.  Self-similarity is not restricted to science.  Self-similarity exists in FP&A which I saw first-hand.
While working for a client I conducted an inventory analysis.  The purpose of the analysis was to acquire insights into purchases and sales.  What was discovered through the analysis was self-similarity.  This was discovered by testing the 80/20 rule, i.e. was 80% of the dollar purchases made to 20% of the vendors and was 80% of the dollar sales come from 20% of the customers?  The answer to both questions was "yes" and there's more.  The 80/20 pattern in the purchases and sales of inventory existed in smaller sections.  The following image illustrates the pattern within the company's inventory purchases and sales:

Discovering this pattern through analysis establishes a more relevant methodology within the planning process.  The methodology is based on a mathematical principle known as a power law.  A power law establishes a relationship between rank and frequency; Alex Bellos uses the following example in his book The Graphs of Math:
| | | |
| --- | --- | --- |
| Word |  Rank  | Frequency |
| I | 10 | 2653 |
| say | 100 | 265 |
| bag | 1000 | 26 |
| orangefiery | 10000 | 2 |
A financial plan for this company's inventory can be developed based on the power law principle by establishing a relationship between rank and amounts.  For example, the company can determine the largest monetary amounts for inventory purchases and sales.  From these amounts additional purchase and sales amounts can be calculated from proportional changes.  This approach provides more relevant thinking and learning about how this company interacts with its suppliers and customers.
FP&A practitioners need tools that add value to their work.  How value can be added is to apply an appropriate methodology toward the characteristics within situations.  Applying the power law methodology is most appropriate when working within situations that have fractal characteristics.  
The full text is available for registered users. Please register to view the rest of the article.