Insights: Shanghai FP&A Board Meeting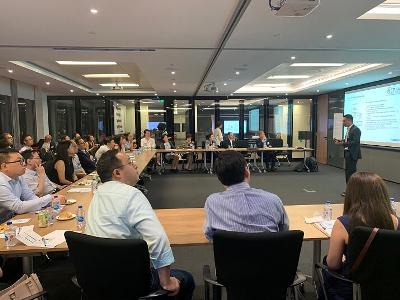 The first FP&A Board in Shanghai was held this week and more than 30 FP&A professionals attended and discussed the latest trends and common challenges in Financial Planning and Analytics.
Apliqo – a Cubewise Company – is proud to be sponsoring such a high-quality forum where the most important challenges of FP&A related to people, process, technology, analytics and business partnering are debated. 
A big thanks goes to Larysa Melnychuk, at FP&A Trends Group for creating such a unique community focused on FP&A and the opportunity for Apliqo to be associated with it. 
We would like to share some of the insights from the event in short summarized form. The topic of this board was "Modern Financial Planning and Analysis: Latest Trends".
At the beginning all participant introduced themselves and explained their view about Latest Trends / Challenges. Below points provide a list of topics that were presented by the attendees (unweighted): 
Artificial Intelligence and Predictive Models
Digitalization
Increase of added value for the organization by better managing the bottom line
Big Data
Development of Trusted Data Hub
Increase of Forecast Accuracy
Integration of strategic planning layer into the financial and operational plan
Evaluation of flexible technologies to implement FP&A Best Practices
Utilization of modern BI Tools for Advanced Analytics
Realtime reporting and planning
New required skills for FP&A Roles (more commercial background and business partnering skills)
The discussion was closed by a conclusion that despite the evaluation of new trends many companies still faces challenges with the basics of a modern FP&A Application. Best Practices like unification of strategic, financial and operational reporting and planning layers, usage of modern planning methodologies (driver based, rolling forecast, long term planning) and real-time scenario simulations should be evaluated with a priority before running after each new trend.
A short survey was done to understand the maturity in FP&A in Shanghai – here are the results:
 
How long is the average duration of your budgeting and planning process in months?
| | | |
| --- | --- | --- |
| 1 – 3 months  | 4 – 6 months | More than 6 months |
| 11 | 20 | 1 |
| 34.4% | 62.5% | 3.1% |
How long is the average duration of your forecasting process?
| | | |
| --- | --- | --- |
| Less than 3 days  | 3 – 7 days | More than 7 days |
| 1 | 7 | 24 |
| 3.1% | 21.9% | 75.0% |
During the Board Meeting we had two very inspiring presentations:
Michael Bian, Finance Director at Bunzl, shared insights into the transformation process his former company went through by moving from a very static traditional budgeting process to a more dynamic bottom line driven process. 
Rainer Kern, CFO at AT&S, shared insights into their implementation of Performance Management Models which increases the footprint and added value of the FP&A Department. Furthermore, he explained the current transformation of their finance department by hiring new roles (Data Scientist, Business Partners) to further increase the added value for the organization.
 
Larysa shared with the Group the latest FP&A Analytics Maturity Model which were developed during the meetings around the globe.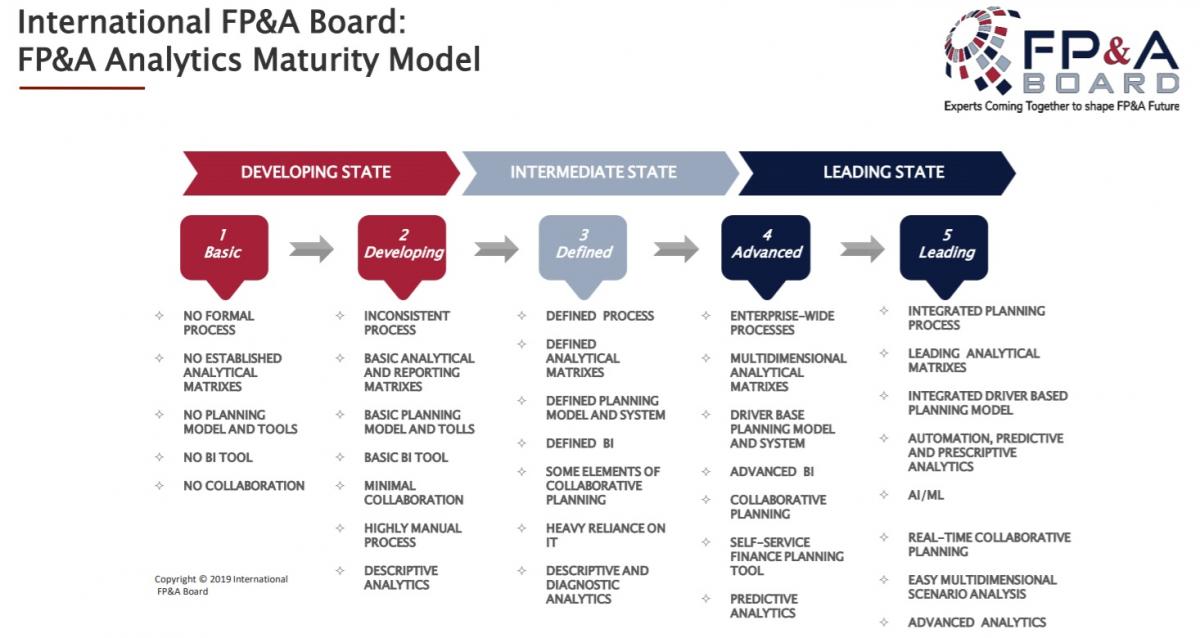 Afterwards during Group Workshops, the participants worked on following questions:
Where are your organizations placed on the FP&A Analytics Maturity Model?
 
Most of the organization rated themselves between Developing and Defined (75%-85%) and only a small number considers their maturity as Advanced.
What steps are needed to arrive to the Leading State?
Many key steps were mentioned from each group and attached overview summarizes the categories and steps which are needed to achieve a Leading State.
| | | |
| --- | --- | --- |
| FP&A Teams / Responsibilities | FP&A Concept | FP&A Tools |
| Increase Awareness of FP&A added value | Analysis of As-Is Situation | Evaluate Tools after concept is aligned |
| Management Support for changes | Initialise Performance Management (KPIs, Dashboard, Analyse Critical Processes) | Evaluate tools during Proof of Concept to make sure required functionalities are supported |
| Team with analytical, presentation and communication skillsets | Define Projections and frequency (Budget, Operational Plan, Forecast, Rolling Forecast, Log Term Projection) | Start small – implement a use case to show early success – this will increase acceptance for further phases |
| Commitment into investments (resources and tools) | Build Models for Critical Drivers (Gross Margin, Opex, Capex, Working Capital) |   |
|   | Analyse FP&A Best Practice Methodologies and usability for your models |   |
The event was hosted and sponsored by the global FP&A partners Apliqo and Michael Page and Apliqo is looking forward to our next upcoming events in 2019. The next FP&A board meeting with Apliqo will take place in Singapore on 9th of July 2019. The topic will be: Rolling Forecast. 7 Factors for Success.