FP&A Can Undergo Transformation Through Organisational Structure? Tell Us How!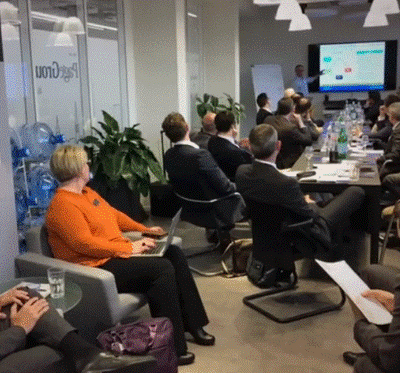 On 11th May 2017 the Zurich FP&A Board gathered 36 senior finance practitioners from such leading local and global companies as Barry Callebaut, Cembra Money Bank, Citrix, Credit Suisse, Ecolab, EF Education First, GE, Gedeon Richter, MAN Diesel & Turbo, Medtronic, Quintiles IMS, Swissport, TE Connectivity, Xylem, etc.  The important subject of Effective FP&A Organisational Structures became the main focus of the third FP&A Board meeting in Zurich.
FP&A Organisational Structures
The members come from different types of organisational structure but the majority have hybrid or matrix structure. However, can we state that it is the best one? Obviously, not as there is no simple recipe with each type having its advantages and disadvantages. It is clear that the organisational structure depends on industry, product, number of business units and international aspect of a company. However, it was agreed that it is important to have consistency in FP&A and the centralised organisational structure is the fundamental element for achieving the consistency. But, on the other hand, decentralised structure creates more flexibility. So, it is important to find this gentle balance between these two key requirements.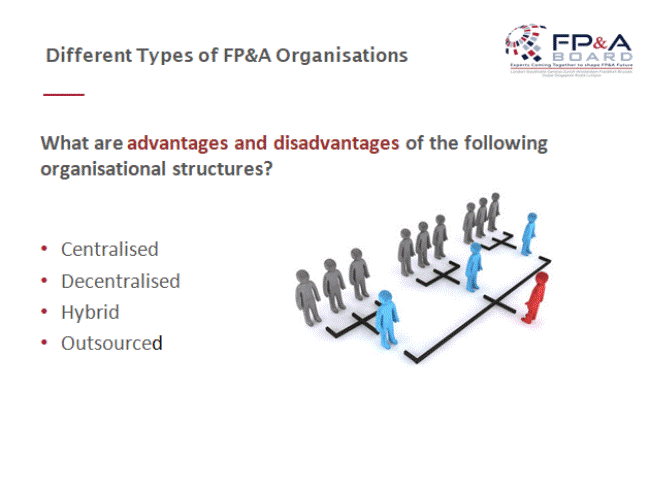 FP&A Reporting Lines
Afterwards, the Board discussed different types of FP&A reporting lines and shared their ideas on the most effective one. They arrived at the conclusion that because of the strategical nature of modern FP&A it should report directly to CFO and there are already some cases when FP&A Directors report directly to CEO and become the member of the Executive Board.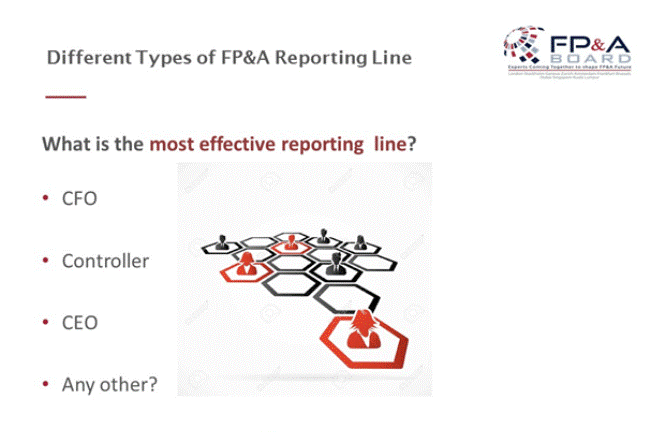 The Case Study: Nielsen Europe Organisational Transformation
One of the fundamental principles of the FP&A Board work is looking into practical case studies. We were happy to have Fredrik Hedlund, Europe CFO at Nielsen, as our keynote speaker. Nielsen Europe completely transformed the FP&A organisational structure for over 40 countries and managed to achieve more flexibility, become more dynamic, reduce the costs and improve the overall decision-making process.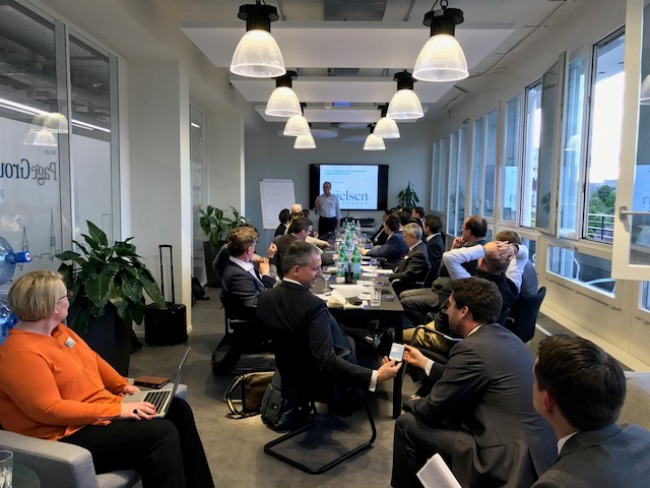 Fredrik gave an excellent presentation on effective FP&A organisations. The participants enjoyed learning the practical example of Nielsen's design and application of a new centralised integrated operating model and company's transition to a new integrated FP&A organisational structure with greater emphasis on system and technical expertise that enable effective execution.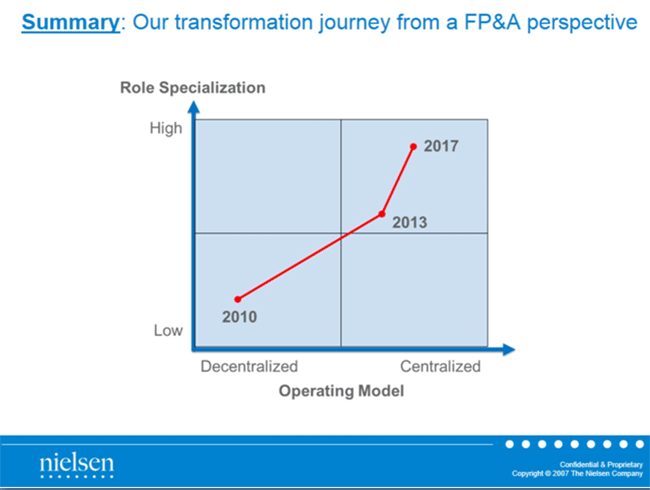 As it can be seen on the figure above, the starting point was rather poor. However, the company had clear finance transformation objectives and set off on its journey to the effective FP&A organisation. And it proved worthwhile. From extremely fragmented company's landscape, from highly geographically fragmented FP&A function operating with physical presence in over 40 countries, from limited process focus with both local finance teams and individuals engaged in a wide range of activities, from finance activity executed on a fragmented basis with no consideration for relative country factor costs, Nielsen managed to develop to integrated operating model and centralised organisational structure that enables effective execution.
Fredrik Hedlund also shared top 10 lessons learned during his company's FP&A organisational transformation with the Board members as shown on the figure below.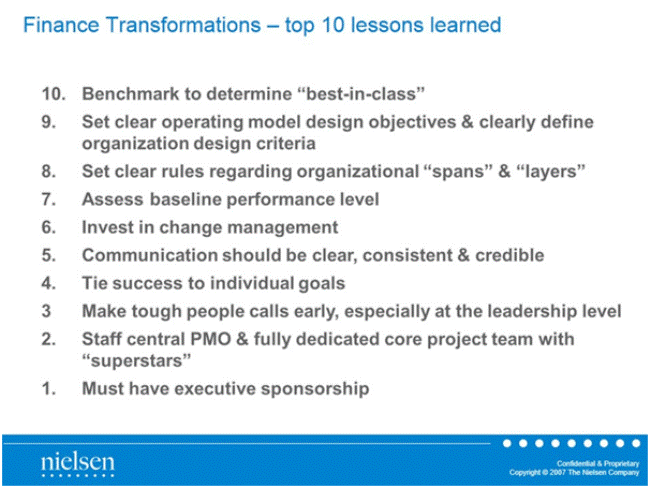 Please watch  the FP&A Trends TV Series interview with Fredrik Hedlund for more details about this case study
Group Work: FP&A Outsourcing and FP&A Centres of Excellence
The most anticipated part of the meeting is group work when peers from the leading companies have a chance to network with each other and share their experience and insights. This time the groups examined the idea of FP&A Outsourcing, its advantages and disadvantages, and FP&A Centres of Excellence, their pros and cons.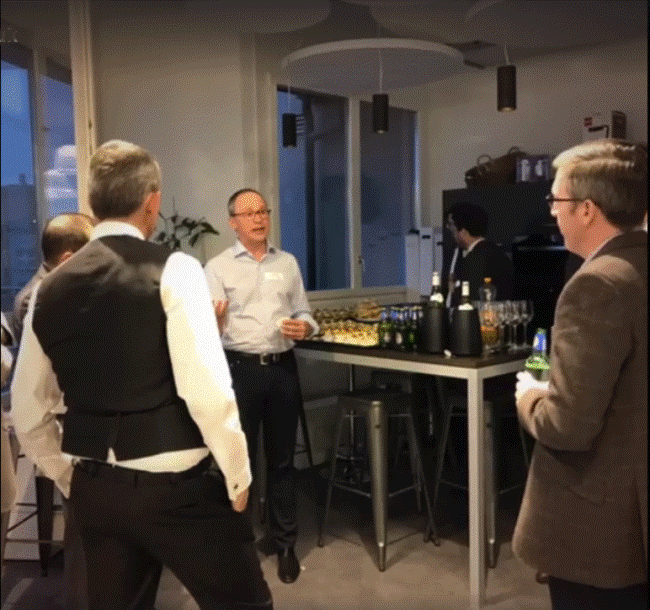 The main conclusion of the group work is as follows: We can outsource only routine and operational FP&A, but the strategic part of FP&A should stay within the company as its competitive advantage. 
Similar conclusion was drawn in relation to the FP&A Centres of Excellence: in order to be effective and efficient it should stay closer to the decision makers
Conclusions
FP&A organisational structure should be adjusted to meet the company's needs in order to create dynamic and flexible decision-making process.
There are a lot of organisational structures around the globe. However, there is no ideal one as it all depends on the requirements of a particular company. However, the centralised organisational structures have a lot of benefits such as consistency and efficiency.
Nielsen Case Study described the main advantages of the centralised organisational structure implemented in over 4 European countries.
FP&A Outsourcing is efficient only for routine and operational tasks. The strategic and influential FP&A should stay inside the organisation.
Research carried out by the Carnegie Institute of Technology shows that  85 percent of your financial success is due to skills in "human engineering," your personality and ability to communicate, negotiate, and lead. Shockingly, only 15 percent is due to technical knowledge.  Therefore, the FP&A organisational structure that "fit for purpose", effective and efficient is extremely important for modern FP&A. 
About FP&A Board
The London FP&A Board was created on 19th September 2013 to guide the development and promotion of best practices in financial planning and analysis (FP&A). By the end of 2017, individual board chapters will have been established in 15 cities in Europe, the Middle East, Asia, the USA and Australia in order to identify and support new global trends, skillsets, and thought leadership in FP&A. 
Our sponsors
We are very grateful to our sponsors and partners Page Executive, the global provider of innovative executive search solutions, CCH Tagetik, the leading FP&A Technology company, and AFP, provider of international FP&A Certification, for supporting this and other events globally.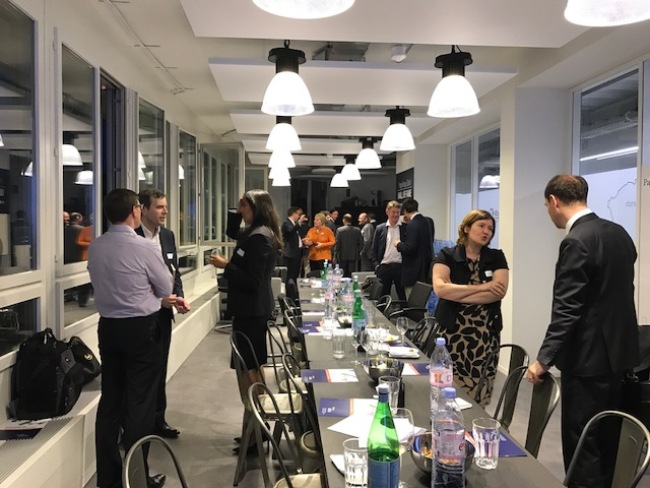 The next Zurich FP&A Board will gather on 5 October 2017 to discuss the best practices in Rolling Forecast. Stay in touch with our global FP&A community through the FP&A Club LinkedIn Group and the FP&A Trends resource.  Please do not hesitate to join and to contribute to the discussions, posts, and commentaries.