FP&A Business Partnering in Frankfurt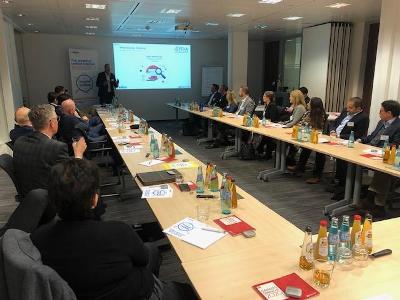 On 12 November 2019, I had the pleasure of facilitating, the 7th Frankfurt FP&A Board meeting. The meeting was sponsored by Apliqo and Robert Half and attended by over 30 FP&A professionals. The key subject of discussion was "FP&A Business Partnering".
The meeting started with a general introduction in which the participants shared what they thought were the key attribute of an FP&A Business Partner. The summary is listed below:
| | | |
| --- | --- | --- |
| Trust | Open minded | Proactive |
| Business mindset | Value Creating | Complaint |
| Challenging | Conscious | Understanding |
| Curious | Enabling | Collaborative |
| Proactive | Entrepreneurship | Transparent |
This was very similar to the summary of what the other boards thought of the key attributes.
We then went on to look at the evolution of business partnering from a Record Keeper to a 3rd generation Business partner where the role is now providing Insight / Foresight and predicting the future direction of the business.
It is also very important to understand that FP&A business partnering goes above and beyond traditional business partnering as the role is much more strategic and influential.
A quick poll was run in to understand the board members thoughts on the above. The results were as below and confirmed the majority do look at the role as being more Strategic and Influential.
60% - Yes 
25% - No
15% - Indifferent
We also looked at the four critical roles the FP&A business partner is now getting more and more involved in namely:
The Architect: builds models, connects dots between drivers, the designers, analysts, coders..
The Analyst: interpret results, scenario analysis, what/why/how/what next, stress test drivers
The Storyteller: turns complex into simple, adaptive, monologue, dialogue, creative, narrative, thrives on adhoc and leaves us wanting more
The influencer: trust and influence at all level
It is also a consensus that one person cannot do all of these roles and neither should we look for all of these qualities in one person.
It is very important to map out where you think your organisation is as regards to FP&A business partnering. We can then determine what is missing and where do we want to head.  The FP&A Business Partnering Maturity model was designed to do just that. It takes you through the 3 states and its different aspects (see below)
The board members were then polled as to where they think their organisations are on the model and the results were very much in line with the norm.
Basic             32%
Developing    62%
Leading          6%
Case Study Presentations: Practical Experience on FP&A Business Partnering
Case Study 1: Johan Martinsson
Johan Martinsson, Finance Director at Allergan shared with us his experience of FP&A business Partnering. Johan took us through his experience of FP&A Business partnering in the different organisations that he has worked in, highlighting how they were different in each and how best to build a high performing team.
He also took us through the characteristics of good business partners and what is required of line managers, so the team remains a top team. See his slide below on Line managers responsibility.
Case study 2: Tim Adolphs
Tim Adolphs, CFO Technical Operations at Stada Arzneimittel, took us through his experience of FP&A business partnering. He gave us his take on the evolution leaving us to think about what next with the coming of AI…
Tim also talked about the qualities  of a good business partner. Trust being the key one which comes from a good understanding of the business and being able to build good relationship with the partners – credible and reliable relationship. They can then go one to Value creation.
The key guiding questions that he uses in Stada are:
Is it a role or a mindset?
What is the status of the finance system?
Where are people at?
Group Exercise
We then went on to the Group exercise whereby the members were divided into groups with each group taking one question from below: -
Question 1: THE KEY BARRIERS TO EFFECTIVE FP&A  BUSINESS PARTNERING MODEL
Question 2: THE KEY STEPS IN IMPLEMENTING EFFECTIVE FP&A  BUSINESS PARTNERING MODEL
The key observations from the group work is summarised below:
Key barriers to an effective FP&A business partnering model
Organisational: 
Commitment
Missing link to management
Communication & transparency
Developmental opportunity
People:
Mobility
Business knowledge
Lask of passion
Softskills
System skills
Key steps in implementing an effective business partnering model.
Stakeholder management / management buy in
Right systems
Funding
Target model – data prep / support functions / quality over quantity
Mindset
To conclude the meeting Martin Winkler of Apliqo shared their experience and tips on the practical way to implementing a successful FP&A Business Partnering model.
Finally, I summarised the findings and conclusion of our discussion as per below:
Importance of business alignment between FP&A, Operations  and Management is key for business understanding & to be able to influence decision making
The job is both Strategic and Operational in focus
FP&A business partner acts as a bridge between the wider business and the board
Soft skills are much more important than just finance and analytical skills
That concluded our 7th Frankfurt FP&A Board meeting. Next board meeting to be scheduled early 2020 with members being asked for suggestion on key subject for discussion.
The board members and  sponsors were then invited to network, for around an hour, with a glass of wine and some lovely food provided by our Robert Half.
I would like to take this opportunity to thank our sponsors Robert Half and Apliqo, our two presenters Mr Johan Martinsson and Mr Tim Adolphs for their case study, the board members for their participation and valuable input.
Look forward to the next meeting in early 2020.