This block is broken or missing. You may be missing content or you might need to enable the original module.
Combining Human and Artificial Intelligence in FP&A: Roche Case Study
On the 27th of April 2021, Larysa Melnychuk, Founder and CEO at FP&A Trends Group, hosted an inspiring webinar on the combined power of human and artificial intelligence in FP&A including a business case study from Roche.
Introduction
Based on a global survey conducted by FP&A Trends throughout 2020, data collection, data generation and validation still comprise 74% of FP&A average time. Only 26% is spent on insights (20%) and actions (6%). An interesting observation is that these statistics have not improved during 2020. Nevertheless, best-in-class companies, who are leveraging digital systems, are devoting 80% of their time to insights (40%) and actions (40%).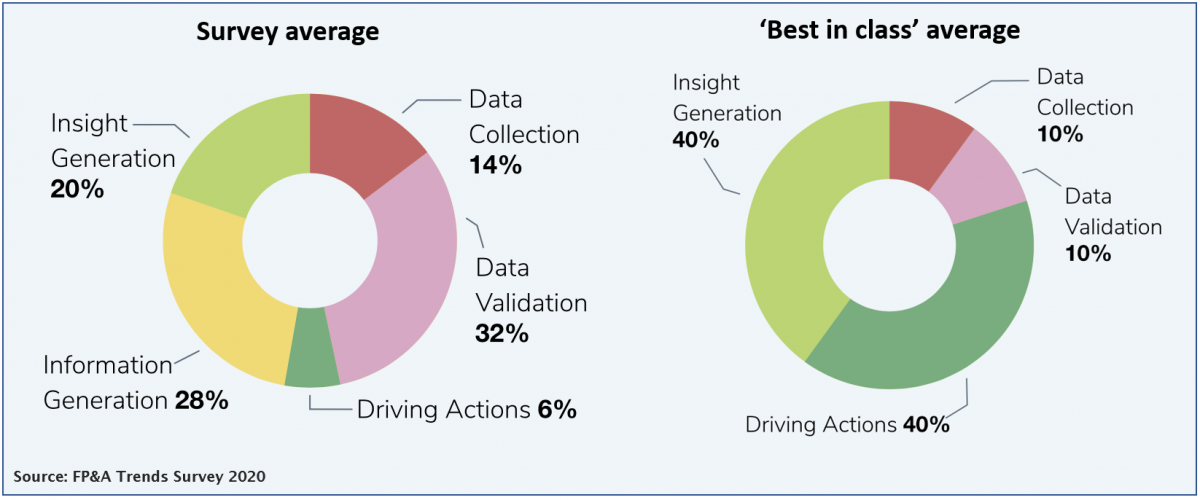 ​
Artificial Intelligence (AI) is playing a key role in breaking the traditional way of conducting FP&A.  AI does not change the basic role of FP&A, but it does change the way in which that role is carried out.  Successful digital FP&A is not only thanks to AI but is a combination of human intelligence, AI and clever processes (adapted from Garry Kasparov's law).  AI enables the machine to think and react like humans. Machine learning is a subarea of AI that can learn from data through self-improvement with a minimum of human supervision.
The FP&A Webinar speakers, Cedric Assaouloff, Francois Furlan and Marcelo de Souza, who are Financial Leads with Roche, presented their transformation journey showing the combined power of human and AI.
Roche Transformation Journey
The one-million-dollar question of whether the machine is better than a human is not really the question to ask. The real question, however, should be how a machine can help finance drive better insights.
The traditional mindset of finance being 100% precise is changed by the 80-20 rule through innovation, creativity and accepting failure. The Roche vision aims to be an entrepreneurial implementation within a global scope. The way of working changed by breaking silos, empowerment, one vision, bringing transparency and collaboration. 
#TheLab is an innovation incubator. It consists of 25 highly committed people operating with high diversity of business and (business) finance partners, data scientists and IT together with 150 people in finance with the customer in the center looking for solutions.  
#TheLab in connection with 150 people in Finance have been experimenting, collecting and prioritizing ideas: "you try, you fail, you learn, you succeed and are able to turn it into a product for the customer".  The foundation is "the ways of working": agility, 90 days cycle and the right people with passion and impact.  A culture that is averse to failure creates a roadblock for the project as AI ideas fail 60-80% of the time.  Accepting failure as an option is a game-changer for their digital approach.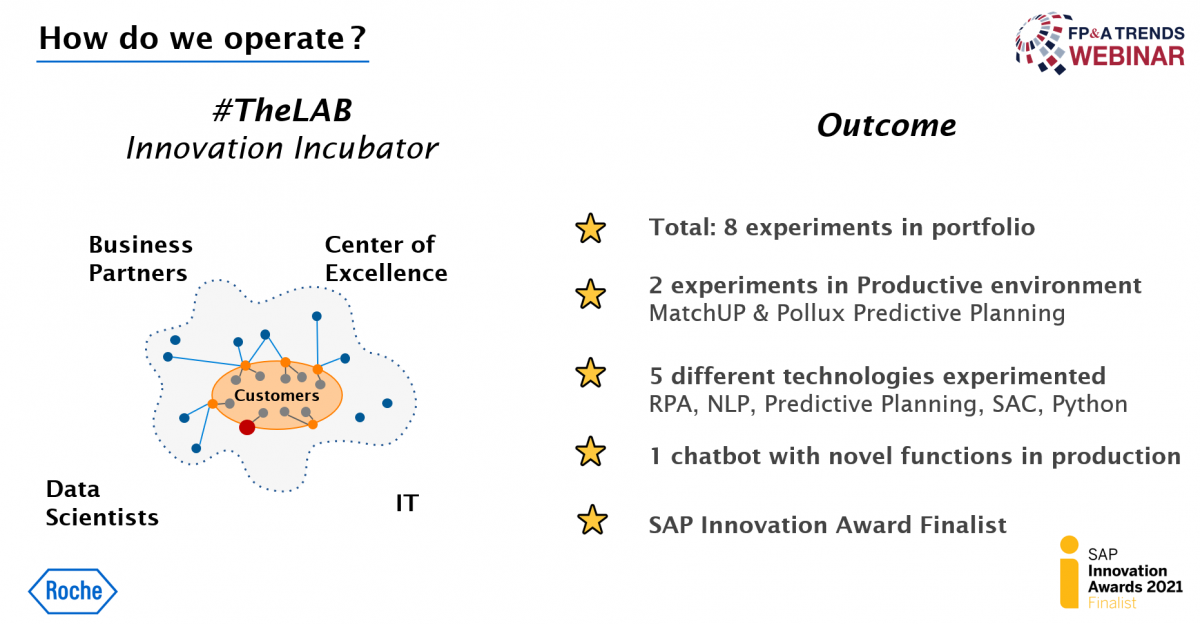 ​
In less than 8 months, after this transformation, Roche was able to build up a diversified portfolio touching multiple technologies with more than 8 experiments. The journey to a live solution took into account three dimensions:
The level of accuracy
User-friendliness
Business value
Business Case: Forecasting global R&D costs by using AI
Prototype
The prototype for forecasting showed after only 6 weeks that the machine was more accurate than the human forecast, and sometimes even much more accurate. When applying the algorithms to historical data, the results were mind-blowing as the machine was 7% closer to reality than human forecast.
Journey
Roche integrated the proof of concept into the real forecasting cycles. The predictions were downloaded into the planning environment. The Finance Business partners analyzed the pre-populated forecast and overwrote it when necessary. What was interesting is that after a while the person would spend much less time and focus on items that really matter.
Solution
Roche leveraged 10 to 20 years of historical data looking for specific data points, outliers, mappings and rules to apply to get to the best possible prediction. Roche created a baseline that is able to predict 4 Billion USD R&D spending across multiple departments in 2 hours.
So, where is the human aspect in the solution? After generating the baseline, the person would overwrite data if needed based on key drivers. You can be expanding a specific R&D site, hiring people, shifting people from one organization to the other. These key drivers identified by Business Finance are necessary for updating the baseline. This is exactly where the power of human and artificial intelligence is combined. Today, the tools that are being offered, are smart enough that with a few inputs and financial insight, you are able to achieve amazing results. No need to be a data scientist to deliver these results.
​
Outcome
Removed low-value activities: automatizing 70% of data points in forecasting cycle
Fast & fit-for-purpose: 2 hours to generate a 4 billion financial forecast vs. several weeks
Increased forecast confidence: Improvement in forecast accuracy by 7% vs manual process
Removed bias: clear existence of conscious and unconscious bias across teams and trying to move beyond budgeting, not wasting time on target setting
Conclusion
To arrive to a similar outcome, the foundations need to be right (clean master data, harmonized process, right technology) and the mindset needs to be entrepreneurial and willing to accept failure. If we fail, fail fast so we can learn from it! Roche moved fast as they started with small experiments before traditionally going big which would have taken years.
This outcome means for the human workforce that the time gained will be spent on driving new conversations and insights that were not possible before.  Finance has a better understanding of the key drivers of the business, the strategy behind it, and what scenarios to consider for the future. Finance is engaging more than ever with its business partners.

The webinar was sponsored by SAP.
The full text is available for registered users. Please register to view the rest of the article.