The New Age of FP&A Business Partner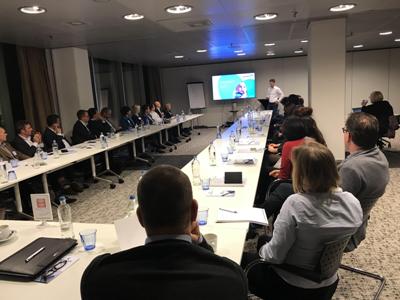 Antony Parker once mentioned that there is one essential skill that most of the finance professionals fail to acquire during their formal education. This skill is the ability to personally engage with operations. The finance department's attention is often shifted to processes, rather than to people who are actually in charge of them. 
As a consequence, companies fail to see what an important role partnering plays in organisation performance. As business partnering has become a global trend, many organisations try to implement this model without real understanding of it. This is one of the reasons why business partnering is in the constant focus of the FP&A Board. 
The trend was recently discussed at the Amsterdam FP&A Board on 9 November. Larysa Melnychuk, Managing Director at FP&A Trends Group and Founder of the International FP&A Board, shared her insights of the meeting.
A.C.: Could you please share the FP&A Business Partnering definition with us?
L.M.: We can say that FP&A business partner acts like the bridge between the wider business and the board. Nowadays, finance professionals must concentrate not on "what happened", but on "what should happen" and "how to execute change". The change of focus resulted in the growing importance of the alignment between FP&A function and business operations. As a result, FP&A Business partner has two major functions  –
providing commercial finance support to the business activities
challenging the status quo of the business. One of the Board members aptly compared FP&A to Harvard and MIT of an organisation as it sits in the middle between operations and the board. 
More organisations start to involve FP&A into strategic planning – I know quite a few where FP&A Director is also Chief Executive Officer. Many Board members agreed that this is crucial for FP&A, whereas the days when FP&A Directors report directly to CEO are not so far away. These results are not achievable without partnering skills. Therefore, Business Partnering is considered to be both strategic and influential.
A.C.: What are the key attributes of FP&A Business partner according to the Board?
L.M.: For a long time, FP&A has been about working with models rather than people, so professionals with technical backgrounds are in great demand. The problem is that these professionals are often more comfortable to talk to machines than to people and they lack both communication and business partnering skills. 
On the contrary, FP&A Business partner should meet a lot of requirements. This role is suitable for those professionals who do not only have good analytical skills and are good interpreters of data, but who are also strong leaders and have great interpersonal skills – and we shouldn't forget about creativity as well.
A.C.: All this leads us to the question of whether it is a mindset or a role. What did the Board decide?
L.M.: Some of the Board members agreed that it is more of a mindset rather than a role and this mindset is vital for the FP&A department and should be nourished and developed. There were also Board members who insisted that it is better to build teams with different functional roles – three of them were described by Mark Gandy – and to assign a role of FP&A Business partner to the one person who will interpret analytical insights to the executive board. In other words, for the Mark Gandy's model to be complete, it needs a role of Influencer which was added by the Geneva FP&A Board.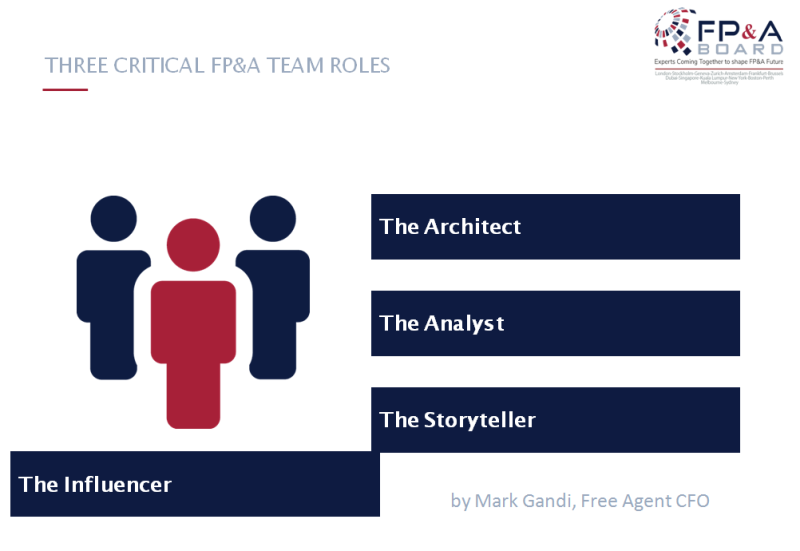 Despite all this, the Board was more inclined to recognise FP&A Business Partnering as a mindset rather than a role because every member of the department should have not only good technical knowledge, but also proficient interpersonal skills.
A.C.: What did the Board choose as the leading FP&A Business Partnering model?
L.M.: The Board discussed the FP&A Business Partnering Maturity Model. The model was developed in cooperation between the London FP&A Board and Gemma Davie, Senior Director, Financial Planning & Analysis at CA Technologies. The Model helps to see what is required from Business Partner and when it is clear that an individual has achieved the leading stage.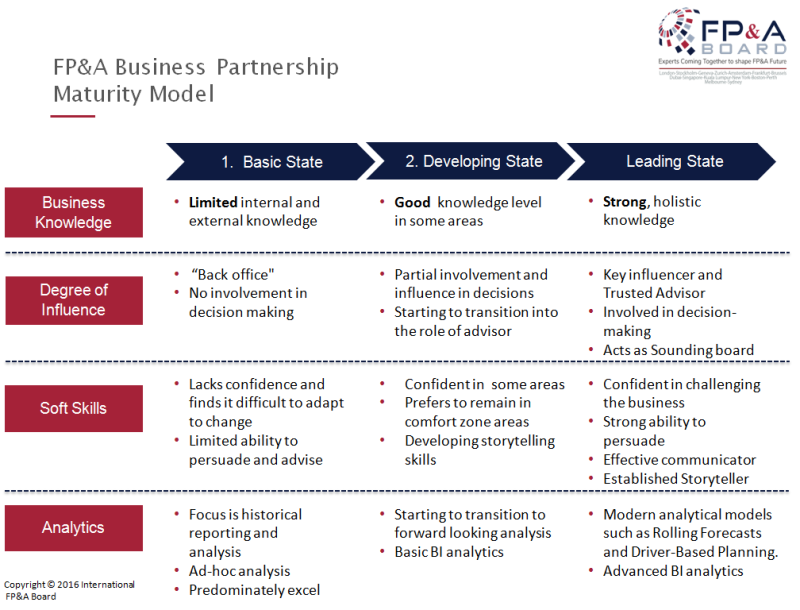 At the meeting it was agreed that at the leading stage Business Partner has strong, holistic knowledge and becomes Key Influencer and Trusted Advisor. As I have mentioned before, for Business Partner it's not enough to have a solid grasp of modern analytical concepts (e.g. Rolling Forecast and Driver-Based Planning), he or she is also expected to be able to communicate effectively.
A.C.: What were the conclusions of the Amsterdam FP&A Board?
L.M.: First of all, we should keep in mind that FP&A Business Partnering is both a mindset and a skill. As any other skill it should also be developed. At the same time the Board couldn't omit the fact that there are different types of personality that are more dispositioned to become a good Business Partner. 
FP&A Business Partner is a versatile professional whose top features are curiosity, business knowledge and resilience. The Board also came to the conclusion that FP&A Business Partner is both Trusted Advisor and Controller/Challenger. 
We should not forget  that the development of modern technology drives huge changes in business culture and FP&A business partner plays a vital role in this shift.
The International FP&A Board
The London FP&A Board was created on 19 September 2013. Now Board chapters are established in 15 cities in Europe, the Middle East, Asia, the USA and Australia.
The Amsterdam meeting was attended by 35 senior finance professionals from global companies such as Ammeraal Beltech, LeasePlan, Henkel Global Supply Chain, OPPLE Lighting, Philips, Uber and many others. At the meeting Marcin Miskiewicz, Finance Director Benelux at Danone, shared his insights on the subject.
Our Sponsors
We are very grateful to our sponsors and partners Solmate Group, the strategic business partner for finance transformation through CPM  consultancy, implementation and integration, Page Executive, the leading senior talent recruitment consultancies, Michael Page, one of the world's leading professional recruitment consultancies,  and AFP, provider of international FP&A Certification, for their great support.