Submitted by

Editor

on Wed, 2016-06-08 15:13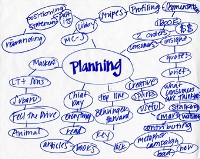 by Michael Coveney, co-author of "Budgeting, Planning, and Forecasting in Uncertain Times"
We live in an unpredictable world where the future is uncertain. If it was then we would all make a fortune by making strategic 'bets' on certain outcomes – we would know what products and services to back, what level of stock and staffing to have, and when and where to market our capabilities for maximum effect.
But the world is not like that. When we use the word 'unpredictable' or 'volatile', what we are really saying is that the mechanisms we use for predicting the future are inaccurate. Things happen that we either didn't foresee, or that impacted differently from what we expected. Most of these 'things' are typically external and beyond our control. For example, a competitor changing their price, a company introducing a disruptive technology, the impact of natural events such as the weather, a change in government policy, a significant change in the local economy, or a combination of any of these. However, senior executives are expected to navigate their organizations through all of these challenges. They are charged with ensuring that limited resources are allocated to the right products and services for maximum return. That the organization is moving towards long-term strategic goals and to provide a reasoned explanation as to when, where and how it expects to get there.